The 100 greatest songs of the 1970s, ranked
6 June 2023, 12:19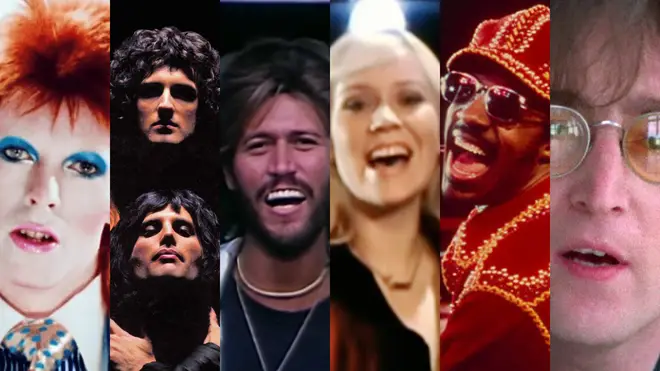 The 1970s was a fantastic decade for music, with so many different genres setting the charts alight.
We may have mourned the demise of The Beatles in 1970, but the decade also brought glam rock, disco, punk, new wave, funk and more.
Whatever kind of music you preferred, there was something for everybody, and everyone looked fabulous all the while.
We've picked 100 ultimate key tracks that summed up the 1970s. Is your favourite in there?
Roxy Music - 'Dance Away'

Read more: Roxy Music's 10 greatest ever songs

Bryan Ferry originally wrote this for his 1977 solo album In Your Mind and his 1978 follow-up The Bride Stripped Bare, but it was finally included on the next Roxy collection.

It became one of Roxy Music's biggest-ever hits. Despite not reaching number one, it was one of the ten best-selling singles of 1979 in the UK.

As ever, Bryan Ferry oozed cool with this song, while bridging the gap between their glam rock past and new wave future.

The Osmonds - 'Crazy Horses'

The Osmonds - Crazy Horses

Despite being known as a schmaltzy boyband, The Osmonds released this surprisingly brilliant hard rock track in 1972.

Merrill Osmond said: "All our songs were chosen for us by the record company. But now, having been successful, we wanted to freak out and make our own music."

The record company were initially sceptical, but relented after it was a hit in the UK, where it was ironically their breakthrough song, but was followed up by more pop ballads. Donny did not have a line in the song, as his voice was in the middle of changing due to puberty.

Glen Campbell - 'Rhinestone Cowboy'

Glen Campbell - Rhinestone Cowboy (Official Music Video)

Larry Weiss first recorded this song, but it was Glen Campbell's cover a year later that became a huge hit.

Campbell first heard the song at a party, and identified with the song's subject: survival and making it, particularly when the chips are down.

It proved to be a big comeback for Campbell, and gave him one of the decade's most enduring country hits.

The Clash - 'London Calling'

The Clash - London Calling (Official Video)

Released right at the end of the decade in December 1979, this apocalyptic and politically charged track showcased the Clash's post-punk style.

The lyrics were about the concern felt by Joe Strummer about world events that year, referring to "a nuclear error" at Three Mile Island.

He said: "We felt that we were struggling about to slip down a slope or something, grasping with our fingernails. And there was no one there to help us."

The Temptations - 'Papa Was a Rollin' Stone'

The Temptations Papa Was A Rolling Stone 1972 Single Version

Written by Motown's Norman Whitfield and Barrett Strong in 1971, this was actually first recorded by Motown act The Undisputed Truth.

However, the most famous version was by The Temptations, who transformed it into a 12-minute epic, and remains one of the greatest soul anthems of all time.

The song details the story of the singer's unreliable father, who was a philanderer. When he dies, the mother opens up about him, telling the kids about his laziness and womanizing ways.

Wild Cherry - 'Play That Funky Music'

Wild Cherry - Play That Funky Music

One of the greatest funk-rock songs of all time, this proved to be a one-hit wonder for Ohio band Wild Cherry, but what a hit.

Crossing the genres of funk, disco and rock, this incredibly catchy song sold over 2.5 million copies in the US alone in 1976.

Supertramp - 'The Logical Song'

Supertramp - The Logical Song (Official 4K Video)

Supertramp's biggest hit, it was also the lead single from their biggest album Breakfast in America, and was one of the best soft rock tunes of the era.

Roger Hodgson composed the song from an autobiographical point of view, from his experience of being sent away to boarding school for ten years.

Bee Gees - 'Night Fever'

Bee Gees - Night Fever (Official Video)

First appearing on the soundtrack to the film Saturday Night Fever, this single reached the top spot of the UK Singles Chart where it stayed for two weeks, and is one of the greatest-ever disco songs.

Producer Robert Stigwood wanted to call the film Saturday Night, but singer Robin Gibb didn't like the title. Stigwood liked the title Night Fever but was wary of marketing a movie with that name, so there was a compromise.

Olivia Newton-John - 'Hopelessly Devoted to You'

GREASE | "Hopelessly Devoted" Clip | Paramount Movies

This song was not originally in the Grease stage musical, but halfway through shooting the movie, Olivia Newton-John's contractually-entitled vocal solo had still not been written.

John Farrar, her personal producer, wrote the song and submitted it to the film's production team.

Though reluctant at first, they eventually approved it, and shooting took place after the rest of the film had finished. It was nominated for an Oscar, but lost out to Donna Summer's 'Last Dance'.

Roberta Flack - 'Killing Me Softly With His Song'

ROBERTA FLACK KILLING ME SOFTLY LEGENDADO EM PORTUGUÊS BR

This ballad was written by Charles Fox and Norman Gimbel, in collaboration with Lori Lieberman after she was inspired by a Don McLean gig in 1971.

Lieberman released her version in 1972, but it was Roberta Flack's soulful cover which became an instant classic. It was later a massive single for Fugees in 1995.

Pink Floyd - 'Comfortably Numb'

This is taken from Pink Floyd's concept album The Wall, which is about Pink, an embittered and alienated rock star.

This song compares Pink's memories of being feverishly ill as a child with his feeling nothing at all in adulthood. The lyrics feature a cut between a doctor treating the adult Pink (verses, sung by Waters) and Pink's inner monologue (chorus, sung by Gilmour).

Scissor Sisters later released a disco-inspired cover version in 2004.

Harry Chapin - 'Cat's in the Cradle'

Harry Chapin - Cats in the Cradle

This song tells of a father and son who can't schedule time to be with each other, and it serves as a warning against putting one's career before family.

Its lyrics began as a poem written by Harry's wife, Sandra Gaston. It was inspired by the awkward relationship between her first husband, James Cashmore, and his father, a politician.

Harry also said the song was about his own relationship with his son, Josh, admitting, "Frankly, this song scares me to death." Rock band Ugly Kid Joe scored a hit with a cover version in 1992.

Lynyrd Skynyrd - 'Freebird'

Lynyrd Skynyrd - Free Bird

Running at over nine minutes in length, for two years after Allen Collins wrote the initial chords, singer Ronnie Van Zant insisted that there were too many for him to create a melody.

After Collins played the unused sequence at rehearsal one day, Van Zant asked him to repeat it, then wrote out the melody and lyrics in four minutes.

It has become something of a humorous tradition for audience members at concerts to shout 'Free Bird' as a request to hear the song, regardless of the performer or style of music.

Bruce Springsteen - 'Born to Run'

Bruce Springsteen - Born to Run (Official Music Video)

A total karaoke staple, this is a peak Bruce power ballad. The uplifting track makes anyone who hears it want to shake off their negative vibes and make something of themselves.

In late 1973, while on the road in Tennessee, Bruce woke up with the title 'Born to Run', which he wrote down. Written in the first person, the song is a love letter to a girl named Wendy.

Bruce later said that the song is also simply about getting out of Freehold in New Jersey.

Bob Dylan - 'Tangled Up in Blue'

Bob Dylan - Tangled up in Blue (Audio)

This epic folk song was taken from Bob Dylan's seminal Blood on the Tracks album in 1975.

According to novelist Ron Rosenbaum, Bob Dylan once told him that he'd written the song after spending a weekend obsessing with Joni Mitchell's 1971 album Blue.

The Police - 'Roxanne'

This was one of the Police's first songs, and gave them a headstart as one of the biggest new wave bands around in the late 1970s.

Sting was inspired by the prostitutes he saw near the band's seedy hotel in Paris, where the Police were staying in October 1977 to perform at the Nashville Club.

The song's title comes from the name of the character in the play Cyrano de Bergerac, an old poster which was also hanging in the hotel foyer.

Buzzcocks - 'Ever Fallen in Love (with Someone You Shouldn't've)?

Buzzcocks - Ever Fallen In Love (With Someone You Shouldn't've?) (TOTP, 1978)

This was one of the greatest punk rock songs of all time, and a rare song that transcended the genre it was born from.

In 1977, Buzzcocks watched the musical Guys and Dolls in the TV lounge of a guesthouse in Edinburgh. The dialogue 'Have you ever fallen in love with someone you shouldn't have' from the film inspired this song.

The following day, Pete Shelley wrote the lyrics, in a van outside a post office, with the music following soon after.

Sweet - 'Ballroom Blitz'

Sweet - The Ballroom Blitz - Disco/Promo Clip 27.10.1973 (OFFICIAL)

This pulsating glam rock track was inspired by an incident in 1973, when the Sweet were performing at the Grand Hall in Kilmarnock, and were driven offstage by a barrage of bottles.

It was written by Nicky Chinn and Mike Chapman, who wrote many glam rock hits including Sweet's 'Blockbuster', Suzi Quatro's 'Devil Gate Drive' and Tony Basil's 'Mickey'.

Jeff Wayne and Justin Hayward - 'Forever Autumn'

Justin Hayward - Forever Autumn (1978) [with lyrics on screen]

The original melody of this song was written by Jeff Wayne in 1969 as a jingle for a Lego commercial.

Paul Vigrass and Gary Osborne, the performers of the original jingle, added lyrics and recorded it on their 1972 album Queues.

Wayne wanted to include a love song on his War of the Worlds album that sounded like 'Forever Autumn', and he decided to simply use the original song. Wayne chose Justin Hayward, of The Moody Blues, to sing it.

The Knack - 'My Sharona'

The Knack - My Sharona (Official Video)

The famous riff of this song was written by guitarist Berton Averre, years before he joined the Knack. He had played the riff as well as a drum groove for Doug Fieger, the group's lead singer and rhythm guitarist, who loved it and promised to make it a song.

When Fieger was 25, he met 17-year-old Sharona Alperin, who inspired a two-month run of songwriting, as well as becoming Fieger's girlfriend for the next four years. Fieger said: "It was like getting hit in the head with a baseball bat. I fell in love with her instantly."

Slade - 'Coz I Luv You'

Slade - Coz I Luv You (1971) HD 0815007

One of Slade's first singles, it was written by Noddy Holder and Jim Lea in half an hour, beginning a successful songwriting partnership.

The next day, the band played the song acoustically to producer Chas Chandler, who responded: "I think you've written your first hit record. In fact, I think you've written your first No. 1." He was right.

John Denver - 'Annie's Song'

John Denver - Annie's Song (Live from The Wildlife Concert)

This was John Denver's only hit in the UK, as most of his other famous tracks had been covered by other artists.

It was written as an ode to Denver's wife at the time, Annie Martell Denver, and he wrote it in about ten-and-a-half minutes on a ski lift to the top of Ajax Mountain in Aspen, Colorado.

Bread - 'Make It With You'

Bread's breakthrough hit was written by singer David Gates, who also performed acoustic guitar, electric guitar, bass, and strings on the record, with only drummer Mike Botts also featuring.

When the song was released, Gates' mother was asked by a local interviewer how her son's music career was going. Misunderstanding the song's title, she replied that his group had just recorded a song called 'Naked with You'.

Ian Dury and the Blockheads - 'Hit Me With Your Rhythm Stick'

Ian Dury - Hit Me With Your Rhythm Stick [Official Video]

Ian Dury scored a number one with this quirky million-seller in early 1979.

The late singer spoke of a number of origins behind its lyrics, including that he had written them up to three years earlier, and it had taken him all that time to realise their merit.

Chicago - 'If You Leave Me Now'

Chicago - If you leave me now - 1977 (HQ)

This was the song that brought Chicago to a truly mainstream audience, reaching the top spot in the UK and US in 1976.

It remains one of the best break-up ballads of all time, and surprisingly doesn't actually contain a traditional chorus.

Michael Jackson - 'Rock With You'

Michael Jackson - Rock With You (Official Video)

Written by Heatwave's Rod Temperton – who would later write 'Thriller' – the song was originally titled 'I Want To Eat You Up', but it was quickly changed to fit Jackson's image as a wholesome heartthrob.

It is now considered one of the last hits of the disco era.

Chic - 'Good Times'

CHIC - Le Freak (Official Music Video)

An even bigger success for Chic than their smash 'Le Freak', this track went on to become one of the most sampled songs in pop history, and introduced the might of Nile Rodgers to the world of pop.

It was most notably sampled on The Sugarhill Gang's 'Rapper's Delight' later in the same year, one of the first rap hits.

Barry White - 'You're the First, the Last, My Everything'

Barry White - You're the First, the Last, My Everything (1974) - Sanremo '81 - 1a serata - stereo

Released in 1974, this song was originally written over 21 years previously by Peter Radcliffe as a country song, before Barry totally reworked it and took it to number one in the UK.

The Bellamy Brothers - 'Let Your Love Flow'

Bellamy Brothers - Let Your Love Flow (1976) HD 0815007

Neil Diamond's roadie Larry E Williams wrote this track, but Diamond turned it down. However, his drummer recommended it to The Bellamy Brothers, after Gene Cotton recorded it first.

David Bellamy said of the song: "It was the perfect song for us and became the key to our career." It re-entered the UK charts in late 2008, when it was used in a Barclays TV advert.

Gary Numan - 'Cars'

This was one of the first synthpop songs to top the charts, heralding a new era of electronica and New Romantics at the end of the 1970s.

Gary Numan said of the song: "I was in traffic in London once and had a problem with some people in front. They tried to beat me up and get me out of the car.

"I locked the doors and eventually drove up on the pavement and got away from them. It explains how you can feel safe inside a car in the modern world."

Marvin Gaye - 'Let's Get It On'

This rather saucy song was taken from Marvin Gaye's album of the same name, and helped him become one of Motown's most bankable stars.

Originally conceived as a religious, and then political song, Gaye transformed it into a sensual anthem.

T Rex - '20th Century Boy'

Glam rock hero Marc Bolan said this song's lyrics were based on quotes taken from various celebrities such as Muhammad Ali.

In case you were wondering, the first line of the song is actually "Friends say it's fine, friends say it's good/Everybody says it's just like Robin Hood," and not the often misquoted "...just like rock 'n' roll."

Billy Joel - 'Piano Man'

Billy Joel - Piano Man (Official Video)

This was Billy Joel's first single and it's still his greatest.

It has since become Billy's signature song, and is based on his time playing piano at the Executive Room bar in Los Angeles, and all the familiar faces he saw there, except he was calling himself Bill Martin at the time.

Carole King - 'It's Too Late'

Carole King - It's Too Late (In Concert - 1971)

A song about the end of a loving relationship without assigning blame, critics have noted its implicit feminism for the time in that the woman had left the man.

Taken from Carole King's huge album Tapestry, the song was rumoured to be about her friend and collaborator James Taylor, but King never confirmed the rumours.

ABBA - 'SOS'

Abba - SOS (Official Video)

Bjorn Ulvaeus has said that, after three years of trying to work out what style ABBA should stick with, they finally found its identity as a pop group with this song.

It started an amazing run of 18 consecutive Top 10 hits in the UK and Ireland.

America - 'A Horse With No Name'

America - A Horse With No Name (Official Audio)

Folk rock band America's self-titled debut album, with this song written while they were staying at the home studio of Arthur Brown, in Dorset.

They intended to capture the feel of a hot, dry desert that had been depicted at the studio from a Salvador Dalí painting, and the strange horse appeared in an MC Escher picture.

Dewey Bunnell explained that the song was "a metaphor for a vehicle to get away from life's confusion into a quiet, peaceful place". It was a number-one hit in the UK.

Earth, Wind and Fire - 'September'

Earth, Wind & Fire - September

Disco kings Earth, Wind and Fire scored a big international hit with this upbeat song in 1978.

Although many theories about the significance of the September 21st date have been suggested, songwriter Maurice White claimed he simply chose the 21st due to how it sounded when he sang it.

His wife, Marilyn White claimed that September 21 was the due date of their son, Kahbran.

The Hollies - 'The Air That I Breathe'

The Air That I Breath - The Hollies

Co-writer Albert Hammond first recorded this in 1972, but The Hollies scored a big hit with it two years later. It proved to be their last hit single, with Alan Parsons providing the audio engineering.

Radiohead's 1992 song 'Creep' uses a similar chord progression and shares some melodic content with the song, and as a result, Hammond and Hazlewood sued Radiohead for plagiarism and won.

Hammond said: "Because they were honest they weren't sued to the point of saying 'we want the whole thing'. So we ended up getting a little piece".

Blue Oyster Cult - '(Don't Fear) The Reaper'

Blue Oyster Cult - (Don't Fear) The Reaper (Official Audio)

Written and sung by the band's lead guitarist, Donald 'Buck Dharma' Roeser, this song is about the inevitability of death and the foolishness of fearing it, and was written when Dharma was thinking about what would happen if he died at a young age.

The song features prominent use of the cowbell percussion instrument, which was spoofed in the 2006 Saturday Night Live skit 'More Cowbell', featuring Christopher Walken as a producer who demanded the instrument from an overweight percussionist played by Will Ferrell.

Derek and the Dominos - 'Layla'

Derek And The Dominos - Layla

Written by Eric Clapton and Jim Gordon for their shortlived blues rock band project, this epic track was inspired by a love story that came from 7th-century Arabia, and later formed the basis of The Story of Layla and Majnun by the 12th-century poet Nizami Ganjavi, a copy of which Ian Dallas gave to Clapton. (A little history lesson for you there).

The book moved Clapton, as it was the tale of a young man who fell in love with a beautiful girl, went 'crazy' and couldn't marry her. The song was also inspired by Clapton's then-unrequited love for Pattie Boyd, the wife of friend George Harrison. However, Clapton and Boyd would eventually marry, and he wrote 'Wonderful Tonight' for her.

Elton John - 'Tiny Dancer'

Elton John - Tiny Dancer (Official Music Video)

Despite never being released as an official single in the UK, this song has become one of Elton's most-loved tracks.

The piano ballad's lyrics were written by Bernie Taupin as an attempt to capture the mood of California in 1970, and was dedicated to Maxine Feibelman, his first wife.

The Isley Brothers - 'Summer Breeze'

The Isley Brothers - Summer Breeze, Pts. 1 & 2 (Official Audio)

Seals and Crofts' original version of this summer anthem was a brilliant folk number, but The Isley Brothers made it their own.

They transformed it into a funky soul anthem, with one of the best guitar licks ever recorded.

David Bowie - 'Starman'

David Bowie - Starman (Top Of The Pops, 1972)

This was the lead single from David Bowie's iconic Ziggy Stardust album, this was a last-minute addition to the LP. It was also the moment Bowie made glam more than just flare trousers and platform shoes.

The lyrics describe Ziggy bringing a message of hope to Earth's youth through the radio. The story is told from the point of view of one of the youths who hears Ziggy for the first time.

According to Bowie, Ziggy is not the Starman but merely his earthly messenger.

Elvis Costello - 'Oliver's Army'

Elvis Costello & The Attractions - Oliver's Army (Official Video)

Some music critics have suggested that the title of this new wave classic refers to Oliver Cromwell, whose New Model Army was a forerunner to the modern British Army.

Of the song's meaning, Elvis Costello said: "I made my first trip to Belfast in 1978 and saw mere boys walking around in battle dress with automatic weapons". The song was based on the premise 'they always get a working class boy to do the killing'.

Carly Simon - 'You're So Vain'

Carly Simon - You're So Vain

A huge chart-topper around the world, this song is a critical look back at a self-absorbed lover, with Carly Simon saying that the song was actually about "men," not a specific "man".

Simon has said in the past that the song refers to three men, but only one of whom she has named publicly is actor Warren Beatty.

Bob Marley - 'Three Little Birds'

Bob Marley - Three Little Birds [Official Music Video]

This feel good song is often thought to be named 'Don't Worry About a Thing' or 'Every Little Thing is Gonna Be Alright', due to its repeated lyrics in the chorus, but nope!

The inspiration behind Bob Marley's song remains disputed. They are partly inspired by actual birds that Marley was fond of, that used to sit next to his home.

Also, three female singers from the reggae group I Threes who performed alongside Marley have claimed it was a reference to them.

Carpenters - 'Superstar'

Carpenters - Superstar (Official Video)

This song was originally titled '(Groupie) Superstar', and recorded by Delaney and Bonnie in 1969. The song was the story of a groupie who holds a strong love for a rock musician who left her.

This is the best and most famous version, after Richard Carpenter heard Bette Midler's cover. "I could barely wait to arrange and record it. It remains one of my favourites," he said.

Karen recorded her vocals in just one take, using lyrics scribbled by Richard on a paper napkin.

Fleetwood Mac - 'Don't Stop'

Fleetwood Mac - Don't Stop (Official Music Video)

Taken from the Mac's iconic Rumours album, this song was written by Christine McVie and sung by her with Lindsey Buckingham.

The song reflected McVie's feelings after her separation from the band's bass guitarist, John McVie, after eight years of marriage.

She said: "'Don't Stop' was just a feeling. It just seemed to be a pleasant revelation to have that 'yesterday's gone. It might have, I guess, been directed more toward John, but I'm just definitely not a pessimist."

Free - 'All Right Now'

This classic rock track came about after Free had a poor gig in Durham. Drummer Simon Kirke later said: "Our repertoire at that time was mostly slow and medium-paced blues songs which was alright if you were a student sitting quietly and nodding your head to the beat.

"However, we finished our show in Durham and walked off the stage to the sound of our own footsteps. When we got into the dressing room, it was obvious that we needed an uptempo number".

The song took about 10 minutes to write, and became Free's biggest song by far.

Dr Hook - 'Sylvia's Mother'

Dr. Hook & The Medicine Show ~ "Sylvia's Mother"

This autobiographical track was by songwriter Shel Silverstein, recalling his unsuccessful attempt to revive a failed relationship.

He was in love with a woman named Silvia Pandolfi, but she became engaged to another man. Desperate to continue the relationship, he called her mother, but she told him that the love had ended.

A sequel titled 'Mrs Avery' was recorded by The Men They Couldn't Hang. The song takes place years later when the man is divorced, and finds an old picture of Sylvia, prompting him to call her mother again.

Gordon Lightfoot - 'If You Could Read My Mind'

Gordon Lightfoot - "If You Could Read My Mind" (Live TV performance)

This acoustic ballad is perhaps Canadian singer-songwriter Gordon Lightfoot's most famous song, reaching number one in Canada and breaking into the UK and US charts.

Lightfoot has cited his divorce for inspiring the lyrics, describing it as a "song about the failure of marriage", saying that it came to him as he was sitting in a vacant Toronto house one summer.

Cat Stevens - 'Father and Son'

Yusuf / Cat Stevens - Father & Son

This song follows a conversation between a father not understanding his son's desire to break away, and the son who knows that it is time for him to seek his own path.

Cat Stevens wrote it as part of a proposed musical project starring Nigel Hawthorne, set during the Russian Revolution, but it fell through. Boyzone later scored a hit with it in 1995.

Bee Gees - 'How Deep is Your Love'

Bee Gees - How Deep Is Your Love (1977)

A track from Saturday Night Fever, but instead of a disco stomper the Bee Gees carved out their finest love song.

Take That later scored a number one with a cover in 1996.

Barry Gibb said of the song: "The title 'How Deep Is Your Love' we thought was perfect because of all the connotations involved in that sentence, and that was simply it."

The Doobie Brothers - 'What a Fool Believes'

The Doobie Brothers - What A Fool Believes (Official Music Video)

Written by Michael McDonald and Kenny Loggins, this was one of the few non-disco hits in America in the first eight months of 1979.

The song tells the story of a man who is reunited with an old love interest and attempts to rekindle a romantic relationship with her before discovering that one never really existed.

Michael Jackson once claimed he contributed at least one backing track to the original recording, but was not credited for having done so. This was later denied by the band.

Gloria Gaynor - 'I Will Survive'

Gloria Gaynor - I Will Survive

Despite being a B-side originally, this became one of the greatest disco anthems of all time.

The song is a female-empowerment anthem, and is about moving on after a bad relationship. It has since taken on other meanings for people who have overcome any difficult situation, but writer Dino Fekaris revealed it was about getting fired by Motown Records, where he was a staff writer.

Gloria Gaynor herself once said: "I love the empowering effect, I love the encouraging effect. It's a timeless lyric that addresses a timeless concern."

Buggles - 'Video Killed the Radio Star'

The Buggles - Video Killed The Radio Star

This synthpop classic was originally recorded by Bruce Woolley and The Camera Club (with Thomas Dolby on keyboards). Co-written with Trevor Horn and Geoff Downes, the pair later re-recorded it as The Buggles, and had a huge with it worldwide.

The song relates to concerns about mixed attitudes towards 20th-century inventions and machines for the media arts. It is well-remembered as the first music video shown on MTV in the United States at 12:01am on August 1, 1981.

Al Green - 'Let's Stay Together'

Al Green - Let's Stay Together

Taken from his 1972 album of the same name, this is perhaps Al Green's most famous tune and signature song.

It reached number one in the States, and it has been covered by countless artists ever since. Even US President Barack Obama gave it a go, performing a brief line of the song during an appearance at the Apollo Theater in New York in 2012, where Al was also performing.

Bill Withers - 'Lean on Me'

Bill Withers - Lean On Me (BBC In Concert, May 11, 1974)

Bill Withers' first and only number one single on both the soul singles and the Billboard Hot 100 in the US, this soul anthem was inspired by his childhood in the coal mining town of Slab Fork, West Virginia.

He later told Songfacts: "I bought a little piano and I was sitting there just running my fingers up and down the piano. In the course of doing the music, that phrase crossed my mind, so then you go back and say, 'OK, I like the way that phrase, Lean On Me, sounds with this song.'"

ABBA - 'Knowing Me, Knowing You'

Abba - Knowing Me, Knowing You (Official Video)

This was one of the first ABBA songs to tackle the break-up of a relationship in its lyrics. It came out before the divorces of the ABBA members, as well as further classic break-up songs to come.

Benny Andersson later named it as one of ABBA's best recordings, and we can't help but agree!

Harry Nilsson - 'Without You'

Harry Nilsson Without You 1972 HD

Originally by Badfinger, Harry Nilsson took it to another level with his number one version.

Described by Paul McCartney as "the killer song of all time", Harry can't quite believe he's lost his beloved, and doesn't quite know what to do next. Heartbreaker.

Pink Floyd - 'Another Brick in the Wall (Part 2)'

Pink Floyd - Another Brick In The Wall, Part Two (Official Music Video)

This is the second part of three songs from Pink Floyd's concept album The Wall. The second part is a protest against rigid schooling in general and boarding schools in the UK in particular, and became the UK Christmas number one in 1979.

It was producer George Ezrin's idea to include a school choir (Islington Green School), and a 'disco' beat, both of which were against the band's wishes, but both Roger Waters and David Gilmour came to admire the song, with the latter saying: "It doesn't, in the end, not sound like Pink Floyd".

Led Zeppelin - 'Stairway to Heaven'

Led Zeppelin - Stairway To Heaven (Official Audio)

This epic folk rock song originated in 1970, when Jimmy Page and Robert Plant were spending time at Bron-Yr-Aur, a remote cottage in Wales.

Plant's own explanation of the lyrics was that it "was some cynical aside about a woman getting everything she wanted all the time without giving back any thought or consideration. The first line begins with that cynical sweep of the hand, and it softened up after that."

It is one of the most famous songs to have never been released as a single.

Prince - 'I Wanna Be Your Lover'

Prince - I Wanna Be Your Lover (Official Music Video)

This was Prince's first hit in the US, and was written after Warner Bros requested a follow-up to his debut album For You, which had underperformed commercially.

It details Prince's love for a woman and how he would treat her better than the men she is with, and the frustration that she thinks of him as "a child". It was later revealed that the song concerned a crush Prince had at the time on pianist and singer Patrice Rushen.

George Harrison - 'My Sweet Lord'

George Harrison - My Sweet Lord (Official Audio)

This was the first number one single by an ex-Beatle, with George having originally given the song to Billy Preston in 1970.

He wrote the song in praise of the Hindu god Krishna, while also intending to abandon all religious sectarianism through his deliberate blending of the Hebrew word hallelujah with chants of 'Hare Krishna'. Preston, Ringo Starr, Eric Clapton and Badfinger also feature.

In 1976, Harrison was found to have subconsciously plagiarised 'He's So Fine' by The Chiffons, a verdict that had repercussions throughout the music industry.

Elton John - 'Rocket Man'

Elton John - Rocket Man (Official Music Video)

This song was inspired by the short story 'The Rocket Man' by Ray Bradbury, as well as Taupin's sighting of either a shooting star or a far-away aeroplane.

It describes a Mars-bound astronaut's mixed feelings at leaving his family for a long amount of time. It has been used numerous times to wake up real-life NASA astronauts, and was played during the 40th and 45th anniversaries of the Apollo 11 Moon Landing.

Wings - 'Live and Let Die'

Paul McCartney & WINGS - Live And Let Die

It was a stroke of genius hiring Paul McCartney's new band to record the theme tune to Roger Moore's first Bond.

Even with the strange breakdown in the middle of the track, you can't argue that this song has something truly special and timeless about it.

Wings - 'Band on the Run'

Paul McCartney & Wings - Band On The Run (Official Music Video)

This song was partly inspired by a comment George Harrison had made ("if we ever get out of here") during a meeting of the Beatles' Apple record label.

Its creation coincided with Harrison, John Lennon and Ringo Starr having parted with manager Allen Klein in March 1973, leading to improved relations between McCartney and his fellow ex-Beatles.

McCartney later said of the song: "It's a million things all put together. Band on the run – escaping, freedom, criminals. You name it, it's there."

Queen - 'Somebody to Love'

Queen - Somebody To Love (Official Video)

Written by Freddie Mercury at the piano, this ballad is a soul-searching song that questions God's role in a life without love.

Queen created the sound of a 100-voice choir, with only three voices: Mercury, Brian May and Roger Taylor.

Mercury's fascination and admiration for Aretha Franklin was a major influence on the song.

Steve Harley & Cockney Rebel - 'Make Me Smile (Come Up and See Me)'

Steve Harley & Cockney Rebel - Make Me Smile (Come Up And See Me) (Official Music Video)

This was a big number one hit for Steve Harley in 1975. He began writing the song only days after the band Cockney Rebel's split.

He later said the first verse was written at four in the morning after a bottle of brandy, feeling sorry for himself. "I was in distress, there's no doubt at all, out of adversity I had to talk about it, I had to write about it. I had to say these things, I had to get it off my chest."

The Beatles - 'The Long and Winding Road'

The Beatles - The Long And Winding Road (Official Video)

Recorded for Let It Be and written by Paul McCartney, this was released as the final Beatles single in 1970.

McCartney came up with the title during one of his first visits to his property High Park Farm in Scotland, inspired by a road "stretching up into the hills" in the remote Highlands.

Despite McCartney not being a fan of producer Phil Spector's orchestral additions to the song, it became one of the band's most loved ballads.

Queen - 'Killer Queen'

Queen - Killer Queen (Top Of The Pops, 1974)

This song marked a departure from the heavier material of Queen's first two albums, as well as the beginning of a more diverse approach to songwriting.

The song is about a high class call girl, with Freddie Mercury saying: "People are used to hard rock, energy music from Queen, yet with this single you almost expect Noel Coward to sing it. I'm trying to say that classy people can be whores as well. Though I'd prefer people to put their interpretation upon it – to read into it what they like."

Don McLean - 'American Pie'

Don McLean performs American Pie live at BBC in 1972 - Newsnight archives

This epic eight-minute song references 'the day the music died", alluding to to the plane crash in 1959 that killed rock and roll stars Buddy Holly, The Big Bopper, and Ritchie Valens. The crash was not known by that name until after McLean's song was a hit.

The meaning of the many other lyrics has long been debated, with Don McLean declining to explain the symbolism behind the song's characters and events.

The overall theme of the song is about the loss of innocence of the early rock and roll era, as symbolized by the plane crash in question.

Kate Bush - 'Wuthering Heights'

Kate Bush - Wuthering Heights - Official Music Video - Version 2

Written by Kate Bush when she was 18, this song is based on the novel of the same name by Emily Brontë. She was inspired by the last ten minutes of a 1967 BBC mini-series, and then read the book and discovered she shared her birthday with Brontë.

It is sung from Catherine's point of view, as she pleads at Heathcliff's window to be allowed in.

James Taylor - 'Fire and Rain'

James Taylor - Fire and Rain (Official Audio)

The second single from James Taylor's second album, he explained the song was about several incidents during his early recording career.

The second part details Taylor's struggle to overcome drug addiction and depression, while the third was about his deep depression after the failure of his band The Flying Machine ('Sweet dreams and Flying Machines in pieces on the ground').

Carole King played piano on the song, and she later said her song 'You've Got a Friend' was a response to the line 'I've seen lonely times when I could not find a friend'.

The Beatles - 'Let It Be'

Let It Be (Remastered 2009)

This poignant track was one of the last singles released by The Beatles, from their 1970 album of the same name.

Paul McCartney said he had the idea of the song after he had a dream about his mother during the tense period surrounding sessions for The White Album in 1968.

Rod Stewart - 'Maggie May'

Rod Stewart - Maggie May (1971)

This song expresses the ambivalent emotions of a young man involved in a relationship with an older woman, and was written from Rod Stewart's own experience.

He later recalled: "'Maggie May' was more or less a true story, about the first woman I had sex with, at the 1961 Beaulieu Jazz Festival."

The woman's name was not Maggie May, and Rod has stated that the name was taken from "an old Liverpudlian song about a prostitute". It was actually the B-side to 'Reason to Believe', but DJs preferred to play this instead.

Commodores - 'Easy'

One of the ultimate relaxing songs from the decade, Commodores lead singer Lionel Richie wrote it is a slow ballad expressing a man's feelings as a relationship ends.

However, rather than being depressed about the break-up, he is instead "easy like Sunday morning", something that Richie described as being like "small Southern towns that die at 11.30pm" on a Saturday night".

Blondie - 'Heart of Glass'

Blondie - Heart Of Glass (Official Music Video)

This song saw Blondie truly hit the mainstream, reaching number one in the UK in 1979.

Taking on a disco vibe, this song was written as a slower track titled 'Once I Had a Love' a few years earlier.

Debbie Harry later said it "was one of the first songs Blondie wrote, but it was years before we recorded it properly. We'd tried it as a ballad, as reggae, but it never quite worked", and that "the lyrics weren't about anyone. They were just a plaintive moan about lost love."

Donna Summer - 'I Feel Love'

Donna Summer - I Feel Love (Live)

There are few records which changed the music world as much as Donna Summer's 'I Feel Love'. The single arguably ushered in the electronica era, thanks to its lucious production from producer Giorgio Moroder and Pete Bellotte.

Released in 1977, it was years ahead of its time, and connected disco with synthpop and even house music.

Moroder described Summer as "an incredibly talented singer, who could improvise but was also very disciplined".

Elton John - 'Goodbye Yellow Brick Road'

Elton John - Goodbye Yellow Brick Road

Referencing the 1939 movie The Wizard of Oz, this song describes wanting to go back to a simpler existence after living what the narrator thought was the good life, but realizing they had simply been treated like a pet.

Oz was apparently the first film that Elton's songwriting partner Bernie Taupin had ever seen, and he used the imagery to relate to his own life as his desire to "get back to [his] roots".

Fleetwood Mac - 'Dreams'

Fleetwood Mac - Dreams (Official Music Video)

The members of Fleetwood Mac were experiencing emotional upheavals while recording the Rumours album. Mick Fleetwood was going through a divorce, John McVie was separating from his wife Christine McVie, and Lindsey Buckingham and Stevie Nicks were ending their eight-year relationship.

Nicks wrote the song after Buckingham had written 'Go Your Own Way' about her. She said: "It was the fairy and the gnome. I was trying to be all philosophical. And he was just mad."

The Corrs had a hit with a cover version in 1998.

Neil Diamond - 'Sweet Caroline'

Neil Diamond - Sweet Caroline High Quality neildiamond

Technically this was released in 1969, but it wasn't a hit in the UK until 1971, so we're including it!

Neil Diamond wrote this ridiculously catchy song about his second wife, Marcia Murphey, who he married in 1969 (they divorced in 1995). However, He needed a three-syllable name to fit the melody, so 'Sweet Marcia' didn't work.

Despite never being a number one single, it has become Neil's signature song, and is a guaranteed crowd pleaser, from weddings to sports events.

Queen - 'Don't Stop Me Now'

Queen - Don't Stop Me Now (Official Video)

The ultimate happy anthem? This song was written by Freddie Mercury, and sees him singing about generally being high on life.

"I thought it was a lot of fun, but I did have an undercurrent feeling of, 'aren't we talking about danger here,' because we were worried about Freddie at this point," Brian May later said.

"That feeling lingers, but it's become almost the most successful Queen track as regards to what people play in their car or at their weddings. It's become a massive, massive track and an anthem to people who want to be hedonistic. It was kind of a stroke of genius from Freddie."

David Bowie - 'Life on Mars?'

David Bowie – Life On Mars? (Official Video)

In 1968, David Bowie wrote 'Even a Fool Learns to Love', set to the music of 'Comme d'habitude', by Claude François and Jacques Revaux. Bowie's version was never released, but Paul Anka bought the rights to the French version and rewrote it as 'My Way'.

The success of the song prompted Bowie to write this as a parody of Frank Sinatra's recording. With Rick Wakeman on piano, the song was the backdrop for BBC TV drama Life on Mars, which used both the name and the song itself as its basis.

Bill Withers - 'Ain't No Sunshine'

Bill Withers - Ain't No Sunshine

Produced by Booker T Jones and featuring Stephen Stills on guitar, Bill Withers was inspired to write this song after watching the 1962 movie Days of Wine and Roses. He said of the two main characters: "They were both alcoholics who were alternately weak and strong. Sometimes you miss things that weren't particularly good for you."

For the third verse, Withers intended to write more lyrics instead of repeating the phrase 'I know' 26 times, but followed the advice of the other musicians to leave it that way.

Dolly Parton - 'Jolene'

Dolly Parton - Jolene (Official Lyric Video)

Read more: The Story of... 'Jolene'

This country song tells the tale of a woman confronting Jolene, a stunningly beautiful woman, who she believes is trying to steal away her lover.

According to Dolly, the song was inspired by a red-headed bank clerk who flirted with her husband Carl Dean at his local bank branch around the time they were newly married.

10cc - 'I'm Not in Love'

This UK number one is notable for its innovative and distinctive backing track, composed mostly of the band's multitracked vocals.

Written mostly by Eric Stewart as a riposte to his wife's declaration that he did not tell her often enough that he loved her, it was originally conceived as a bossa nova song but colleagues Kevin Godley and Lol Creme disliked it at first, and it was radically changed.

The whispered 'big boys don't cry' line was recorded by studio secretary Kathy Redfern.

Stevie Wonder - 'Superstition'

Stevie Wonder - Superstition (1974)

Arguably Stevie's most famous song, it is also one of the most popular and successful funk tunes of all time.

It was originally intended to be released by British guitarist Jeff Beck first, but Motown's Berry Gordy convinced Stevie to bring it out as he knew it would be a huge hit. He was right...

Michael Jackson - 'Don't Stop Til You Get Enough'

Michael Jackson - Don't Stop 'Til You Get Enough (Official Video)

The first single from Off the Wall was the first solo recording over which Michael Jackson had creative control.

After filming the movie The Wiz, Jackson asked the film's musical director Quincy Jones if he knew of any producers to help with his future solo career.

Jones suggested himself, and the two began work on Off the Wall. The song introduced Jackson's falsetto voice and vocal hiccups, which would become one of Jackson's signature techniques.

Gerry Rafferty - 'Baker Street'

Gerry Rafferty - Baker Street (UK)

Named after Baker Street in London, this song was Gerry Rafferty's first release after the resolution of legal issues surrounding the break-up of his band Stealers Wheel, in 1975.

Rafferty had been unable to release any material for three years because of disputes over the band's contractual obligations. Rafferty said of the song: "everybody was suing each other, so I spent a lot of time on the overnight train from Glasgow to London for meetings with lawyers. I knew a guy who lived in a little flat off Baker Street. We'd sit and chat or play guitar there through the night".

An urban legend claimed that TV host Bob Holness performed the song's famous saxophone solo, but it was actually Raphael Ravenscroft.

Fleetwood Mac - 'Go Your Own Way'

Fleetwood Mac - Go Your Own Way (Official Music Video)

This was the first song Lindsey Buckingham wrote for Rumours. By this point, all five members of Fleetwood Mac saw their romantic relationships fall apart: Christine McVie and John McVie divorced, Mick Fleetwood separated from his wife for the second time, and Stevie Nicks and Lindsey Buckingham moved apart.

While Buckingham and Nicks were still on speaking terms, their conversations often descended into yelling, with this song being partly inspired by their situation.

John Lennon - 'Imagine'

Imagine - John Lennon & The Plastic Ono Band (w the Flux Fiddlers) (official music video HD long v)

Released in 1971 from the album of the same name, it cemented Lennon as a songwriting genius on his own right following the breakup of The Beatles the year before.

Nearly 50 years later, and it's still one of the most covered songs ever, and continues to be used as a symbol of the pursuit of world peace.

Lennon composed the song one morning in early 1971. Yoko Ono watched on as he composed the melody, chords and most of the lyrics, and nearly completed the whole song in one short writing session.

David Bowie - 'Heroes'

David Bowie - Heroes (Official Video)

While not a huge hit at the time, it went on to become one of Bowie's signature songs.

Inspired by the sight of Bowie's producer Tony Visconti embracing his lover by the Berlin Wall, the song tells the story of two lovers, one from East and one from West Berlin.

His performance of 'Heroes' on June 6, 1987, at the German Reichstag in West Berlin, has been considered a catalyst to the fall of the Berlin Wall. After his death in 2016, the German government thanked Bowie for "helping to bring down the Wall".

Simon & Garfunkel - 'Bridge Over Troubled Water'

Simon & Garfunkel - Bridge over Troubled Water (from The Concert in Central Park)

Composed by Paul Simon, this was the last song recorded for the duo's final album. Simon felt Art Garfunkel should sing the song solo, an invitation Garfunkel initially declined.

The lyrics were partly inspired by Claude Jeter's line 'I'll be your bridge over deep water if you trust in me', in the song 'Mary Don't You Weep'.

Simon later felt jealous about giving it to Garfunkel, saying: "Many times on a stage, when I'd be sitting on the side and Artie would be singing, people would stomp and cheer, and I'd think, 'That's my song, man'".

Bee Gees - 'Stayin' Alive'

Bee Gees - Stayin' Alive (Official Music Video)

The Bee Gees became the unlikely kings of disco thanks to their hugely successful Saturday Night Fever soundtrack. They wrote this song over a few days after being contacted by producer Robert Stigwood.

Barry Gibb said of this track: "People crying out for help. Desperate songs. Those are the ones that become giants. The minute you capture that on record, it's gold."

Eagles - 'Hotel California'

Eagles - Hotel California (Live 1977) (Official Video) [HD]

Don Henley gave several explanations about this classic rock song, ranging from "a journey from innocence to experience" to "a socio-political statement".

The melody of the song was composed by Don Felder while he stayed at a rented house on Malibu Beach. The metaphorical character of the story has inspired a number of interpretations by listeners.

In the 1980s, Christian evangelists alleged that it referred to a San Francisco hotel that was converted into a Church of Satan, while others thought it was the Camarillo State Mental Hospital.

ELO - 'Mr Blue Sky'

Electric Light Orchestra - Mr. Blue Sky (Official Video)

This epic pop rock song was written and produced by Jeff Lynne, and forms the fourth and final track of the 'Concerto for a Rainy Day' suite, on side three of the original double album Out of the Blue.

ELO's most famous song, it was written by Lynne after locking himself away in a Swiss chalet: "It was dark and misty for two weeks, and I didn't come up with a thing. Suddenly the sun shone and it was, 'Wow, look at those beautiful Alps'. I wrote 'Mr Blue Sky' and 13 other songs in the next two weeks".

Elton John - 'Your Song'

Elton John - Your Song (Top Of The Pops 1971)

Taken from Elton's second, self-titled album, this ballad was actually recorded by Three Dog Night first, after he allowed them to record it.

Bernie Taupin wrote the song's lyrics after breakfast on the roof of 20 Denmark Street, London, where Elton worked for a music publishing firm as an office boy, inspiring the line: "I sat on the roof and kicked off the moss". 

Queen - 'Bohemian Rhapsody'

Queen – Bohemian Rhapsody (Official Video Remastered)

This six-minute suite, featuring several sections without a chorus: an intro, a ballad segment, an operatic passage, a hard rock part and a reflective coda, is often voted the greatest song ever made.

It reached number one twice in the UK: in 1975 and in 1991 after Freddie Mercury's death.

It took three weeks to record and was "all in Freddie's mind" before they started, according to Brian May. It enjoyed a new lease of life in the US in 1992, after its headbanging use in the movie Wayne's World.

ABBA - 'Dancing Queen'

Abba - Dancing Queen (Official Video)

Arguably their most popular and famous song, it is also one of the greatest disco tunes of all time.

Agnetha Fältskog said of the song: "It's often difficult to know what will be a hit. The exception was 'Dancing Queen.' We all knew it was going to be massive." Benny Andersson agreed, calling it "one of those songs where you know during the sessions that it's going to be a smash hit."

Bonus fact: It was apparently the Queen's favourite pop song ever.