Barry Gibb facts: Bee Gees singer's age, wife, children and net worth revealed
20 November 2020, 15:39 | Updated: 8 February 2022, 17:08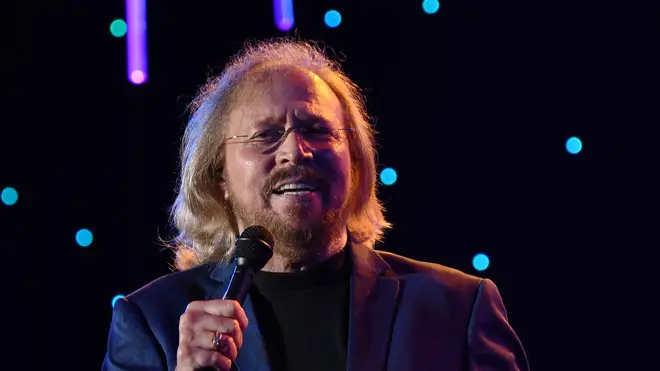 The Bee Gees' Sir Barry Gibb is one of the world's best loved and most respected musicians and singer-songwriters of all time.
From his decades of success as a writer for artists such as Barbra Streisand and Dolly Parton, to his years of performing and producing hit records with brothers Robin and Maurice in the Bee Gees, Sir Barry Gibb is a true icon of pop music.
But who is his wife and where was he born? Here's all the important facts about the legendary artist.
How old is Barry Gibb and where is he from?

Barry Gibb playing Glastonbury in 2017. Picture: Getty

Barry Gibb was born on September 1, 1946. He celebrated his 74th birthday in 2020.

His full name is Barry Alan Crompton Gibb, and he was born in Jane Crookall Maternity Home in Douglas, Isle of Man.

His parents were Hugh Gibb (1916-1992), a drummer, and Barbara Gibb (1920-2016).

Barry's siblings are older sister Lesley Evans, and younger brothers - twins Maurice and Robin, and Andy Gibb.

Bee Gees' Barry Gibb officially knighted by Prince Charles

Barry Gibb nearly died when he was a baby

Barry Gibb. Picture: Getty

When Barry was nearly two years old, he was badly scalded. His mother had made some tea, which she had put on the table, Barry climbed up and pulled the tea pot down, which poured all over him. He had to stay in hospital for two and a half months.

He later said: "Then the gangrene set in. Because in those days, the advancement of medicine simply didn't apply to people with bad scalds, so you didn't have skin grafts, you didn't have things like that.

"But this was a particularly bad scald, and I think I had 20 minutes to live at some point. The incredible thing for me is that whole two years is wiped from my memory, the whole period of being in hospital.

"The idea of being burnt is in there somewhere, but I have no knowledge of it. I've got the scars but I have no knowledge."

When did the Bee Gees form?

The Bee Gees. Picture: Getty

In 1955, Barry Gibb formed the skiffle group The Rattlesnakes, with himself on vocals and guitar, Robin and Maurice on vocals and their friends Paul Frost and Kenny Horrocks also singing.

By 1958, when the Gibbs moved home, Frost and Horrocks left the band. The brothers later changed the name to Wee Johnny Hayes and the Blue Cats.

Later that year, the Gibb left the UK for Australia. The band soon changed its name to Bee Gees.

Their talent brought them to the attention of DJ Bill Gates (not that one), and it wasn't long before they secured their first record deal.

Barry Gibb emotionally reflects on losing his brothers

Who is Barry Gibb's wife and does he have any children?

Barry Gibb and Linda Gray's wedding. Picture: Getty

Barry Gibb's first marriage was to Maureen Bates. They married in 1966 when he was aged 19.

The couple lived together for a short period, and divorced in 1970.

While recording Top of the Pops, Barry met the former Miss Edinburgh, Linda Gray. Later in 1970, the couple got married.

Barry Gibb with wife Linda and children, Michael, Alexandra and Ashley. Picture: Getty

Barry and Linda have five children: Stephen (born 1973), Ashley (born 1977), Travis (born 1981), Michael (born 1984) and Alexandra (born 1991).

What is Barry Gibb's net worth?

Sir Barry Gibb reportedly has a net worth of around $90 million (£67 million), according to Celebrity Net Worth.