Watch Ed Sheeran cover Neil Diamond and Backstreet Boys at a tiny surprise show
28 September 2022, 14:39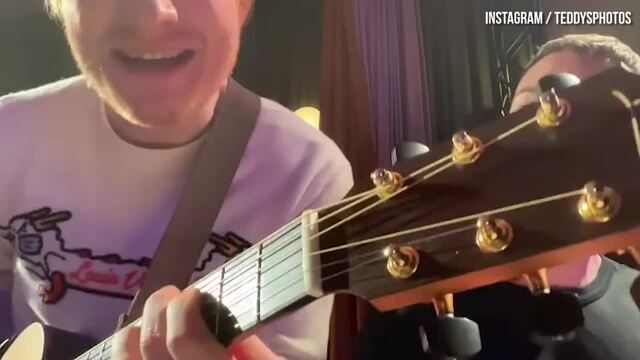 Ed Sheeran posts clip of performance rehearsal
"The biggest popstar in the world" rocks up to a tiny club in Ibiza for an unannounced live show.
Ed Sheeran is one of the biggest stars on the planet right now, and he plays some of the biggest shows around.
He did five nights at Wembley Stadium on his +–=÷x Tour this year, as well as playing a number of other massive stadium concerts around the UK, Ireland and the rest of the world.
Despite that, Ed still doesn't mind getting up close and personal when the mood takes him.
He did just that when he rocked up unannounced at the House In Paradise club at O Beach in Ibiza on Monday night (September 26) to play a four-song set.
Ed opened with his own 'Shape of You', before kicking into a trio of covers: The Backstreet Boys 'I Want It That Way, Neil Diamond's 'Sweet Caroline' and Britney Spears's 'Hit Me Baby One More Time'.
Sheeran actually jumped into the crowd before the second song and sang along with the crowd before returning to the stage for his Neil Diamond cover.
House In Paradise promoter Joshua Makinson told the Evening Standard: "I was absolutely blown away that Ed has come to House in Paradise at O Beach.
"We've had artists turn up in the past and perform but to have one of the biggest pop stars in the world perform is magical."
Ed recently announced the release of a one-off single 'Celestial', which will have an animated music video created by the studio behind the Pokemon games franchise.