Elton John's glasses: An evolution of the star's most outlandish stage fashion
1 May 2019, 14:26 | Updated: 1 May 2019, 16:51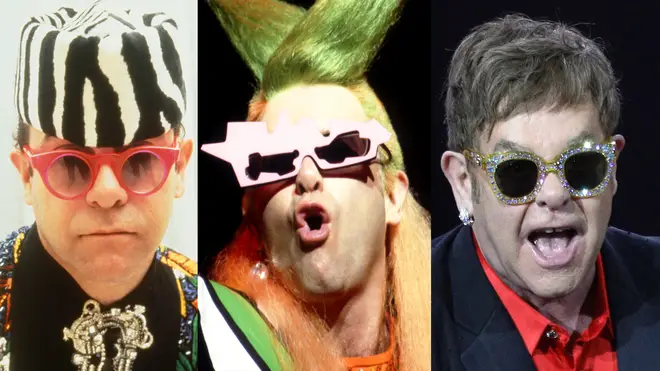 Elton John's glasses are the stuff of stage legend, with the British singer donning anything from star-shaped specs to full-feathered sunglasses to perform his greatest hits.
Elton John claims to own a whopping 250,000 pairs of sunglasses and has been seen donning an outrageous selection of spectacles over the years.
With the release of Elton's biopic Rocketman just around the corner - and Taron Egerton due to recreate Elton's most iconic outfits - we take a look at the evolution of Elton John's incredible sunglass collection...
Elton's rococco glasses in 1974

Elton's glasses game really moved up a gear in 1974 when the English singer released his Greatest Hits album.

Elton In Lounge Outfit. Picture: Getty

Touring the world, the singer brought some of his most iconic glasses to the stage and screen, starting with this rococco-inspired pair he donned during a photoshoot at his home for the Greatest Hits album release.

Elton's channels "cowboy chic" in 1974

Another strong outfit in 1974, Elton gave his own take on cowboy chic with some dungarees and a mink fur coat - as you do.

Elton In Hollywood. Picture: Getty

Elton finished off the look with some enormous sunglasses with his initial 'EJ' picked out in rhinestones in the centre.

Awning sunglasses in 1974

Elton's glasses in September 1974 were a new take on "sun-glasses."

Elton with awning specs in 1974.

Picture: Getty

The novelty glasses came with miniature awnings over each lens and in hindsight, a surprisingly practical way to keep out sunlight - we wonder why this didn't catch on?

Bejewelled feathers in 1974

October 1974 saw Elton John take to the stage wearing enormous specs embellished with an abundance of curly feathers.

Elton pictured in 1974.

Picture: Getty

Finishing off the look with a silver puffa-jacket-come-jumpsuit, the resulting ensemble set the bar for Elton's eccentric stage outfits.

Elton flies high in 1975

It's 1975, and Elton isn't just wearing enormous sculptural sunglasses and lying in bed under an enormous white fur rug, he's doing it all on board a private plane - naturally.

Elton John on a private plane in 1975.

Picture: Getty

The picture was taken when songwriter was at the height of his early fame - his Greatest Hits release was the highest selling US album in 1975.

To be a fly on the wall for that photoshoot...

A green mohican in 1986

Just in case we thought Elton's stage outfits were winding down in the mid-eighties, he comes on stage with a green mohican and pink jigsaw glasses in 1986.

Elton John on stage in 1986.

Picture: Getty

Elton was performing during the Ice on Fire Tour on August 18, 1986 at the Pine Knob Music Theatre in Clarkston, Michigan.

Cat Eye glasses in 1989

Elton finished off his outfit for the 1989 Victoires de la Musique event in France with a zebra-printed fez and some neon pink cats eye sunglasses.

Elton John at the Victoires de la Musique ceremony.

Picture: Getty

The British composer released his 22nd studio album Sleeping With The Past that year bringing us hits 'I Never Knew Her Name' and 'Healing Hands'.

Barbie pink rims for 1992

Elton's eccentric stage outfits didn't let up in the famously minimalist '90s.

Elton John in 1992.

Picture: Getty

Taking to the stage at the Hippodrome de Vincennes concert hall, Elton wore a banana yellow blazer and pink specs that would make Barbie proud.

Bespoke 3D glasses in 2011

A cinema-going Elton John would naturally need his own pair of bespoke 3D glasses.

The 'Your Song' singer was attending the premiere of Gnomeo and Juliet on January 30, 2011.

Elton's 3D glasses in 2011.

Picture: Getty

The Disney classic featured a number of his greatest hits including 'Saturday Night's Alright (For Fighting),' 'Tiny Dancer' and 'Don't Go Breaking My Heart'.

Elton's crystal red lenses in 2015

A performance in Atlanta, Georgia in 2015 saw Elton don a pair of neon red glasses for the first day of the Music Midtown event.

Elton's bespoke glasses on stage in 2015.

Picture: Getty

Elton's shades were covered in a diamond pattern of crystals across the lenses.

Paired with a black and gold bejewelled blazer, it was classic look for the September 18 performance.

Golden rhinestones for Russia in 2017

As part of Elton John's Wonderful Crazy Night Tour in 2017, the singer wowed Russian audiences with renditions of his greatest hits.

Elton John on stage in Russia in 2017.

Picture: Getty

Wearing a black and red jacket, Elton finished off his stage outfit with gold sunglasses - covered in rhinestones and crystals - for the Moscow crowd.

Dame Edna specs in 2019

Making an appearance at the 2019 Vanity Fair Oscar Party following the 91st Oscars ceremony, Elton's didn't disappoint with his gold sequinned jacket and glasses reminiscent of Dame Edna's finest efforts

Elton at the Oscars in 2019.

Picture: Getty

The singer/songwriter was in attendance with partner David Furnish, arriving after hosting the pair's famous Oscar's viewing party that they put on each year to benefit the Elton John AIDS Foundation.