Watch Priscilla Presley's beautiful tribute to her daughter Lisa Marie at memorial ceremony
23 January 2023, 10:58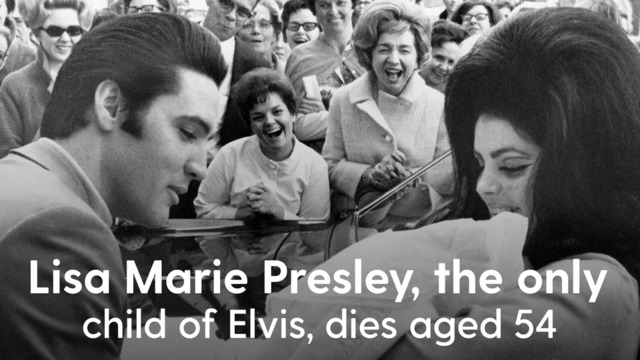 Singer Lisa Marie Presley, only child of Elvis Presley, dies at the age of 54
"Our heart is broken. Lisa, we all love you."
Priscilla Presley paid tribute to her daughter Lisa Marie at her memorial service at Graceland by reading an emotional poem written by one of her granddaughters.
Lisa Marie died earlier this month at the age of 54 after suffering a suspected cardiac arrest. 
"Lisa Marie Presley was an icon, a role model, a superhero to many people all over the world," Pricilla read as an introduction from the note during yesterday's service (January 22).
"But mama was my icon, my role model, my superhero, in much more ways than one.
"Even now, I can't get across everything there is to be understood or known about her. But as she always said, "I'll do my best'."
Lisa Marie Presley memorial: Priscilla Presley remembers her daughter, reads poem by granddaughter
Priscilla then read out the poem, called 'Old Soul', which included the tender phrase "she always knew she wouldn't be here too long, childhood passes by with a glimpse of her green eye".
After finishing the poem, Priscilla added: "That says it all, and thank you all for being here.
"Our heart is broken. Lisa, we all love you."
LIVE: Lisa Marie Presley Memorial Service
The Celebration of Life ceremony opened with a rendition of 'Amazing Grace' by Jason Clark & The Tennessee Mass Choir, with the same group closing it with a rendition from Revelation 19:1.
As well as Priscilla, others who shared their Remembrances of Lisa Marie or performed at the event included Smashing Pumpkins frontman Billy Corgan, who sang 'To Sheila' from the Adore album, and Guns N' Roses singer Axl Rose who performed 'November Rain'.
Also performing was Alanis Morissette, who gave a rendition of 'Rest', a song first performed at a tribute to Linkin Park's Chester Bennington, and later released for Mental Health Awareness in 2021.