Remembering when Michael Bublé 'duetted' with Bing Crosby on 'White Christmas'
19 December 2019, 12:23 | Updated: 16 November 2022, 16:03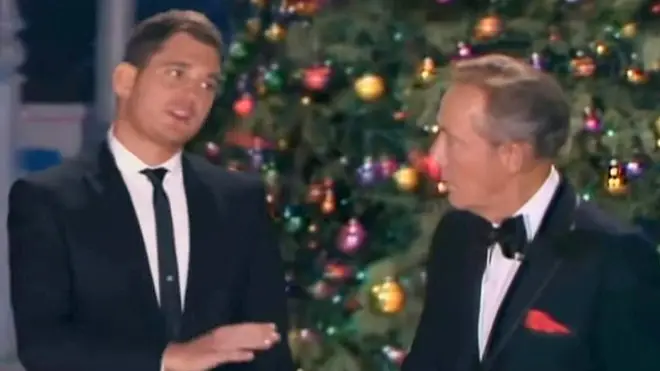 If there's one man who could claim to be the King of Christmas ahead of Michael Bublé, it's Bing Crosby.
But did you know they once sang together?
How is that possible, we hear you ask? Didn't Bing pass away when Michael was just a baby?
Thanks to the magic of CGI, Michael fulfilled his dream of performing a duet with the late crooner back in 2012 on his TV special Home for the Holidays.
Watch the moment the duo performed 'White Christmas' together below:
Michael Bublé & Bing Crosby - White Christmas
The skit sees Michael interrupt Bing during one of his TV specials to ask if he can sing 'White Christmas' with him, only to be disappointed when Bing turns him down. In the end, he relents and the pair start singing the festive ballad together.
The original performance was actually from Bing's The Sounds of Christmas TV special from 1971. Michael replaced Bing's wife Kathryn Crosby in the original scene, which you can see below:
Bing Crosby's daughter Mary Crosby recently spoke to Smooth Radio about the ongoing legacy of her father and 'White Christmas'.
Mary explained: "I grew up with it. I not only heard it at Christmas, but I heard it in June, because we went to public school. So I've heard 'White Christmas' throughout my life.
"It's a wonderful song on a lot of levels. It's not just a beautiful Christmas carol, but it meant a lot to the soldiers overseas. And I think that was really important.
Bing's biggest hit, his 1942 recording of 'White Christmas' by American composer and lyricist Irving Berlin is not only the epitome of Christmas in song, but the world's best-selling single.
The song has amassed sales in excess of 50 million copies worldwide and has achieved over 1.8 billion streams since streaming began.
With an average of 18 million streams on December 25 alone every year, 77 years since its original release, Bing's daughter Mary has told why the song remains essential listening at Christmas.