Queen's Brian May thanks fans for their "torrent of love and support" following heart attack
27 May 2020, 10:34 | Updated: 27 May 2020, 10:44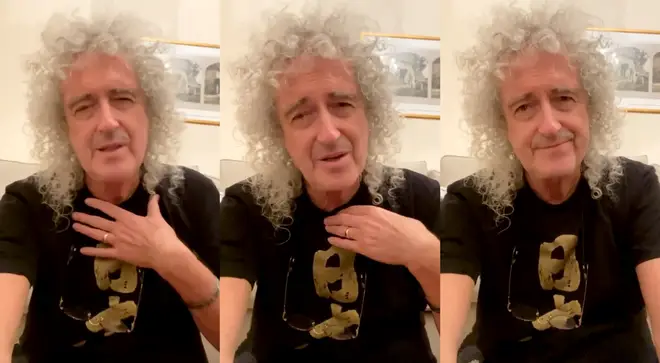 The legendary guitarist confirmed earlier this week that he had suffered a heart attack and is now recovering from surgery, revealing that he was "very near death".
Brian May has thanked his fans for their messages of love and support following his heart attack, saying that he is feeling 'overwhelmed' by the response.
"I'm really more than touched by the torrent of love and support that's come back at me after the incredible coverage in the press, I really didn't expect all that," he said in an Instagram post last night (May 26).
"I will never ever be able to thank you all individually, so let me please at least thank you here. It's just unbelievable."
May revealed on Monday (May 25) that he had a 'small' heart attack earlier this month, and told fans in yesterday's post that he was "battling things".
"This is going to sound very strange, but I sort of feel like I died," he said in the video. "And yet I was able to come to the funeral and see all of the tributes and stuff.
"I often think that at funerals – I don't know if you think that. All of these people come and say these wonderful things about the person that's gone, but he can't hear it – or she can't hear it.
"So I'm lucky I got to hear it. So my life is complete."
The 72-year-old revealed that he was recovering from a ripped muscle when the heart attack occurred in a video posted on his Instagram page earlier this week.
"I had – in the middle of the whole saga of the painful backside – I had a small heart attack," he told his fans.
"I say small, it's not something that did me any harm. It was about 40 minutes of pain in the chest and tightness. It's that feeling in the arms and sweating."
May chose to have three stents put in and said he felt immediately better when he came round.
"I couldn't feel they had been in here," he said. "I couldn't feel anything and I still can't, it's been amazing."