The top 25 greatest 1980s synthpop songs ever
12 June 2020, 16:28 | Updated: 12 June 2020, 16:31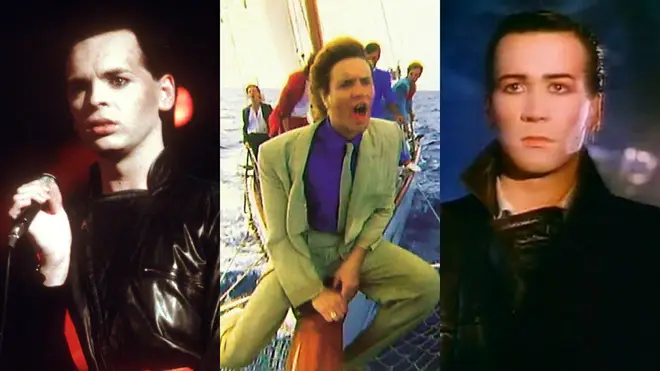 In the late 1970s, a new movement of electronic music dominated the charts.
It heralded a new era of synthpop and New Romantic artists that ruled the music landscape on both sides of the Atlantic for the next decade.
These are very best synthpop anthems that still sound amazing over 30 years later.
Spandau Ballet - 'To Cut a Long Story Short'

Spandau Ballet - To Cut A Long Story Short

Before Spandau Ballet went down the ballad route with 'True', they were one of the leading moody New Romantic bands around.

The song is thought to be about a veteran, perhaps of Vietnam, who is drafted and suffers from PTSD. The lyrics are told from the man's point of view as a boy being drafted, and how he gets no answers as to why he must join the war.

Duran Duran - 'Rio'

Duran Duran - Rio (Official Music Video)

If you're looking for a stylish 1980s music video, look no further than 'Rio'. The vivid promo features iconic images of the band singing and playing around on a yacht speeding over the crystal blue Caribbean Sea.

This was Duran Duran at their most almighty pomp, showing just how popular synthpop had become by 1982.

M - 'Pop Muzik'

M - Pop Muzik (Official Video)

One of the greatest one-hit-wonders of all time, you might not know the song by name, but you'll definitely have it in your head all day.

M was the brainchild of British artist Robin Scott, who later said of the song: "I was looking to make a fusion of various styles which somehow would summarise the last 25 years of pop music. It was a deliberate point I was trying to make.

"Whereas rock and roll had created a generation gap, disco was bringing people together on an enormous scale. That's why I really wanted to make a simple, bland statement, which was, 'All we're talking about basically (is) pop music."

Dead or Alive - 'You Spin Me Round (Like a Record)'

Dead Or Alive - You Spin Me Round (Like a Record) (Official Video)

This bombastic synthpop anthem gave Stock, Aitken and Waterman their first number one in the UK in 1984.

According to singer Pete Burns, the record company was not enthusiastic about the song, to such an extent that Burns had to take out a £2,500 loan to record it. Once it had been recorded: "The record company said it was awful. It was unanimous – it was awful, it was rubbish." How wrong they were!

OMD - 'Enola Gay'

Orchestral Manoeuvres In The Dark - Enola Gay

Considering how catchy and cheerful this song sounds, if you weren't listening to the lyrics you'd probably have no idea it is about the atomic bombing of Hiroshima during the final stages of World War II.

It became OMD's signature song, and sold over 5 million copies around the world.

Heaven 17 - 'Temptation'

Heaven 17 were formed after some of its members left The Human League to create a new band.

This was their most famous hit, with Martyn Ware later explaining the subject matter of the song as: "I woke up one morning and thought I've got to write a song about sex, I've never written a song about sex. So the song is about rising sexual tension; it has chords that keep going up like an Escher staircase and in the end there's this big release."

The song's memorable vocals were provided by session singer Carol Kenyon.

Kim Wilde - 'Kids in America'

Kim Wilde - Kids in America (1981)

Kim Wilde was spotted by record boss Mickie Most after she sang backing vocals for her brother Ricky. Ricky then co-wrote this song with their rock and roll dad Marty for Kim to sing.

In 2012, a video of Kim singing the song on the Tube went viral. She said: "I was with my brother, on my way home after some drinks, and I just started singing. When I woke up the next day it'd all kicked off on Twitter and I thought, 'Whatever career I have right now, I probably buried it.' What amazed me was that people thought it was fun and sweet."

Frankie Goes to Hollywood - 'Relax'

Frankie Goes To Hollywood - Relax (Laser Version)

Although fairly inauspicious upon initial release, this track eventually became one of the most controversial and successful records of the 1980s, selling over 2 million copies in the UK alone.

The song emphasised the shock impact of Frankie members Holly Johnson and Paul Rutherford's open homosexuality in the packaging and music videos. It was banned by the BBC due to its suggestive sleeve and lyrics.

Yazoo - 'Don't Go'

This was Yazoo's second single, following their pop breakthrough ballad 'Only You'.

Produced by Vince Clarke and with Alison Moyet's vocals, this was a synthpop nightclub favourite, and gave them a top three hit in the UK.

Visage - 'Fade to Grey'

This is one of the quintessential synthpop songs ever, capitalised by singer Steve Strange's haunting vocals.

The English lyrics of the song are sung, while the French lyrics are spoken by a female voice. Steve Strange and Midge Ure both claimed to have been the one who came up with the idea for the French vocal, which was performed by Brigitte Arens, a young student from Luxembourg who was Rusty Egan's girlfriend at the time.

Kraftwerk - 'The Model'

Kraftwerk - The Model (official video)

This classic was originally released in 1978 from German electronic pioneers Kraftwerk's album The Man-Machine.

It was eventually included on the B-side of their 'Computer Love' single in 1981. When radio DJs started playing the B-side, EMI re-issued the single, against the band's wishes, with 'The Model' as the A-side, and it reached number one in the UK.

Erasure - 'A Little Respect'

Erasure - A Little Respect (Official Video)

This song about a plea for reconciliation from a lover who has been hurt, was an outlet for producer Vince Clarke to get his emotions out via Andy Bell's falsetto vocal.

"Andy is much better at offering his heart to the world and expressing how he feels, he's a king at that," he said. The song featured in an early episode of Scrubs, in which everyone at the hospital would get the song stuck in their head like a virus.

Gary Numan - 'Cars'

Gary Numan Cars Official Music video in 1080p

Gary Numan scored his second number one single and first under his own name with this song in the UK.

Numan later explained: "I was in traffic in London once and had a problem with some people in front. They tried to beat me up and get me out of the car. I locked the doors and eventually drove up on the pavement and got away from them.

"It explains how you can feel safe inside a car in the modern world. When you're in it, your whole mentality is different. It's like your own little personal empire with four wheels on it".

Depeche Mode - 'Just Can't Get Enough'

Depeche Mode - Just Can't Get Enough (Remastered Video)

Depeche Mode might now be known as a dark electronic rock band, but at the start of their career they were far more pop oriented.

This was the final single with Vince Clarke, who later formed Yazoo and Erasure, and the catchy song became one of their first ever hits.

Pet Shop Boys - 'West End Girls'

Pet Shop Boys - West End Girls

As debut singles go, this has surely got to be up there.

The Pet Shop Boys burst onto the scene in 1984 with this dark synthpop track, which was influenced by hip hop music and a TS Elliot poem. The song was written about class and the pressures of inner-city life.

A-ha - 'Take on Me'

a-ha - Take On Me (Official Music Video)

Norwegian band A-Ha's debut single was an instant hit, thanks to its catchy tune and innovative music video that was perfect for the MTV generation.

The song also gave A-Ha their only US number one single.

The Human League - 'Don't You Want Me'

The Human League - Don't You Want Me

The most unlikely Christmas number one was inspired after Philip Oakey read a story in a teen-girl's magazine. Originally thought of as a male solo, Oakey was inspired by the film A Star Is Born and decided to turn the song into a duet with one of the band's two teenage female vocalists.

Susan Ann Sulley was asked to take on the role. Before then, she and Joanne Catherall had only been given backing vocals, Sulley says she was chosen only through "luck of the draw".

The song helped the Human League become chart stars, selling over 1.5 million copies in the UK alone, and brought electronic pop to an even bigger audience.

The Buggles - 'Video Killed the Radio Star'

The Buggles - Video Killed The Radio Star

This song was originally recorded by Bruce Woolley and The Camera Club (with Thomas Dolby on keyboards). Co-written with Trevor Horn and Geoff Downes, the pair later re-recorded it as The Buggles, and had a huge with it worldwide.

The song relates to concerns about mixed attitudes towards 20th-century inventions and machines for the media arts. It is well-remembered as the first music video shown on MTV in the United States at 12:01am on August 1, 1981.

Soft Cell - 'Tainted Love'

Soft Cell - Tainted Love • TopPop

We all may know and love Soft Cell's huge 1981 synthpop classic, but this song was originally a Northern Soul anthem by Gloria Jones in 1964.

Marc Almond's group slowed down the tempo, brought in the synths, and it became hugely more famous and popular than the original.

Tubeway Army - 'Are Friends Electric?'

Tubeway Army - Are Friends Electric '79

Gary Numan's breakthrough song topped the UK charts, despite having what he described as "no recognisable hook-line whatsoever". Numan stumbled upon synthesizers by accident, and was intending to record a punk album, before he noticed a Minimoog synthesizer that had been left in the studio.

It led to this song, which was actually two separate songs stuck together. The song is about man living among robots, and particularly robot prostitutes in the future. He said: "If the BBC had known they would never have played it".

Eurythmics - 'Sweet Dreams (Are Made of This)'

Eurythmics - Sweet Dreams (Are Made Of This) (Official Video)

This Eurythmics track remains one of the most iconic synthpop tracks of its era. It was a huge hit worldwide, reaching number two in the UK and number one in the US.

According to Annie Lennox, the song is about the unhappy time she felt after the breakup of first band The Tourists. She said: "[It's] basically me saying: 'Look at the state of us. How can it get worse? I was feeling very vulnerable. The song was an expression of how I felt: hopeless and nihilistic'."

However, Stewart thought the lyrics were too depressing, and added the 'hold your head up, moving on' line to make it more uplifting.

New Order - 'Blue Monday'

New Order - Blue Monday (HD music video 1983)

After Joy Division disbanded following Ian Curtis's death, the band regrouped as electronic-heavy New Order.

The original version of this track remains the best-selling 12" single of all time, and was written in response to crowd disappointment at the fact that they never played encores. The song was planned to allow them to return to the stage, press play on a synthesiser and leave the stage again, but while writing the song it evolved into a project that the band quite liked.

Donna Summer - 'I Feel Love'

Donna Summer - I Feel Love [Studio Version]

This was arguably the song that changed popular music forever, in terms of pushing mainstream pop to electronically produced backing tracks.

Producer Giorgio Moroder worked with Donna Summer on this track, which totally transformed the disco sound, but kept the genre's style in the process. Considering this came out in 1977 and still sounds fresh to this day, it shows how pioneering it was at the time.

"We wanted to conclude with a futuristic song," he said, "and I decided that it had to be done with a synthesizer."

Ultravox - 'Vienna'

Ultravox - Vienna (Official Music Video)

A staple of the synthpop genre, this song took its inspiration from the 1948 film The Third Man, which is based around the Austrian capital Vienna. It was famously stuck at number two behind Joe Dolce's 'Shaddap You Face', and was voted the best number two song in a radio poll in 2012.

Midge Ure said of the song: "We wanted to take the song and make it incredibly pompous in the middle, leaving it very sparse before and after, but finishing with a typically over-the top classical ending."

Philip Oakey and Giorgio Moroder - 'Together in Electric Dreams'

Philip Oakey & Giorgio Moroder - Together in Electric Dreams

This was first recorded for the 1984 movie Electric Dreams, and later formed part of Human League frontman Philip Oakey and electronic musician Giorgio Moroder's collaborative album a year later.

In the UK, it proved to be even more popular than the movie it was intended to promote. It is often mistakenly attributed to The Human League, though they have often performed it live.