The Story of... 'I Swear' by All-4-One
12 October 2022, 12:20 | Updated: 12 October 2022, 13:47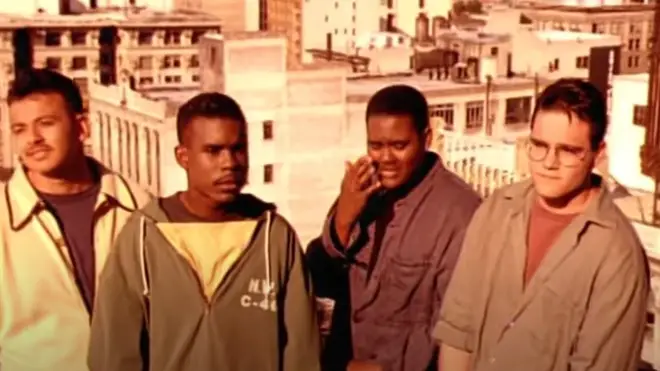 'I Swear' is a great example of the perfect '90s R&B ballad.
Performed by vocal group All-4-One, the soulful love song was a massive hit around the world in 1994, and it still sounds gorgeous nearly 20 years on.
But it had a unique story before the California group recorded it, and it has had its fair share of covers in recent times.
Who wrote 'I Swear' and who performed it first?

John Michael Montgomery - I Swear (Official Music Video)

'I Swear' was written by Gary Baker and Frank J Myers, who wrote and recorded as Baker & Myers.

Speaking years later to Songwriter Universe magazine, Myers explained that he and Baker wrote the song back in 1987.

However, they couldn't convince anyone to record the song.

It wasn't until 1992 that they recorded a new demo of the song, and a year later it got the attention of country singer John Michael Montgomery.

John Michael Montgomery in 1993. Picture: Getty

Montgomery recorded it in 1993, and it was a successful hit in the country charts.

Atlantic Records thought the song had crossover potential, and considered having Montgomery record a pop version.

However, the label head didn't want to upset country radio stations, so instead they recruited All-4-One to record the song with David Foster producing.

How popular was All-4-One's version?

All-4-One's cover version was released as the second single from their debut album in the spring of 1994, just six months after Montgomery's version.

The cover includes one lyric change: the original line from the second verse "And when there's silver in your hair" was replaced by "And when just the two of us are there."

All-4-One's version hit number-one on the US Billboard Hot 100, where it remained number-one for a massive 11 consecutive weeks.

In the UK, it peaked at number two, famously stuck there for seven consecutive weeks behind Wet Wet Wet's 'Love Is All Around'.

Who else has covered it?

"I Swear" duet with All-4-One & John Michael Montgomery

In an amazing twist, All-4-One and John Michael Montgomery recorded an updated duet version of 'I Swear' in 2015.

This version was recorded for the deluxe edition of All-4-One's 2015 album Twenty+. A music video was then released in May 2016.

Other covers include:

Eric Cartman in South Park
The Minions in Despicable Me 2 (retitled as 'Underpants')
Country doo wop group Home Free