INXS' 10 greatest songs, ranked
20 July 2023, 13:00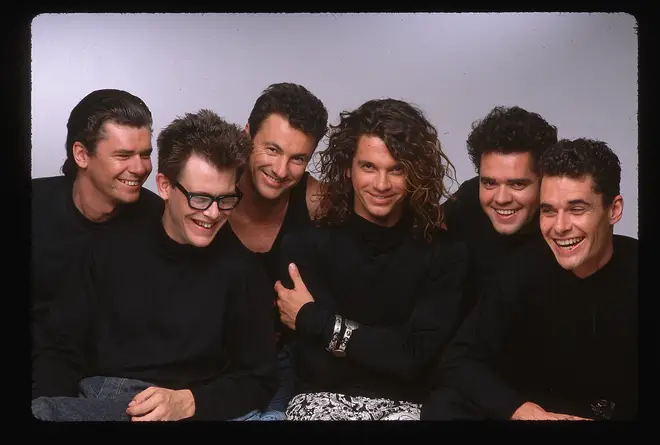 INXS are one of Australia's greatest ever musical exports.
Throughout the 1980s and 1990s, INXS became one of the most popular groups in the world, merging elements of new wave, pop, funk, and rock together on their way to selling over 70 million albums worldwide.
Led by their charismatic singer Michael Hutchence, INXS had a bonafide rock god at the helm and his magnetic presence made them globally renowned.
Throughout their duration as a band, INXS went from a group of school friends performing in local Australian pubs to playing to 70,000 people at Wembley Stadium at the peak of their popularity.
After Hutchence's death in 1997, things were never the same for INXS, but they left a lasting legacy of iconic rock songs.
That said, here are the ten greatest INXS songs, ranked:
'By My Side'

'By My Side' is uniquely one of the INXS singles that Michael Hutchence didn't write or co-write, but was instead written by bandmates Andrew Farriss and Kirk Pengilly.

Released in 1990 from their album X, the band were superstars by this point and life on the road began to wear them down.

Hutchence was dating Kylie Minogue at the time and was happy with his nomadic lifestyle, but still sings the ballad with more than enough convincing emotion.

'Beautiful Girl'

INXS - Beautiful Girl (Official Music Video)

Despite an average charting performance upon its 1992 release, 'Beautiful Girl' is often considered to be one of band's finest final moments.

When INXS were evolving with the times as rock music became the genre of choice in the nineties, they still kept fans on side with this tender track.

Though lyrically, Michael Hutchence refers to a frightened runaway he befriends and protects who is suffering.

Talking about the song being addressing homelessness, he said: "They're real normal kids who get into prostitution and drugs and it's a real mess. Because they're so naive."

'Devil Inside'

INXS - Devil Inside (Official Music Video)

'Devil Inside' was the second single from 1987's Kick, the album that launched INXS towards global superstardom.

The song's danceable guitar riff and Hutchence's sultry vocals established the band as one of rock music's most groovy denizens.

It also provided an opportunity for Michael to begin embodying the wriggly, snake-hipped lothario he became famous for.

Fun fact: the music video was shot by movie director Joel Schumacher, who ventured back into music video's nearly a decade later with Seal's 'Kiss From A Rose'.

'Don't Change'

INXS - Don't Change (Official Music Video)

One of INXS' first songs to make a dent on Australian radio became one of their most beloved.

The band would later reserve 'Don't Change' as their encore despite the countless hit singles they had in their arsenal.

It's clearly hit a nerve with other artists too, with Bruce Springsteen and The Goo Goo Dolls also covering it.

'Mystify'

INXS - Mystify (Official Music Video)

One of the more romantic and poetic songs that Michael Hutchence ever penned, 'Mystify' was the sixth single to come from their breakthrough album Kick.

The funk-rock of 'What You Need' helped the band get noticed in the US, so that sound informed the most part of the following 1987 album.

But 'Mystify' is one of the more tender moments on the album, and was well-received in the UK charting in the top 20.

'Suicide Blonde'

INXS - Suicide Blonde (Live at MTV VMA 1990)

This raunchy 1990 comeback single saw INXS maintain their global popularity after the overwhelming success of Kick three years before.

Inspired by Kylie Minogue, the lyrics have nothing to do with suicide, rather just the "dyeing" of one's own hair with bleach being a play on words.

It was perhaps coincidental that Michael Hutchence himself later died of suicide in 1997, whilst dating the platinum-blonde television personality Paula Yates.

'Original Sin'

INXS - Original Sin (Official Music Video)

'Original Sin' was the song that transformed INXS into serious players in their native Australia.

Nile Rodgers was a primary influence on the band and they managed to convince the Chic guitar legend to produce their 1984 album The Swing which featured this single.

It topped the charts in Australia and made the rest of the world notice.

There was also a guest vocal from Hall & Oates' Daryl Hall after Rodgers roped him into the studio.

'New Sensation'

INXS - New Sensation (Official Music Video)

The "carpe diem" motive behind INXS' 1987 single 'New Sensation' helped push it to No.3 in the US and the top spot in Canada.

Brands found the song irresistible - with the promise of new experiences behind the lyrics, the likes of Toyota, MacDonalds, and even Sea World.

It also showed a different, more sartorial side to the rugged sensuality of Michael Hutchence, who wears a suit and ties his mane in a ponytail throughout.

Whether they were either pandering to ad agencies in the US or poking fun at them, it worked.

'Need You Tonight'

INXS - Need You Tonight (Official Video)

Undoubtedly one of the sexiest and steamiest rock songs ever written, 'Need You Tonight' was explosive in more ways than one.

"Your moves are so raw, I've got to let you know, you're one of my kind" is certainly a booty call if ever we've heard one.

But away from the lyrics' overtly provocative nature, 'Need You Tonight' saw INXS break America, becoming one of Australia's biggest musical exports in the process.

The song has now become a staple of danceable rock songs from that decade, and is arguably the first song that people think of when INXS are mentioned.

'Never Tear Us Apart'

INXS - Never Tear Us Apart (Official Music Video)

Also released on 1987's global smash Kick, 'Never Tear Us Apart' didn't fare quite as well as the previous two singles on this list.

But that doesn't disqualify it from being INXS' greatest-ever song.

The sentiment behind the song, and its powerful chorus, resonates far beyond what inspired Hutchence to first write it, and is frequently played at weddings, births, and funerals.

It was the song he took most pride in, and it was even played at his own funeral when the remaining members of INXS and his younger brother Rhett carried his coffin.