The Great British Bake Off Final 2018: Everything you need to know about the finalists
30 October 2018, 17:37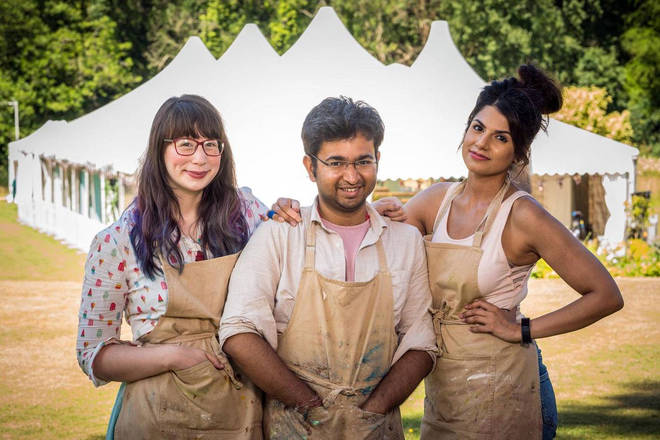 As they enter the tent for the last time to battle for the Bake Off crown...find out everything you need to know about The Great British Bake Off finalists Rahul, Kim-Joy and Ruby.
The three finalists Kim-Joy, Rahul and Ruby have battled and baked their way through pastry week, spice week, and the first ever vegan week to get to the final of 2018's Great British Bake Off. In preparation for the final tonight, here is everything you need to know about the three impressive bakers.
What is Kim-Joy's nationality and who are her parents?

Picture: Channel 4

Kim-Joy was born in Belgium and raised in London by an English father and Malaysian-Chinese mother.

She then moved to Leeds, where she now lives with her partner.Kim-Joy is the only baker in her family, and says that she didn't have the confidence to try out for a place on the show until this year.

"My friends have always wanted me to apply, but I didn't feel confident enough to apply until this year," she says. "I went into the tent mostly for myself to see if I could do it!"

How old is Kim-Joy and what is her job?

Kim-Joy is 27 years-old, and she works as a Mental Health Specialist.

Is Kim-Joy on Instagram?

She is indeed! You can follow her @kimjoyskitchen.

Who is Rahul Mandal and how old is he?

Picture: Channel 4

Rahul is 30 years-old, and lives in Rotherham. He moved to the UK from Kolkata aged 23.

Rahul moved to England in 2010 for university. He studied his PhD in optical metrology at Loughborough University.

He is now a research associate at the University of Sheffield's Nuclear Advanced Manufacturing Research Centre, and he specialises in light-based measurement of engineered components. As you do.

How did Rahul get into baking?

Rahul didn't start baking until he moved to England.

"Even five years ago I really had no idea about The Great British Bake Off," he said.

But after one of his colleagues realised he loved baking, he encouraged him to apply.

"He kept sending me the application link, until I said to him that I have started applying," he said. "Colleagues I knew during my PhD don't have a clue that I can bake. Back in India I didn't bake either.

"All of them and actually myself are surprised that I made it into the tent."

What Ruby Bhogal's age and where does she live?

Picture: Channel 4

Ruby is 29 and hails from London.

She is youngest of four in an Indian family, and has fond memories of her mum Kelly, making Jalebi's, an Indian sweet.

Kelly now runs her very own cooking channel, will will soon arrive on YouTube according to her Twitter and Instagram accounts.

Ruby describes herself as the 'mum' at university, cooking for seven male housemates.

She also says that her friends at home will be "shocked" to see her in Bake Off, describing herself as "an undercover baker".

"Because I am so new to baking there are going to be so many people that will be shocked. I don't really post about my baking on social media, so I am sure my friends are going to be surprised," she says.

"I think it may blow their minds as they know me for going out and going to the gym as opposed to being in the kitchen. I am a bit of an undercover baker! I cannot wait!"

What is Ruby's job?

Ruby works as a project manager in London.

Is Ruby on Instagram?

You can follow Ruby on Instagram @rubybhogal.