Hugh Bonneville facts: Downton Abbey actor's age, wife, children, movies and career revealed
5 May 2023, 10:40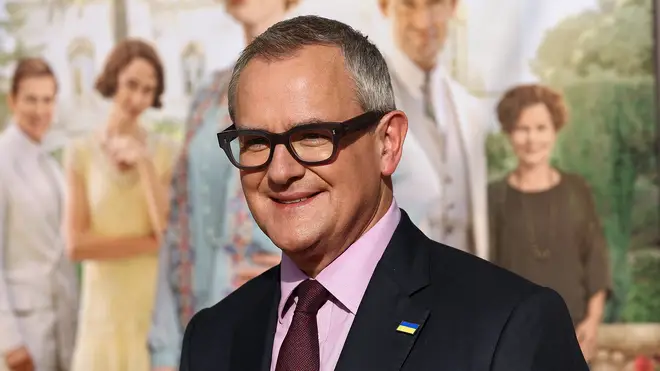 Hugh Bonneville is one of the most successful British actors of the 21st century.
The English star is best known for portraying Robert Crawley, Earl of Grantham, in the ITV drama series Downton Abbey and its two films.
His performance on the show saw him nominated at the Golden Globes and for two consecutive Primetime Emmy Award nominations, as well as three Screen Actors Guild Awards.
Hugh Bonneville has also appeared in the films Notting Hill, Iris, The Monuments Men and the Paddington films. He is also the host of the Coronation Concert for King Charles III in 2023.
How old is Hugh Bonneville and where was he born?

Hugh Bonneville at the launch of The Paddington Trail on November 3, 2014. Picture: Getty

His full name is Hugh Richard Bonniwell Williams, and he was born on November 10, 1963. He celebrated his 59th birthday in 2022.

Hugh was born, rather appropriately, in Paddington, London.

His mother was a nurse and his father was a urological surgeon.

Hugh was educated at Dulwich College Preparatory School in south London, and at Sherborne School. He graduated from Cambridge with a 2:2 in theology.

When he began acting, Hugh chose Richard Bonneville, a variation of his middle names, as his stage name, because there was a well-known playwright named Hugh Williams.

Howver, after appearing as Richard Bonneville for 10 years, he changed Richard to Hugh.

Is Hugh Bonneville married and does he have children?

Hugh Bonneville and wife Lulu Williams in 2019. Picture: Getty

Hugh Bonneville married his partner Lucinda 'Lulu' Evans in 1998.

The actor told Radio Times: "There were about five minutes when she was doing something very creative – she is a very creative person – and I said, 'At the moment, she's an artist' and that has stuck despite me saying in every single subsequent interview that 'No, she's not an artist – she's now a full-time mum.'"

Hugh and Lulu have one child together, a teenage son called Felix.

Speaking with online magazine Parents, Hugh said: "I think the absolute key one is don't force your child to do the things you failed to do and wanted to do, like playing the piano or something.

"Another great piece of advice that someone once said to me when my little boy was arriving was, 'Hug him close, and let him fly.'"

What are Hugh Bonneville's biggest movies and TV shows?

Watch the first trailer for Downton Abbey: A New Era

Among his long list of film and TV roles, his most famous include:

Notting Hill (1999)
Mansfield Park (1999)
The Emperor's New Clothes (2001)
Iris (2001)
Burke & Hare (2010)
Downton Abbey (2010-2015)
Twenty Twelve (2011-2012)
The Monuments Men (2014)
Muppets Most Wanted (2014)
W1A (2014-2017)
Paddington (2014)
Paddington 2 (2017)
Downton Abbey (2019)
Downton Abbey: A New Era (2022)
I Came By (2022)
Bank of Dave (2023)
Paddington in Peru (coming soon!)