Keanu Reeves' band Dogstar announce first new album in 23 years alongside tour
20 July 2023, 14:06
Keanu Reeves really is a man of many talents.
Whether he's a leather-clad kung-fu fighter, a lone cop trying to halt a bus speeding into oblivion, or a retired hitman returning for one last job, he can seemingly do it all.
Of course, they were just the film characters we referred to (from The Matrix, Speed, and John Wick respectively), but Keanu Reeves is also a rock star.
"Hollywood's ultimate introvert" has been a favourite of box office cinema for over thirty years now because, and is as much loved personality off the screen as he is on it.
Whether it's his insistence on dodging the Hollywood lifestyle in favour of a more humble living riding motorcycles or catching the subway to work, his casual charm, or his dedication to charitable causes, Keanu can do no wrong in the eyes of his fans.
Now his many global fans will be kicking themselves after his rock band Dogstar announced their first new music in nearly a quarter of a century.
Keanu will be dusting off his bass guitar once again after the band has been working on a new album with accompanying tour dates also revealed.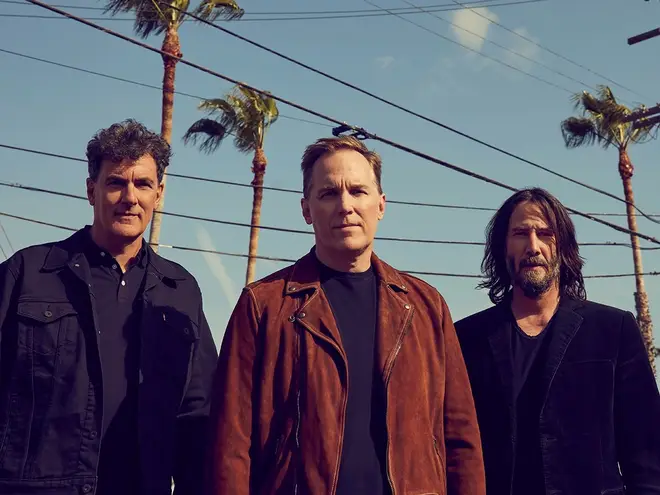 Somewhere Between the Power Lines and Palm Trees is the name of Dogstar's third studio album, and is set for release on 6th October 2023 via their own label Dillon Street Records. Pre-order the album here.
The three-piece alt-rock band consisting of guitarist/singer Bret Domrose, drummer Rob Mailhouse, and Keanu Reeves on bass have also revealed their brand new single.
'Everything Turns Around' is the first taste of new music from Dogstar in twenty-three years, having debuted the song at their reunion show at BottleRock Festival back in May.
Keanu told Billboard after the performance that "it's something I've always missed" performing in a band, and "it's a space that I love, and a space that I tried to protect" away from the trappings of Hollywood.
Dogstar - Everything Turns Around (Official Video)
Talking about their new single, album, and first tour in two decades, Dogstar said in a press release: "We are so excited to re-introduce Dogstar with our new single 'Everything Turns Around'".
"It feels like a fun summer song to us. It has an uplifting message and a positive vibe that hopefully makes your day a little bit lighter," they continued.
"It's one of our favourite songs to play live and can't wait to share it on our upcoming tour."
Dogstar first formed during the early 1990s, releasing their debut album Our Little Visionary in 1996 with their follow-up album Happy Ending coming in 2000.
They would eventually split up a couple of years later and go their separate ways when Keanu's career in Hollywood intensified.
Dogstar's North American tour starts in August 2023 and runs right through till December, with a handful of shows in Japan also announced in between.
There's no news of any potential tour dates in the UK and Europe just yet, but see the full list of dates below:
August 2023:
10 – Hermosa Beach, CA, Saint Rocke
11 – Phoenix, AZ, Crescent Ballroom
12 – Las Vegas, NV, Brooklyn Bowl
15 – Salt Lake City, UT, The Complex
17 – Denver, CO, Marquis Theatre
18 – Boulder, CO, The Fox Theatre
19 – Aspen, CO, Belly Up
22 – Napa, CA, Uptown Theatre
23 – Menlo Park, CA, The Guild Theatre
24 – San Luis Obispo, CA, Fremont Theater
26 – Ventura, CA, Ventura Music Hall
27 – Solana Beach, CA, Belly Up
28 – Santa Ana, CA, The Observatory
September 2023:
5 - Osaka, Japan
6 - Yokohama, Japan
7 - Yokohama, Japan
November 2023:
30 – Los Angeles, CA, Troubadour
December 2023:
3 – San Francisco, CA, The Great American Music Hall
5 – Sacramento, CA, Crest Theatre
7 – Chicago, IL, Thalia Hall
8 – Detroit, MI, The Majestic Theatre
9 – Toronto, ON, Lee's Palace
11 – Brooklyn, NY, Music Hall of Williamsburg
12 – Boston, MA, Paradise Rock Club
14 – Philadelphia, PA, Underground Arts
15 – Washington, DC, The Howard Theatre
16 – Norfolk, VA, The NorVa
18 – Charlotte, NC, The Underground
19 – Atlanta, GA, Center Stage
20 – Nashville, TN, Brooklyn Bowl