Meryl Streep facts: Actor's age, husband, children and career revealed
13 October 2023, 15:59 | Updated: 23 October 2023, 11:04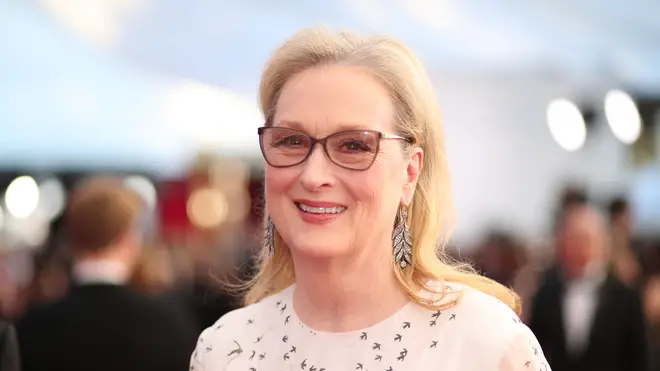 Meryl Streep is one of the most acclaimed and versatile actors of her generation.
With a career spanning over four decades, Meryl Streep has earned a record 21 Academy Award nominations and eight Golden Globe Awards, among many other honours.
She is known for her ability to transform herself into different characters, mastering various accents and languages.
Here are all the important facts about the legendary actress:
What are Meryl Streep's most famous movies?

Meryl Streep in The Devil Wears Prada. Picture: Alamy

In 1975, Meryl Streep began her acting career on stage with Trelawny of the Wells and earned a Tony Award nomination the next year for two plays: 27 Wagons Full of Cotton and A Memory of Two Mondays.

She made her first appearance on the big screen in Julia (1977) and won her first Primetime Emmy Award for her lead role in the mini-series Holocaust (1978).

She also got her first Oscar nomination for The Deer Hunter (1978). She received the Academy Award for Best Supporting Actress for her role as a conflicted wife in Kramer vs. Kramer (1979) and became a prominent film actor in the 1980s.

She won the Academy Award for Best Actress for her performance as a Holocaust survivor in Sophie's Choice (1982) and starred in Out of Africa (1985), which was her most successful film at that time.

She continued to impress critics and audiences with her work in the late 1980s and 1990s, though her box office results varied. The comedy Death Becomes Her (1992) and the drama The Bridges of Madison County (1995) were among her highest-grossing films during that period.

Meryl Streep regained her popularity in the following decades with leading roles in Adaptation (2002), The Hours (2002), The Devil Wears Prada (2006), Doubt (2008), Mamma Mia! (2008), Julie & Julia (2009), It's Complicated (2009), Into the Woods (2014), The Post (2017) and Little Women (2019).

She also won her third Academy Award for playing British Prime Minister Margaret Thatcher in The Iron Lady (2011).

Her stage roles include The Public Theater's 2001 revival of The Seagull. Her TV roles include the miniseries Angels in America (2003), which earned her another Primetime Emmy Award, the second season of the drama series Big Little Lies (2019), and the third season of the comedy series Only Murders in the Building (2023).

How old is Meryl Streep and where was she born?

''Mamma Mia! Here We Go Again' Trailer Gives Final Look at the Movie

Meryl Streep is 74 years old as 2023. She was born on June 22, 1949 in Summit, New Jersey, USA.

Her parents were Mary Wilkinson Streep and Harry William Streep Jr. Her mother was an artist who worked as a commercial illustrator and art editor, while her father was a pharmaceutical executive who also played the organ professionally.

Meryl Streep has two younger brothers, Harry William Streep III and Dana David Streep, who are both actors as well.

She grew up in a close-knit family that encouraged her artistic pursuits and exposed her to various cultural influences.

How did Meryl Streep get her start in acting?

A young Meryl Streep. Picture: Getty

Meryl Streep became interested in acting while she was a student at Vassar College, where she graduated with a degree in drama and costume design.

She then enrolled in the Yale School of Drama, where she earned a Master's degree in drama. She moved to New York City to pursue acting professionally and made her stage debut in 1975 with The Public Theater production of Trelawny of the Wells.

She received a Tony Award nomination the following year for a double-bill production of 27 Wagons Full of Cotton and A Memory of Two Mondays.

Who is Meryl Streep's husband?

Meryl Streep and Don Gummer in 1984. Picture: Getty

Meryl Streep's husband is Don Gummer, an American sculptor who creates abstract contemporary artworks.

However, in 2023 Meryl confirmed that she and Don had been separated for six years.

They met in 1978, when Streep was grieving the loss of her previous boyfriend, John Cazale, who died of lung cancer.

They got married in September 1978, at Streep's parents' home in Connecticut. They have been married for 44 years.

Meryl Streep and Don Gummer in 2018. Picture: Getty

Who are Meryl Streep's children?

Meryl Streep and son Henry. Picture: Getty

Meryl Streep's children are Henry, Mamie, Grace and Louisa. They are all actors and artists, following in their parents' footsteps.

Henry Wolfe Gummer is the eldest child, born on November 13, 1979. He is a singer-songwriter and actor, and started his music career as a co-founder of the indie pop band Bravo Silva. He then moved to Los Angeles and began to perform as a solo artist under his current name. He has released two EPs and two albums, and has also acted in some films, such as Lying and The Wait. He is married to Tamryn Storm Hawker and has two children.

Meryl and daughter Mamie in 2015. Picture: Getty

Mamie Gummer is the second child, born on August 3, 1983. Some of her notable roles include Nancy Crozier on The Good Wife and The Good Fight, Emily Owens on Emily Owens, M.D., and Julie in Ricki and the Flash. She is currently married to Mehar Sethi and has two children.

Grace Gummer is the third child, born on May 9, 1986. She made her screen debut as a child in The House of the Spirits, and later received a Theatre World Award for her role in Arcadia. Some of her notable TV roles include The Newsroom, American Horror Story: Freak Show, Extant, and Mr. Robot. She is married to renowned musician Mark Ronson.

Meryl Streep with daughter Grace Gummer and her husband Mark Ronson. Picture: Getty

Louisa Jacobson is the youngest child, born on June 12, 1991. She is best known for playing Marian Brook on the HBO series The Gilded Age. She graduated from Vassar College and Yale School of Drama, and made her professional stage debut in 2017 and her TV debut in 2022.

Meryl Streep and daughter Louisa. Picture: Getty