Susan Boyle has everyone in tears singing 'I Dreamed a Dream' on America's Got Talent final
12 February 2019, 10:35 | Updated: 23 March 2019, 23:11
Susan Boyle repeated her most famous performance on US TV last night (February 11).
The British singer amazed viewers once again with a triumphant version of 'I Dreamed a Dream' from Les Miserables, the song which made her a worldwide celebrity 10 years ago.
The 57-year-old was performing in the first of two finals on America's Got Talent: The Champions, which brings together some of the biggest stars from various versions of the show around the world.
Joined by strings, Susan Boyle's performance was the perfect end for the first show in this week's final, which will decide the ultimate champion of champions.
After she performed, judge Simon Cowell spoke of his "disgusting" reaction to her when she first came to audition.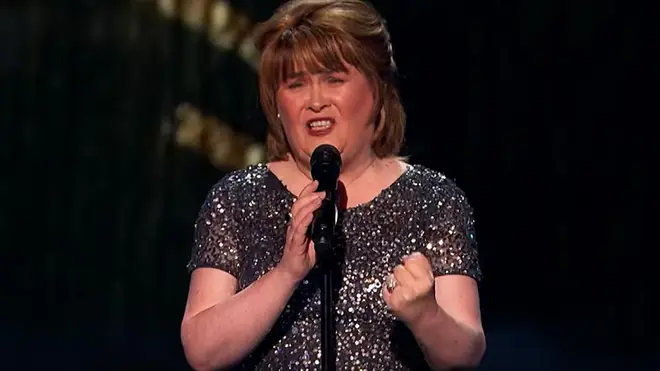 He told her: "I have goosebumps on my goosebumps. Oh my God, Susan that really, really took me back, all those years. I can remember vividly… how disgusting I was on the day before you sang.
"And then what you did and what happened afterwards and to end the show… it's been an amazing night. I mean, seriously, it was fantastic. You're a champion."
The singer is hoping to take the ultimate Got Talent title after coming second to Diversity in Britain's Got Talent back in 2009.
Susan has since sold 20 million records, and made around £20 million, but she has spoken of her disappointed at not winning the competition in 2009.
Susan was joined in this week's final by fellow BGT winner Paul Potts and emotional sand artist Kseniya Simonova.
Watch her full performance below:
Susan Boyle Sings The Iconic "I Dreamed A Dream" - America's Got Talent: The Champions