4 reasons why you need to watch the new Bros documentary movie
3 January 2019, 15:57 | Updated: 3 January 2019, 16:57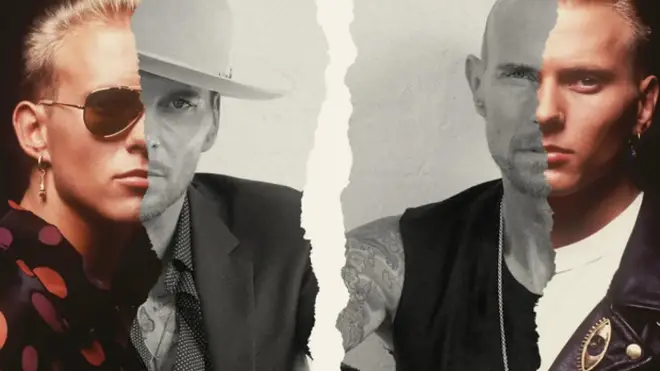 It was one of the surprising TV highlights of the Christmas season.
Bros: After the Screaming Stops follows twin brothers Matt and Luke Goss, after they reunited for sell-out shows at London's O2 in 2017 following a 28-year hiatus.
Bros were one of the biggest music acts on the planet in the late 1980s, but soon their star faded. Luke went on to be a successful actor, while Matt eventually landed a Las Vegas residency.
What followed was a documentary-maker's dream, full of fallouts, tears, hilarious one-liners and an epic comeback.
If you haven't caught it, here's why you should rectify that, whether you were a huge fan of Bros or not:
It's unintentionally hilarious

Like a combination of This Is Spinal Tap, The Office and I'm Alan Partridge, the movie follows Luke, and particularly Matt, and their intriguing ways of looking at the world.

Matt can't help but slip into full David Brent mode, offering deadpan lines such as "If you see a man sweeping the road that man's a king to me, he's one of my kings, because I'm thankful I don't have to sweep the road."

At one stage, he passionately bemoans the fact that kids aren't allowed to play conkers anymore, with a confused Luke saying in the background: "I can live with it". Genuine comedy gold.

It's also as tense as A Quiet Place

It's an understatement that these brothers have had a difficult time together over the years thanks to the perils of fame.

They haven't performed together in decades, and it's clear from the start that their working relationship is almost dead.

Every scene they share together is incredibly tense, and you just know something is going to boil over at any time. And it does, over and over.

It will make you cry

Sure, the boys may be the butt of a few jokes, but the film is also incredibly emotional.

Not only are the brothers trying to repair their broken relationship, which is beautiful to watch in itself, but they also struggle to continue following the recent death of their mother.

At one stage, the duo perform a heartfelt tribute in rehearsals, and they can't quite get through it without tearing up. Despite their animosity, they help each other through and it's hard not to get choked up.

It's incredibly uplifting

Bros - When Will I Be Famous?

Everyone loves an underdog story.

Bros became, unfairly, the most hated band in the country by the time they split, and the tabloids were particularly harsh on them in the early 1990s.

Because of this, despite their huge success, their legacy was perhaps dented to the point where you might not know too much about Bros unless you were a die-hard fan at the time.

Not only does this film reintroduce them to the world, but by the end you'll be proud of their comeback, which was quite an amazing achievement considering how many years they'd been away.