Watch the new Fleetwood Mac perform 'The Chain' with Crowded House's Neil Finn
5 September 2018, 16:31 | Updated: 5 September 2018, 16:41
"Chain... keep us together...", but without Lindsey Buckingham.
Eyebrows were raised earlier this year when it was announced that Fleetwood Mac had kicked out their longtime member Lindsey Buckingham.
Not only that, but the legendary band added Crowded House's Neil Finn and The Heartbreaker's Mike Campbell to their lineup.
Ahead of their North American tour next month, the band performed live on TV for the first time today (September 5), singing their classic track 'The Chain' on The Ellen DeGeneres Show. Watch a clip from the performance above.
Buckingham was reportedly fired from the band over a disagreement regarding their tour. Instead, Buckingham will go out on his own tour just a few days after the band's opener.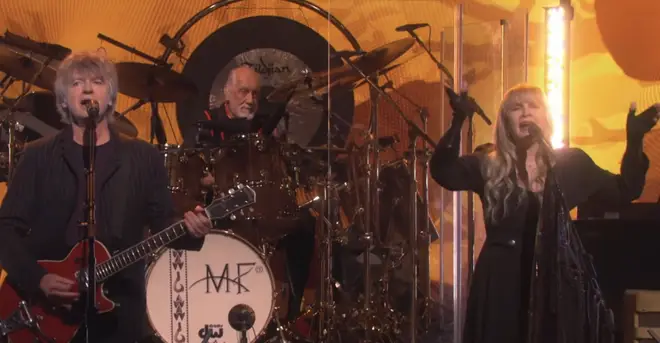 Last month, Mick Fleetwood said of Buckingham's departure: "Obviously this is a huge change with the advent of Lindsey Buckingham not being a part of Fleetwood Mac.
"We all wish him well and all the rest of it. In truthful language, we just weren't happy. And I'll leave it at that in terms of the dynamic."
On including Campbell and Finn in the group, he said: "We are a week into rehearsals and it's going really well and we're looking forward, in true Fleetwood Mac style.
"If you know anything about the history of this band, it's sort of peppered with this type of dramatic stuff. It's a strange band really.
The new-look Fleetwood Mac also performed their classic hit 'Gypsy' on the show, with Stevie Nicks on lead vocals.
Watch the full performance below:
Fleetwood Mac Performs "Gypsy"