Kate Bush's rare and perfect performance of 'This Woman's Work' from 1989 unearthed
14 July 2023, 10:18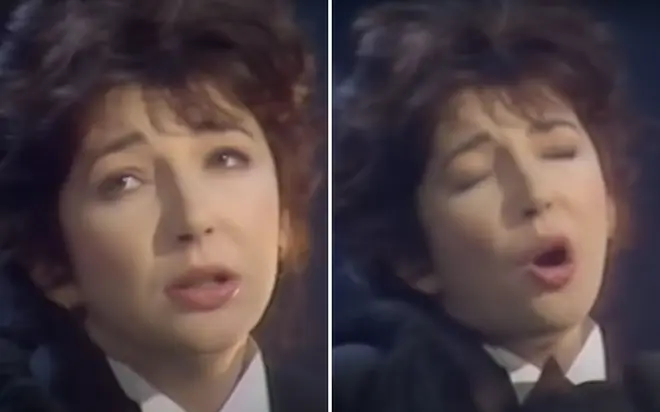 Kate Bush has one of the most immaculate voices in pop music.
She was certainly an artist that leant into her eccentricities, especially when she first broke through with her debut single in 1978.
At the age of just 20, Kate Bush topped the charts with 'Wuthering Heights', one of the most avant-garde and odd-ball pop songs ever.
More remarkable that the song became an iconic number one single was the fact that Kate became the first female artist to ever score a number one with a self-written song.
Since then she went on to both bewitch and bewilder audiences with her mix of mind-boggling theatrics, boundary-pushing recording techniques, and desire to make the music she wanted.
Her voice possesses an emotional and haunting quality unlike any artist the UK had ever heard, or heard since.
This was none more apparent than on her heartbreaking 1989 single 'This Woman's Work', a ballad about the crisis during childbirth.
KATE BUSH-THIS WOMAN'S WORK-WOGAN-BBC 1-.DEC. 6. 1989.
During a unique, rare performance on the talk show Wogan that same year, Kate exhibited her otherworldly talent.
Although pre-recorded and not live, the situation of Kate sitting alone at a grand piano beneath the spotlight makes her vocals stand out even more than they do on the recording.
For many people, either fans of Kate's or not, 'This Woman's Work' pulls from a powerful concoction of emotions, and is undoubtedly one of the most arresting compositions she's ever written.
It's a song that has endeared her to the music world all over again, eleven years on from when she wowed with her sweeping debut single.
Kate originally wrote the song for the film She's Having A Baby in 1988, though later included it on her album The Sensual World the following year.
Surprisingly, the song didn't achieve a great deal of commercial success, only reaching No.25 in the UK charts, though it's since become one of her most beloved creations.
She's Having a Baby (1988) - "This Woman's Work" (Kate Bush)
She wrote the lyrics to match the climactic scene in John Hughes' film She's Having A Baby, where the frightened lead character Jake (played by Kevin Bacon) realises the life of his wife and unborn child are both in danger.
'This Woman's Work' plays over a dramatic montage of flashbacks of their life together, both happy and poignant, to elevate the emotional gravitas of the scene.
Kate wrote the song from Jake's perspective, matching the words to the visuals as the film was already finalised before she penned the lyrics.
It's an incredible piece of music from one of the finest and forward-thinking minds to make pop music.
How lucky that the charming and loveable Terry Wogan managed to convince Kate - who would very rarely make public appearances to promote her work - to provide in such a beautiful performance on his show.