Shalamar recall how Jeffrey Daniel did the moonwalk on TV before Michael Jackson: 'We called it the backslide'
7 June 2023, 15:58 | Updated: 16 June 2023, 13:25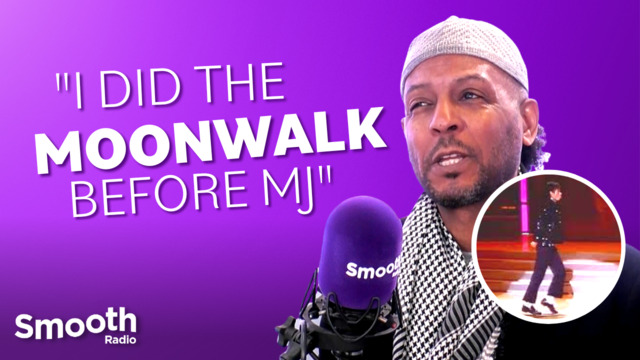 Shalamar recall how Jeffrey Daniel did the moonwalk on TV before Michael Jackson
Shalamar were pioneers of music, dance and all-round entertainment.
This year, the legendary group are celebrating 40 years since their groundbreaking album Friends, as well as a certain moment Jeffrey Daniel amazed Top of the Pops viewers when he debuted a certain dance move that would go on to be iconic.
The trio - consisting of original members Jeffrey and singer Howard Hewett alongside Carolyn Griffey, who joined the band in 2001 (original singer Jody Watley left by 1997) - dropped by the Smooth studio to catch up with Angie Greaves about their career so far.
"I always wanted to be an all-around entertainer because when I was little, I was watching Danny Kaye, Charlie Chaplin, Sammy Davis Jr. People like that," Jeffrey told Angie.
"So I was always really impressed with the people who do the dancing and the singing, and so dancing on Soul Train, when I got there, I started doing these little antics, adding little comedic things to it and props and all these type of stuff.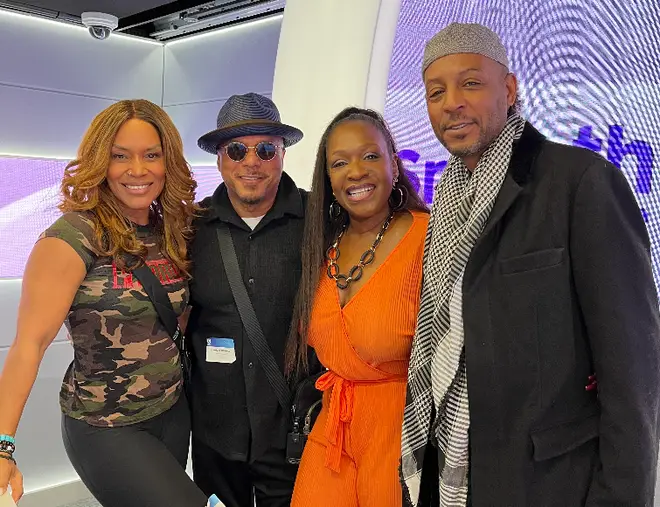 "So I've always had a knack for being that type of an entertainer. So then when I got into Shalamar, the same thing, and it translated. And for me to have been blessed to have such a great producer like Leon Silvers, then you got a great lead vocalist like Mr Howard Hewitt. I mean, that's the full package."
In 1982, Shalamar's Jeffrey Daniel appeared on Top of the Pops when their song 'A Night to Remember' was climbing the charts. It was here that he amazed viewers at home with his dance skills, which included a move that would go on to be called the moonwalk.
"We called it the backslide," said Howard.
It has been said that Michael Jackson saw Jeffrey Daniel's moves on Soul Train, and asked him to teach him the moves. A year later, Michael debuted what he called the moonwalk when performing 'Billie Jean' at the Motown 25th anniversary concert, and history was made.
The moonwalk had existed in various forms for decades. The likes of James Brown, Charlie Chaplin, Cab Calloway and even Dick Van Dyke had performed a version of it. But Jeffrey Daniel was arguably the first person to bring it to the mainstream, particularly for UK audiences.
Shalamar - A night to remember ( Live @ TOTP 1982 )
At the time, Howard and Jody weren't available to perform on Top of the Pops, so Jeffrey went over to the UK on his own to perform some dance routines while the track played out.
"I flew over for 'I Can Make You Feel Good'. But once I got here that week, it slipped down the chart. So if your song slips on the chart, you're not allowed to go on Top of the Pops.
"So I hung around for a while, and I was walking around Piccadilly. I was walking around King's Road, and I'm like 'I really like this place'. So I went back to LA. And then later I got another call that says, Jeffrey, 'Night to Remember' is going to enter next week. We're going to fly you back over there again.'"
Shalamar also opened up about the death of Tina Turner, whom they had met and admired for many years.
"I met Tina maybe a couple of times," said Howard. "Never worked with her, never had a sit-down or anything like that. But I was just honoured to just meet her because she was an amazing woman and her story was created a story of survival. That's really a story of survival."
"She's always been an enigma on her own," added Jeffrey. "She's just like, Tina is Tina. That's Tina."
Watch the interview in full above or on Global Player here.
Shalamar are touring the UK now. Get details about venues and tickets here.