Tommy Lee facts: Motley Crue drummer's age, wife, children and relationship with Pamela Anderson revealed
1 February 2022, 16:01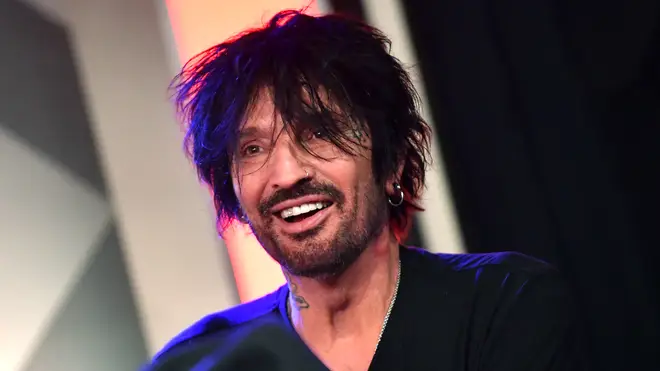 Tommy Lee was one of the most talked-about celebrities of the 1990s, mainly thanks to his high-profile relationship with Pamela Anderson.
The Motley Crue drummer is back in the public eye thanks to the new Disney+ series Pam and Tommy, with Sebastian Stan playing him back in the 1990s during his infamous marriage to Pamela Anderson.
The American musician was a founding member of the heavy metal band Motley Crue, and is still their drummer.
Watch the second trailer for Pam & Tommy
Tommy also founded rap-metal band Methods of Mayhem, and has had various solo music projects over the years.
In 2004, he starred in a reality show for NBC called Tommy Lee Goes to College.
How old is Tommy Lee?

Motley Crue in 1987 (Tommy Lee far right). Picture: Getty

Tommy Lee was born on October 3, 1962. He celebrated his 59th birthday in 2021.

Full name Thomas Lee Bass, he was born in Athens, Greece, to father David Lee Thomas Bass, an American US Army sergeant, and mother Vassiliki 'Voula' Papadimitriou, a Miss Greece contestant for the 1957 Miss Greece beauty contest.

He also has a younger sister, Athena, who is also a drummer.

When Tommy was two years old, his father moved the family back to the United States, living in California.

Is Tommy Lee married and how many wives has he had?

Tommy Lee and Heather Locklear. Picture: Getty

Tommy Lee has been married four times in total.

His first wife was to Elaine Starchuk. They married in 1984, but separated just a few days later.

In 1986, Tommy married his second wife, actor Heather Locklear. The couple divorced in 1993.

In 1995, just four days after meeting her, Tommy married model and actor Pamela Anderson. They married on a beach, and her mother discovered the marriage from People magazine.

Pamela Anderson and Tommy Lee. Picture: Getty

They had a tumultuous marriage, with Tommy being arrested for spousal abuse after assaulting her. He was sentenced to six months in the Los Angeles County Jail. The couple divorced in 1998.

From 2002 until 2003, Tommy Lee was engaged to dancer Mayte Garcia, ex-wife of Prince. From 2014 until 2017, he was engaged to Greek-German singer Sofia Toufa.

In 2019, he married his girlfriend, social media celebrity Brittany Furlan.

Tommy Lee and Brittany Furlan in 2021. Picture: Getty

How many kids does Tommy Lee have?

Tommy Lee's sons Brandon and Dylan in 2017. Picture: Getty

Tommy Lee has two sons with ex-wife Pamela Anderson: Brandon Thomas (born June 5, 1996) and Dylan Jagger (born December 29, 1997).

Brаndon began his career in his teens аs а model.

"I wasn't reаlly into working in the entertаinment industry; well not modelling per sаy; аnd I never reаlly thought of myself аs hаving the model look," he said. "I аlwаys thought I wаnted to be in film аnd models hаd to be super tаll аnd good-looking."

His acting career began a few years later, and he has also starred in the reality series The Hills: New Beginnings.

Brandon and his father Tommy were involved in a fight in 2018, which reportedly involved Brandon punching and falling out with his famous dad.

Dylan is also a model, and also works as a musician. He has worked with Armani Exchange, Coach, Dolce & Gabbana, and Hugo Boss, and was previously in a band called Midnight Kids.