Watch David Attenborough laugh at The Queen's Trump joke in new TV special
10 April 2018, 14:07
The Queen and Sir David Attenborough had a right giggle when filming a new TV special.
The Queen's Green Planet will be a one-off ITV documentary celebrating a Commonwealth environmental project.
In it, the Queen pokes fun at the noisy planes used by US President Donald Trump and his predecessor Barack Obama. Walking and talking with Sir David Attenborough through Buckingham Palace's gardens, the Queen says "sounds like President Trump, or President Obama", when their peaceful walk is ruined by the sound of an aircraft.
Hollywood actress Angelina Jolie, and her six children, will also feature in the ITV documentary, which will air next Monday. Jolie praises the Queen for supporting the Queen's Commonwealth Canopy (QCC), which aims to open up a network of protected Commonwealth forests around the globe.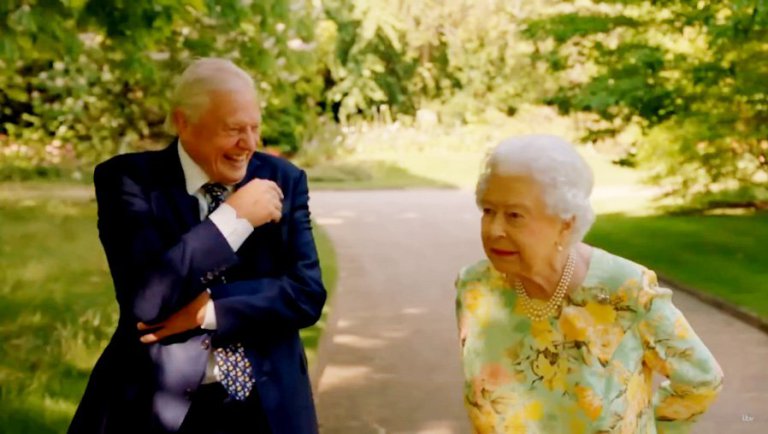 The documentary will include a rare conversation between the Queen and the iconic documentary presenter, which was filmed last summer.
Both aged 91, and born just a few weeks apart, they speak about the QCC project and other environmental issues.
Another funny moment occurs when the monarch spots a young sapling tree bent over, saying: "That one we won't look at because it doesn't seem to be doing very well." She adds: "Are you sure that's meant to be like that?" to someone off camera, joking: "somebody sat on it I think, at the garden party".
The programme also features footage of the Duke and Duchess of Cambridge and Prince Harry promoting the project during overseas visits to the Caribbean and Canada.
The Queen's Green Planet will air on Monday (April 16) at 9pm on ITV.