Prince Harry's moving speech about his dad gets interrupted by a bee
23 May 2018, 10:05
Not many of us keep our cool when a bee is suddenly in our face. Now imagine it happening while you were making a speech.
Prince Harry was in such a predicament when a naughty bee appeared out of nowhere while he was paying tribute to his father ahead of his birthday.
During a speech celebrating Prince Charles' years of charity work at Buckingham Palace, Harry was interrupted by a bumblebee.
He told his father: "It is your selfless drive to effect change – whether that is to improve the lives of those who are on the wrong path, to save an important piece of our natural heritage, or to protect a particular species under threat – which William and I draw inspiration from every day."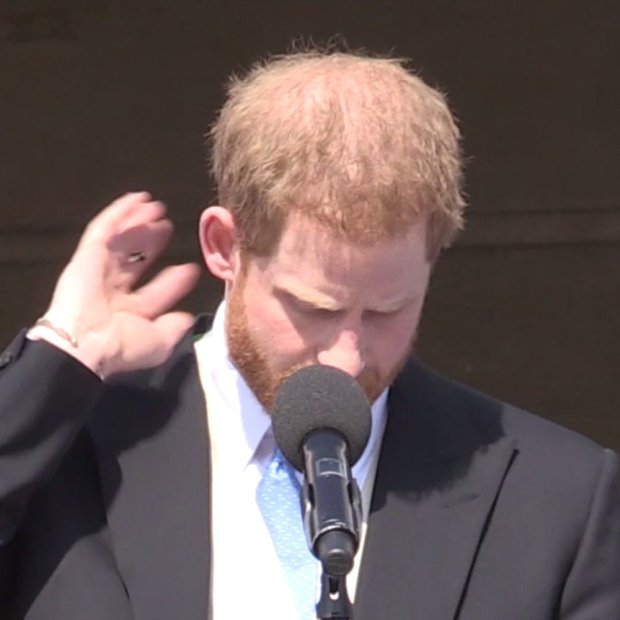 However, he had to stumble half way through the speech, joking: "I'm sorry, that bee really got me."
Meghan Markle was seen giggling at the funny reaction.
The garden party was being held ahead of Charles' actual 70th birthday in November, and celebrates the future king's patronages and military affiliations.
Prince Charles and the Duchess of Cornwall were also in attendance, along with over 6,000 people from the charities he supports.
Harry and Meghan unveiled official photographs from their wedding earlier this week, including a photo with their young bridesmaids and page boys.
The couple are said to have danced to a Whitney Houston classic for their first dance, while Sir Elton John performed a couple of hits earlier in the day.