Meghan Markle pregnant: Royal baby's due date, gender, name, and title revealed
15 January 2019, 09:52 | Updated: 15 January 2019, 09:56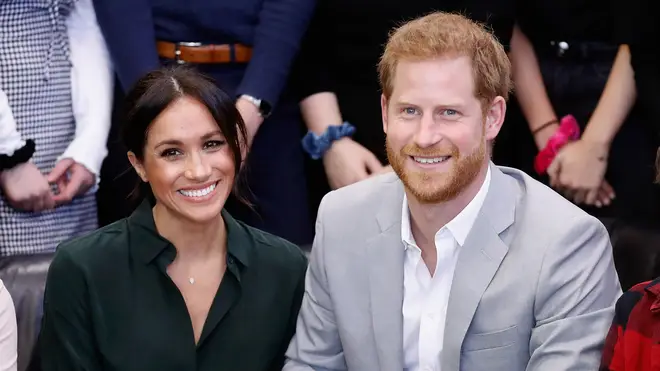 The Duke and Duchess are expecting their first child!
Prince Harry and Meghan Markle have announced their happy baby news on October 15, after Meghan appeared to cover a baby-bump at Princess Eugenie's wedding a few days before.
Here's all we know about the royal baby so far, including its Spring due date, gender, potential names and where in line to the throne they will be:
When is Meghan Markle's due date?

Picture: Getty

Kensington Palace confirmed that the Duchess is due to give birth in Spring 2019.

This means that the royal baby is expected to be born in March, April or May.

Pregnant women usually wait for their 12-week scan before confirming the news, suggesting that Meghan may be due nearer to the end of April or the start of May, if she carries for 40 weeks.

What is the royal baby's gender?

The gender of the royal baby is yet to be revealed.

Royal pregnancies are usually kept under wraps in terms of name or gender until they have been safely delivered.

Meghan will either choose a home birth, or follow the Duchess of Cambridge by using the exclusive Lindo Wing.

Confirmation of the baby's arrival will first be displayed via an easel outside Buckingham Palace. However, the Duke and Duchess of Cambridge chose to be more modern and broke the news of Prince Louis' birth on social media at the same time.

Recent betting activity implies that Meghan and Harry will be having a girl, but of course there's no way to know until the big day itself.

What will the baby be named?

Picture: PA

Usually, the royal baby's name won't be revealed until a few days after the child is born.

However, that hasn't stopped bookmakers from tipping a few names of their own.

Ladbrokes currently has Victoria as the most likely option, as an homage to Queen Victoria, while Albert, the name of Queen Victoria's husband, falls just after.

Betfair prefers Diana with odds of 8/1, the name of Prince Harry's mother, while names including Arthur, Alice (second most popular - 13/1 odds), Grace (third most popular - 14/1 odds), Philip, Elizabeth, Charles, Spencer and Doria are also being touted.

Where will the royal baby be in line to the throne?

The royal newborn will be seventh in line to the throne, just below Prince Harry and just ahead of the Duke of York.

Any future children of the Duke and Duchess of Sussex will then follow directly after.

What will the baby's title be?

It's rather complicated!

As Harry and Meghan were named the Duke and Duchess of Sussex, it's traditional for the eldest son of a duke to eventually inherit his father's title. If their baby is a boy, he may be known as the Earl of Dumbarton, the secondary Sussex title, before inheriting the dukedom.

Any further sons will be known as Lord [Name] Windsor, while daughters will be called Lady [Name] Windsor.

However, Queen Elizabeth II may decide to go against protocol, and give Meghan and Harry's child a similar title to their cousins (Prince George, Princess Charlotte and Prince Louis)

In that case, Harry's sons will be styled as His Royal Highness Prince [Name] of Sussex, while daughters will be known as Her Royal Highness Princess [Name] of Sussex.

The Queen previously granted Prince Andrew's request that his daughters, Beatrice and Eugenie, receive the title of 'princess' rather than 'lady'.