How to pay your respects at Queen Elizabeth II's lying in state before her funeral
12 September 2022, 10:29 | Updated: 13 September 2022, 09:29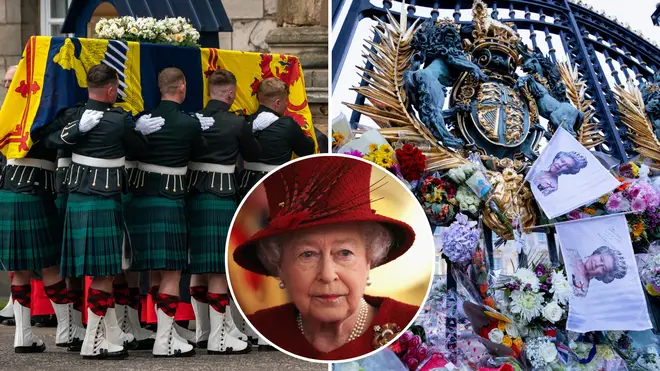 Details have been released about how the public can attend the Queen's lying in state.
The nation has been warned to expect long queues and to have to stand for many hours through the night, as millions are expected to pay their respects in London, following Queen Elizabeth II's death.
What does 'lying in state' mean?

Lying in state is usually reserved for sovereigns, queen consorts, and former prime ministers.

The formal occasion sees the closed coffin placed in view, as thousands of people queue to file past and pay their respects.

When and where will the Queen lie in state?

Westminster Hall.

Picture: Alamy

Queen Elizabeth II's lying in state will occur at Westminster Hall, and it opens to the public at 5pm on Wednesday (September 14).

It will be open 24 hours a day until it closes at 6.30am on Monday (September 19), the day of the Queen's funeral.

Westminster Hall is in the Palace of Westminster, and is the oldest building on the Parliamentary estate.

Will there be queues?

Queen dies: UK goes into period of mourning

Yes, perhaps the biggest one we've ever seen.

Government guidance says there will be a queue that is expected to be very long indeed.

People will need to stand for "many hours, possibly overnight" with very little opportunity to sit down, as the queue will be continuously moving.

With large crowds expected, there are likely to be road closures and delays on public transport this week.

What will I need to bring?

Visitors will go through airport-style security, and there are tight restrictions on what you can bring in. You will only be allowed just one small bag, with one simple opening or zip.

Official guidance states that people should bring suitable clothing for the weather, food and drinks while queueing, a portable power bank for your phone, and any essential medication.

People have also been advised to dress appropriately for the occasion.

Public continue to pay tribute to the Queen with flower tributes at Buckingham Palace

There is a list of banned items, including flowers or other tribute items, candles, soft toys, and photographs.

Other banned items include banners, flags, hampers, blankets and folding chairs.

Government guidance says people should not film, photograph, use mobile phones or other handheld devices in the security search area, or within the Palace of Westminster.

A bag drop facility is available, but capacity is limited, with no guarantee that there will be space.

What will happen?

The closed coffin will be draped in a royal flag, and will rest on a raised platform called a catafalque, with a military guard around the clock.

A crown and other regalia are usually placed on top of a sovereign's coffin.

Each corner of the platform is monitored 24 hours a day by units from the Sovereign's Bodyguard, Foot Guards or the Household Cavalry Mounted Regiment.