8 of the biggest scandals that shook the Royal Family
18 October 2018, 16:58 | Updated: 9 March 2021, 11:14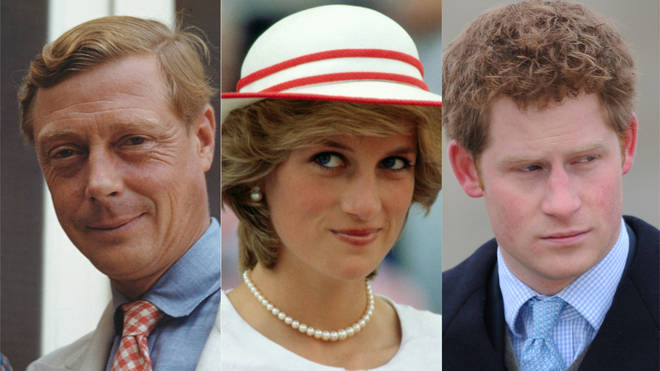 The Royal Family are going through one of their biggest crises in many years in 2021.
Following Prince Harry and Meghan Markle's explosive interview with Oprah Winfrey, alongside Prince Andrew's controversial relationship with convicted sex offender Jeffrey Epstein, the Royal Family have been embroiled in a turbulent couple of years.
The Windsors have had their fair share of royal scandals that shook them to the very core before and during Queen Elizabeth II's reign.
Here are just a handful of moments that filled front pages of newspapers for months at the time:
Edward VIII abdicates the throne

Edward VIII and Wallis Simpson.

Picture: Getty

In 1936, Edward VIII took the throne from his late father. However, less than a year later, he walked away from it.

He had fallen in love with Wallis Simpson, an American socialite who had been been divorced before, and was about to separate for a second time.

His proposal of marriage to Wallis caused a huge uproar at the time, as the Church of England technically forbade Edward from marrying a woman who'd been divorced. And thus, he was forced to abdicate.

"I have found it impossible to carry the heavy burden of responsibility and to discharge my duties as King [...] without the help and support of the woman I love," he said in a radio address to the nation.

They married in 1937 and stayed together until Edward's death in 1972.

Princess Margaret's romance with Peter Townsend

Peter Townsend and Princess Margaret in 1955. Picture: Getty

The Queen's younger sister was never too far away from a scandal, but this was the one that caused the biggest outcry at the time.

Captain Peter Townsend was a Royal Air Force officer who served as an equerry to the King, Margaret's father.

However, despite Townsend being married and many years her senior, they fell in love. In 1953, he divorced his wife and proposed to Margaret. However, the rules of the Church of England still forbade such a marriage. Look what happened to Edward.

They were forced to split up in 1955, and Margaret went on to marry Antony Armstrong-Jones in 1960, before their divorce 18 years later.

A man breaks into the Queen's bedroom

In 1982, an unemployed man named Michael Fagan climbed up a drainpipe at Buckingham Palace and actually found his way into Queen Elizabeth II's bedroom.

The room was amazingly unguarded because a police officer left before his replacement arrived.

The Queen was sleeping, and when she woke up and found him in the room. They chatted for about 10 minutes, and when he asked for a cigarette, she was able to call for help.

As it was a civil wrong at the time, rather than a criminal offence, Fagan was not charged for trespassing.He was instead charged with theft of some wine, but the charges were dropped when he was committed for psychiatric evaluation.

'Squidgygate'

Picture: Getty

By 1992, Prince Charles and Princess Diana were still married, but people were starting to assume their relationship had ended.

Newspapers published the transcript of a conversation between Diana and an alleged lover named James Gilbey. In it, Gilbey told Diana that he loved her, and called her by the nickname 'Squidgy' 53 times.

Diana later confirmed that the conversation was real, but denied that she had been adulterous with Gilbey.

Charles and Camilla's own saucy phone call

Picture: Getty

It had long been rumoured that Charles and Camilla had been having an affair for years, and soon after Diana's leaked phone call, Charles had one of his own.

An Australian magazine published the transcript of a call between Charles and Camilla, a married friend of his at the time.

Some of the contents of the conversation were rather risqué, and later that year Charles and Diana confirmed their divorce.

Princess Anne divorces, then marries a member of royal staff

Picture: EPA/AFP/Getty Images

The Queen's only daughter, Princess Anne, married Olympic equestrian Mark Phillips in 1973.

However, by 1989, a tabloid newspaper obtained stolen copies of letters written to Anne by one of her own equerries, a British naval officer named Timothy Laurence.

The content wasn't made public, but were described as "extremely intimate" and "too hot to handle."

In 1992, Anne announced her divorce from Phillips, and very soon after married Laurence. They have been together ever since.

Fergie's 'toegate'

Picture: Getty

Fergie married Prince Andrew in 1986, but six years later the marriage had appeared to have fizzled out.

Paparazzi photographers captured Sarah Ferguson holidaying with American financial advisor John Bryan.

One photo appeared to show Bryan licking Fergie's foot, and it wasn't long before their separation was announced.

Prince Harry strips in Las Vegas

Picture: Getty

Harry wasn't shy from having a couple of scandals in his youth, from spending a day in rehab to wearing a Nazi uniform at a fancy dress party.

While on holiday in Las Vegas in 2012, Harry and a young woman were photographed naked a a Wynn Las Vegas hotel room, apparently during a game of strip billiards.

The pictures were leaked online in the US, and later circulated around the world. He later said: "At the end of the day I probably let myself down, I let my family down, I let other people down.

"But it was probably a classic example of me probably being too much army, and not enough prince."