Myleene Klass launches new podcast They Don't Teach This At School with celebrity guests
27 September 2023, 11:18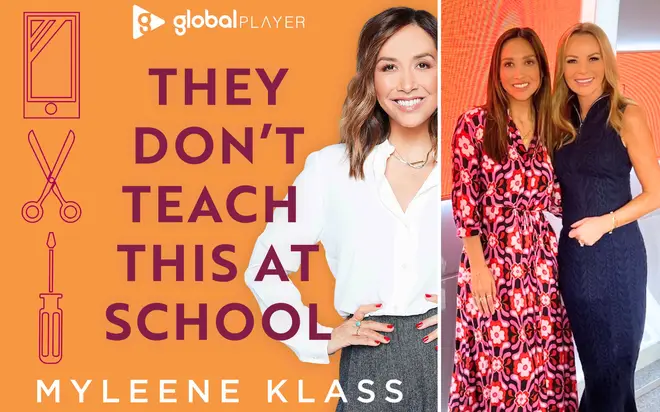 Global is launching a brand-new, 10-part podcast They Don't Teach This At School with Myleene Klass.
The Smooth Radio presenter, musician and author has been on a mission to help equip everyone with the skills they need to be capable, adaptable, confident and in control of their life, no matter their age.
They Don't Teach This At School follows the success of Myleene's book of the same title, as each week, Myleene sits down with a celebrity friend for a wide-ranging conversation about the skills and people that helped shaped them when they were young.
Across 10 episodes, Myleene speaks to a host of well-known guests, including Amanda Holden, Roman Kemp, singer Sophie Ellis-Bextor, former world champion boxer Amir Khan, comedian Matt Lucas, presenters Vanessa Feltz and Lauren Laverne, and author Caitlin Moran.
Listen to They Don't Teach This At School with Myleene Klass
Myleene and her guests delve into their past to discuss the life skills they wish they had been taught, the importance of people and community, dealing with issues such as grief and sexuality, as well as the teachers who inspired them.
Myleene Klass said: "How many times have you found yourself in a situation when you thought 'I wish they taught this at school'? We learned loads of stuff we didn't necessarily need, but what about the essential life hacks we absolutely need now? Plumbing, basic finance, first aid and many other lifesaving vital skills…
"Listen to my brand new Global original podcast They Don't Teach This At School where I chat to lots of best-loved names across radio, TV and sport to find out the things they wish they'd been taught, as they share their lives and stories with listeners."
The first two episodes of They Don't Teach This At School with Myleene Klass are available on Global Player now, with a new episode every Tuesday thereafter.
In the first episode, Myleene talks to Amanda Holden about her life and career, including her mental health and her desire to return to acting.
Amanda said: "Because I still see myself as an actress and my career's gone off on such a tangent that I think I want to come back to acting, and I want to come back to it. And I think that is a profession where you don't have to ever retire.
"So I think there's so much time for me to do that. But while I'm doing this kind of stuff, like broadcasting and presenting and, you know, having my own range of stuff at QVC, or wearing bikinis and underwear, and everything else...".
On how Simon Cowell took credit for all of her success, Amanda explained: "I'm going to talk about Simon Cowell because I am going to say that he has been supportive to me. I suppose because I've been doing Britain's Got Talent for 17 years, I've known him almost as long as I've known my husband.
"And so he's a sort of another quite prominent male in my life. And he has sort of watched from the sidelines taking the credit for every single bit of success I've ever had. [Simon] 'Well, it's done to me. I put you on Britain's Got Talent, I showed the world.'
"You know, he's very funny. He says he owns a third of my house and a third of my car and everything else. He's very funny about it. But he's always been an encouraging, you know, sort of background man, I would say."
Global Player is Global's entertainment hub, which allows listeners to enjoy all of Global's radio brands, award-winning podcasts and expertly curated playlists all together and all for free on mobile via the Global Player app, online and through your smart speaker.