Celine Dion makes first public appearance in years at hockey match amid Stiff Person Syndrome battle
1 November 2023, 16:20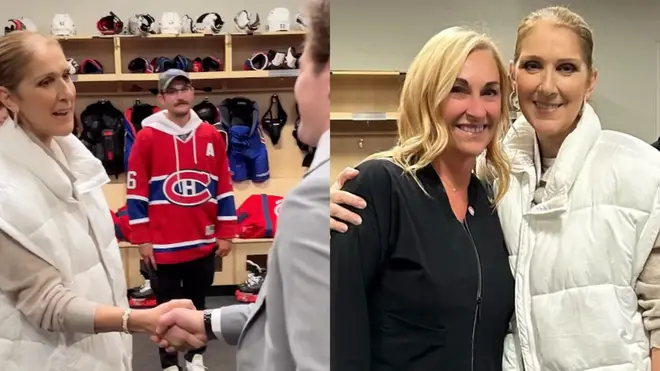 Celine Dion has warmed the hearts of fans everywhere when she was seen at a recent hockey game in America.
Celine Dion made a rare appearance at a hockey match in Las Vegas on Monday (October 30), as she continues to battle Stiff Person Syndrome.
The 55-year-old was seen in public for the first time in several years, when the Montreal Canadiens played the Vegas Golden Knights.
Footage posted on social media sees Celine looking well as she greeted players and fans in the locker rooms after the match.
"A great visit to our game in Vegas yesterday," Montreal's vice-president of hockey communications Chantal Machabée said. "Thank you Celine Dion for your generosity. The whole team was very happy to meet you and your family."
Celine was joined by her sons René-Charles, 22, and twins Nelson and Eddy, 13.
'It's such an honour to meet you,' Celine told coach Martin St Louis in French in one video. "It was an incredible night."
She was also seen giving advice to the hockey players, saying, "Just stay healthy, strong. Do what you do best."
Celine Dion hasn't been seen in public very often since announcing she was diagnosed with Moersch-Woltman Syndrome in 2022.
The condition, also called Stiff Person Syndrome (SPS), is a rare neurological condition that gives people painful muscle spasms.