Elton John's 15 greatest duets ever, from George Michael to Tina Turner to Alan Partridge
27 March 2020, 16:28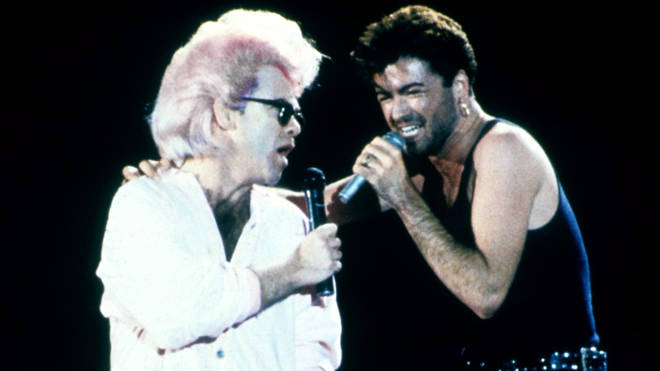 Sir Elton John has had pretty much every artist queuing up to get the chance to work with him over the years.
Whether it's a studio release, a live performance or even allowing a sample on a rap song, Elton John has collaborated with countless artists.
We've picked the very best times that Elton duetted with fellow popstars:
'Don't Let the Sun Go Down on Me' (with George Michael)

Read more: The Story of... 'Don't Let the Sun Go Down on Me'

George Michael's Cover to Cover tour regularly included this Elton song, and for the final show at Wembley Arena on March 23 1991, he brought out Elton as a surprise guest to sing it with him.

The live recording of this song was released as a single later that year, and was a number one hit in both the UK and US.

'Don't Go Breaking My Heart' (with Kiki Dee)

This gave Elton his first ever UK number one, and it remains one of his best loved hits.

Initially intended as a duet with Dusty Springfield, Kiki Dee stepped in and it gave her the biggest hit of her career.

'Goodbye Yellow Brick Road' (with Billy Joel)

Elton and Billy have been great pals for years, and have even toured together under the Rocket Man/Piano Man banner.

Here, they performed together at Madison Square Garden in 2000, and pop greatness was born.

'Ordinary Man' (with Ozzy Osbourne)

For Ozzy's latest album, he recruited Elton to sing with him on the title track, after he realised it sounded 'like an Elton John song'.

The song is an incredibly poignant power ballad, released soon after he announced he had been diagnosed with Parkinson's disease.

'Sad Songs' (with Rod Stewart)

Elton and Rod have collaborated many times over the years, including on a cover of 'Makin' Whoopee' for one of Rod's Songbook albums.

When Rod presented Elton with the first Brits Icon award, the pair teamed up with a rendition of Elton's 'Sad Songs'.

'Don't Go Breaking My Heart' (with Alan Partridge)

Yes, this actually happened at the 2000 British Comedy Awards!

'Face to Face' (with Gary Barlow)

For Gary Barlow's first solo album in nearly 20 years, he recruited his hero Elton for one of its singles.

Gary later said it was a thank-you note to Elton for sticking by him during his wilderness years, and as a dig to those who deserted him.

'You're Still the One / Something About the Way You Look Tonight' (with Shania Twain)

For Shania's Winter Break tour in 1999, she performed this brilliant medley duet, with the pair trading songs. An underrated gem of a moment.

'Candle in the Wind' (with Olivia Newton-John)

For an ABC TV special titlted Hollywood Nights, Elton performed this beautiful duet of his classic tribute to Marilyn Monroe with good friend Olivia.

'Stan' (with Eminem)

At the 2001 Grammy Awards, at a time when Eminem was facing criticism over his homophobic lyrics, the rapper responded by performing 'Stan', with Elton John singing Dido's lines.

'Proud Mary' (with Tina Turner and Cher)

Performing live at New York's Beacon Theatre for VH1's Divas Live! in 1999, Elton played the piano and sang backing vocals while Tina Turner belted out her signagure song 'Proud Mary'.

And just when you think it couldn't get any more epic, Cher comes out!

'Live Like Horses' (with Luciano Pavarotti)

Although his 1997 album The Big Picture featured this song as a solo track, its single version was a duet with none other than opera legend Pavarotti.

There's not many artists who can say they did that and pulled it off.

'Sorry Seems to be the Hardest Word' (with Ray Charles)

Sorry Blue, but we're going for this duet of Elton with soul legend Ray Charles instead of your number one hit (though, we do have a soft spot for it).

Recorded for Ray's Genius Loves Company duets album, it's a fantastic rendition of Elton's classic.

'Anyone Who Had a Heart' (with Luther Vandross)

This song - made famous by Cilla Black - was included on the posthumous Luther Vandross tribute album So Amazing in 2005.

Elton recorded his vocals, which was then turned into a duet with the late soul icon.

'Bohemian Rhapsody' (with Queen and Axl Rose)

Performed at the Freddie Mercury Tribute Concert, Elton took on the daunting task of singing Queen's biggest song.

He pulled it off, and then casually duetted with Guns N' Roses frontman Axl Rose to make it even more epic.