Watch Elton John's touching live tribute to Queen Elizabeth II singing 'Don't Let the Sun Go Down on Me'
13 September 2022, 09:33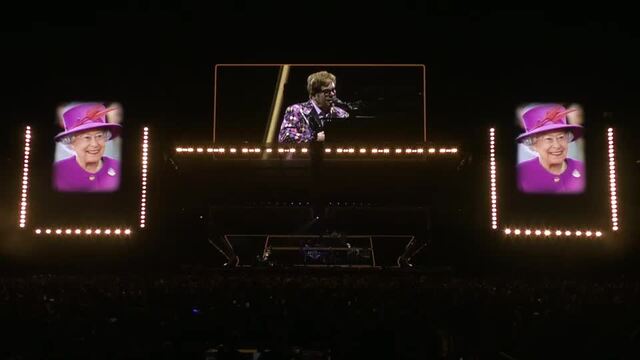 Sir Elton John pays further tribute to Queen onstage in Toronto
Not for the first time, Elton John makes a memorable tribute to a member of the Royal Family.
Elton John was on the road for his years-long Farewell Yellow Brick Road Tour when news of the Queen's death broke last week.
Always a man who can capture the mood of a moment, Sir Elton paid tribute to Her Majesty during that evening's show in Toronto, Canada with a touching speech and stunning performance of 'Don't Let The Sun Go Down On Me'.
"We have the saddest news about the passing of Her Majesty Queen Elizabeth," John said.
"She was an inspiring person to be around. I've been around her and she was fantastic.
"She led the country through some of our greatest and darkest moments with grace, decency, and a genuine care and warmth."
Elton was made a CBE in 1995 before being knighted by the Queen in 1998. He was later appointed a Member of the Order of Companions of Honour in the 2020 New Years' Honours.
Sir Elton was unable to attend this year's Platinum Party at the Palace, but he pre-recorded a performance of 'Your Song' at Windsor Castle that was projected for the live audience.
He had similarly pre-recorded a performance of 'I Want Love' for the 2002 Party at the Palace to celebrate the Queen's Golden Jubilee, this time at the Music Room inside Buckingham Palace.
Elton John - Candle in the Wind/Goodbye England's Rose (Live at Princess Diana's Funeral - 1997)
Sir Elton did appear in person at the 2012 Diamond Jubilee Concert, playing live renditions of 'I'm Still Standing', 'Your Song' and 'Crocodile Rock'.
One of Elton's most memorable past performances was his rendition of 'Candle in the Wind', performed in its reworked form at Westminster Abbey for Princess Diana's funeral in 1997.
A recorded version of that song 'Candle in the Wind '97' became the biggest selling single of all time.