Elton John, Rod Stewart, Gary Barlow and Brian May lead tributes for Queen Elizabeth II
9 September 2022, 14:55 | Updated: 13 September 2022, 09:30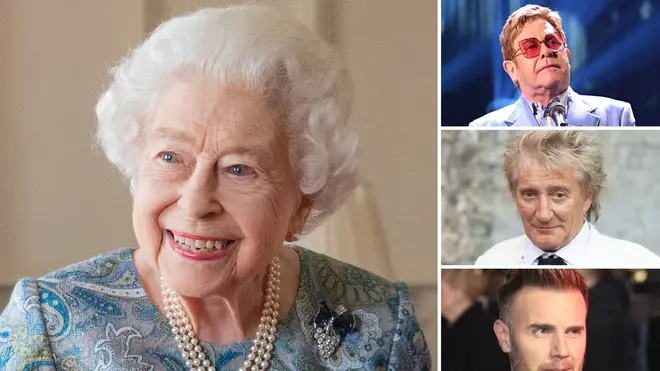 "Since the day I was born Queen Elizabeth has led us through good times and bad in the most extraordinary way."
That was Gary Barlow's poignant tribute to Her Majesty Queen Elizabeth II, and it's a sentiment that can be felt by the entire nation.
Elizabeth Alexandra Mary, Britain's longest-serving monarch, died on 8th September 2022 at the age of 96 and left a legacy like no other.
Ever since her accession and coronation in 1953, Queen Elizabeth II has led our country with dignity, fulfilling her duties for 70 years.
She was a constant in a rapidly changing world, and provided compassion, hope, and comfort to the nation through the many highs and lows the country has faced.
Her son and heir, King Charles III, released a statement following her passing saying:
"The death of my beloved mother, Her Majesty the Queen, is a moment of the greatest sadness for me and all members of my family. We mourn profoundly the passing of a cherished Sovereign and a much-loved mother."
Now stars around the world are paying tribute to Her Majesty - many of whom she graced with her presence - including Sir Elton John, Sir Paul McCartney, Sir Rod Stewart, Queen's Brian May and Roger Taylor, Ed Sheeran, Daniel Craig, Boy George, Janet Jackson, Gary Barlow, and many more.
Sir Elton John described Her Majesty as "an inspiring presence", whilst Gary Barlow said he was "honoured to have met her".
Sir Rod Stewart posted a simple image of the crown on Instagram alongside a heartfelt message to show his respects, as did Sir Paul McCartney who posted a picture of our Queen when she was young with a caption that reads "God bless Queen Elizabeth II".
Queen's Brian May and Roger Taylor took to the band's Twitter to pay their respects, as did Canadian rocker Bryan Adams.
Ed Sheeran took to Instagram to post a picture of Her Majesty alongside a sweet message saying "Thank you ma'am x".
Boy George remembers the Queen's bright smile and humour in his tribute, as did Cher as she recalled the time she met Her Majesty.
Stars from around the world have also paid their respects, including Stevie Nicks, Janet Jackson, and Dionne Warwick.
The world of Hollywood has also paid tribute to Queen Elizabeth II and her 70-year reign.
James Bond actor Daniel Craig said in a statement: "I, like so many, was deeply saddened by the news today and my thoughts are with the royal family, those she loved and all those who loved her."
"She leaves an incomparable legacy and will be profoundly missed."
Rocky star Sylvester Stallone tweeted "the world will never see the likes of her again..." and Helen Mirren - who played Her Majesty in 2006 film The Queen also said she was "the epitome of nobility."