George Michael's secret acts of astounding generosity revealed after death
25 August 2022, 14:05 | Updated: 17 March 2023, 10:03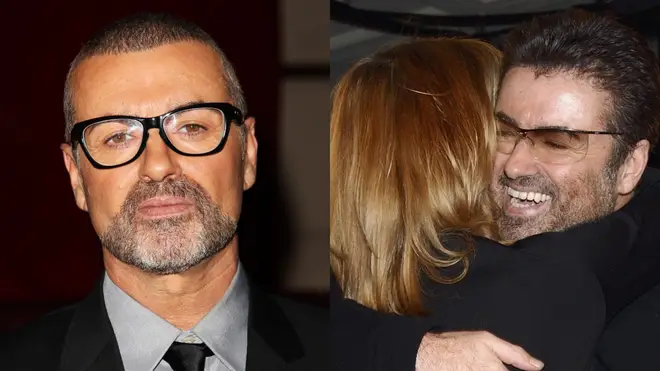 Stories of George Michael working undercover at homeless shelters, giving huge cheques to pay strangers' debts and covering the cost of a woman's full course of IVF treatment are just some of the stories that have come to light after his death.
While many stars show their charitable efforts through large campaigns and public gestures, George Michael chose to stay under-the-radar, making hugely generous secret gestures to complete strangers throughout his life.
Read on to hear more about George Michael's stunning acts of generosity...
George Michael gave stranger £15,000 for IVF treatment

A woman who appeared on Deal or No Deal was given £15,000 by an "anonymous donor" after she talked on air about her reasons for applying for the TV show.

Lynette Gillard appeared on the game show with the hope of winning enough money to fund her IVF treatment.

George Michael had been watching the show and secretly called Channel 4 call the next day, offering to cover the whole cost.

A woman on 'Deal Or No Deal' told us she needed £15k for IVF treatment. George Michael secretly phoned the next day and gave her the £15k.

— Richard Osman (@richardosman) December 26, 2016

Richard Osman, producer of Deal Or No Deal and co-presenter of Pointless, confirmed the story after the Star's death.

Taking to Twitter he wrote: "A woman on 'Deal Or No Deal' told us she needed £15k for IVF treatment."

"George Michael secretly phoned the next day and gave her the £15k."

It wasn't until Richard tweeted the story that Lynette found out who had donated the money.

Taking to Twitter she wrote to the presenter saying: "For many years I wondered who had donated this money, and now I know.

"Thank you. RIP George what an amazing person."

Lynette went on to fall pregnant with a little boy in 2017 and named him after the star, Seth Logan George Hart.

Berlinale: "George Michael: A Different Story" Photocall And Press Conference. Picture: Getty

George worked undercover at a homeless shelter

After his death on Christmas Day, 2016, George's old colleagues came forward to reveal he had worked side-by-side with them at a homeless shelter.

The star had often visited the shelter, but had specifically asked that his co-workers keep his work a secret.

Elton John and George Michael tribute - Even Better Than the Real Thing

Emilyn Mondo revealed on Twitter: "George Michael worked anonymously at a homeless shelter I was volunteering at.

"I've never told anyone, he asked we didn't. That's who he was."


George gave stranger £25,000 to cover their debt

Supposedly George was in a cafe when he overheard an upset woman discussing her terrible debt.

The Wham! star quietly wrote a cheque for £25,000 and subtly gave it to the waitress on his way out.

he gave a stranger in a cafe £25k as she was crying over debt. Told the waitress to give her the cheque after he left.

— VectorVictoria (@V3ct0rv1ct0r) December 26, 2016

She was under strict instructions to only give the cheque to the woman after he'd left.

George never wanted any attention or thanks for his kind gestures.

He threw a free concert "just for nurses" after mother's death

George Michael put on a free Christmas concert "just for nurses" in 2006.

Before he took to the stage at the Camden Roundhouse in London he said: "Almost 10 years ago, during the last week of my mother's life, I told my friends and family that if I ever played my own concerts again, I would make sure to do a free one for NHS nurses.

George Michael - nurses concert Last Christmas (clip)

"The nurses that helped my family at that time were incredible people, and I realised just how undervalued these amazing people are.

"So I want to thank them with a Christmas concert," he said.

Nurse Sally Lyons remembers the concert well, saying that her and her colleagues still talk about the special night.

Speaking the The Roundhouse she says: "A nervous George Michael took to the stage with a bad cold and told us he'd played in front of crowds all over the world but was anxious because he'd never performed in front of so many heroes before.

"[George] will always be a hero to all of the nurses at the Roundhouse that night."

He singlehandedly kept charities afloat with donations

Another story that emerged after George's death was that he gave so much money to certain charities that it was only because of his donations that the organisations were able to keep going.

Kate Waugh took to Twitter to say: "A lady from a children's charity once told me they were only still afloat because of George Michael."

After his death Childline's Esther Ranzen revealed George had given the charity "millions".

The charity found said: "For years now he has been the most extraordinarily generous philanthropist, giving money to Childline, but he was determined not to make his generosity public so no-one outside the charity knew how much he gave to the nation's most vulnerable children."


He stopped in the rain to help a woman change her car tyre

After George's death a story emerged from an Irish woman who was stunned when George Michael stopped to help her change her car tyre in London.

Mary Ryan recalled leaving work in the 1990's when she noticed to her distress that he car had a flat tyre.

George Michael Press Conference. Picture: Getty

Mary told The Journal: "Back in the early 1990s I was working on Edgware Road in London near the Sony Studios.

"I came out of work to find my little 1974 Ford Fiesta had a flat tyre.

"George Michael was coming out of Sony as I was standing there in the rain and helped me change my tyre….I've never forgot how kind he was.

"Sadly, I didn't have the nerve to ask for his autograph."