Michael Bublé FaceTimes a shocked Birmingham fan from stage during a gig - video
23 May 2019, 15:57 | Updated: 3 June 2019, 17:10
Michael Bublé more than made up for one fan who was unable to get tickets to his show in Birmingham this week, by casually FaceTiming her while performing.
Beccy Walsh, 29, said it was "a dream come true" when Michael FaceTimed her from the stage.
The superfan, from Kings Heath bought her father tickets to the concert for his 50th birthday, but sadly could not go herself.
Her father then called her from the show, before Michael took the phone and sang directly to her.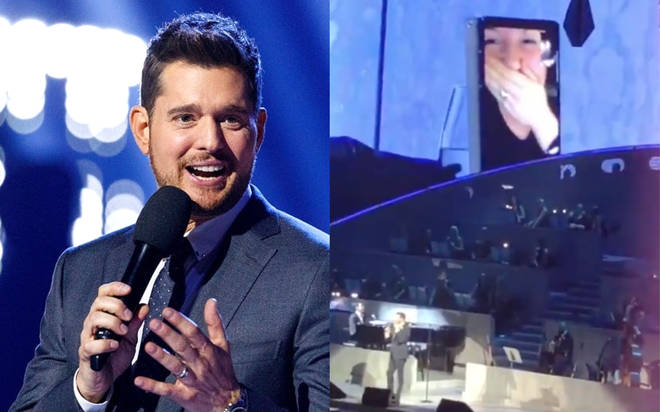 "I can't even explain what it meant to me," she told BBC News.
Michael Bublé was performing at the Resorts World Arena on Tuesday night (May 21), as part of his ongoing world tour after taking a hiatus from performing following his three-year-old son Noah's cancer diagnosis.
Beccy, who works at Solihull Hospital, said she was "watching the whole show" on FaceTime, when Michael then "came over and took the phone from my dad", and started singing 'Lazy River'.
"It was a once in a lifetime thing," she said. "He sang to me; he was so lovely. Honestly, how lovely of him to do that."
Her husband hilariously "missed the whole thing" as he was taking a shower at the time.
"He just couldn't believe it," she added.
Earlier during his tour, Michael was shocked after hearing a carpet fitter fan's amazing vocals during a show.