Maddie & Tae's Maddie Font welcomes a baby boy with super cute name
12 September 2023, 12:58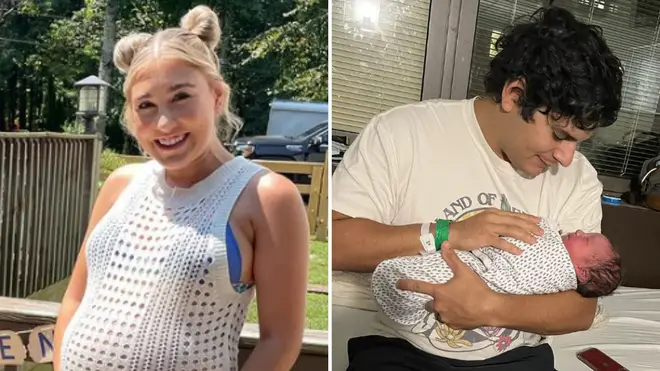 Maddie Font, one half of the country duo Maddie & Tae, has welcomed her first child with her husband Jonah Font.
The couple announced the arrival of their son, Forrest Henry Font, on Instagram on Monday, September 11, 2023.
Forrest was born on Saturday, September 9, at 4.03 pm, weighing 7 lbs, 10oz. Maddie revealed that she had a "really scary experience" in the hospital and had to undergo an emergency C-section after 37 hours of labour.
She thanked the medical team at St. Thomas Midtown for taking care of them and making them feel calm and comfortable.
Maddie also expressed her gratitude to God for the gift of their "perfect boy" and said they were "so in love" with him. She shared several photos of Forrest, including one where he is holding a sign revealing his name, date of birth and weight.
The singer also posted a photo of her husband Jonah holding their newborn son.
She wrote: "Thank you to our incredible medical team at St. Thomas Midtown for taking incredible care of us and making a really scary experience as calm and comfortable as possible for our little family.
"Forrest is everything Jonah and I could've ever dreamed of, and we'd go through it all over again for him. Thank you Lord for the gift of this perfect boy and this magical time. We are so in love."
Maddie and Jonah met in high school and got engaged in 2018. They tied the knot in November 2019 in a rustic wedding in Tennessee.
Maddie announced her pregnancy in April 2023. She said that she surprised Jonah with a card and the positive tests when he came home from work. She also said that her duo partner Tae Dye Kerr had a feeling she was pregnant before she even knew.
Maddie and Tae are known for their hit songs such as 'Girl in a Country Song', 'Die From a Broken Heart', and 'Friends Don't'. They released their second album, The Way It Feels, in 2020.
Tae also became a mother in February 2023, when she gave birth to her daughter Leighton Grace with her husband Josh Kerr.
Maddie and Tae are now both enjoying their new roles as mothers and sharing their journey with their fans. They have also hinted at working on new music together soon.
Congratulations to Maddie and Jonah on their adorable baby boy!