Britain's Got Talent: Who are Dave and Finn and what happened to the heartwarming police dog?
28 April 2019, 01:12 | Updated: 28 April 2019, 01:16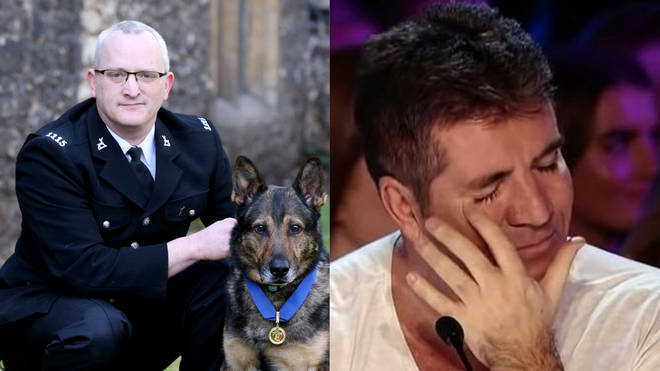 Britain's Got Talent judges and viewers everywhere were moved to tears after a hero police dog and his handler appeared as contestants on the ITV show in episode four.
The incredible police dog that was almost stabbed to death while saving his handler's life appeared on Britain's Got Talent, and is guaranteed to make everyone who watches cry.
Not only did Finn appear to read the judges' minds, but Dave explained his protective pooch's heartbreaking backstory in a moving video.
But who are Dave and Finn and what happened to them while on duty? Here's all the important facts:
Who are Dave Wardell and his dog Finn?

German shepherd Finn saved owner Dave Wardell's life, by leaping between the police officer and a knifeman.

The dog was then stabbed with a 10 inch blade. The 10-year-old was later awarded a Daily Mirror Animal Hero award, and went on to make a full recovery.

Finn almost died after the blade missed his heart by just millimetres, in the attack which occurred in Stevenage.

He managed to not let go of the attacker, until back-up arrived to arrest him. Finn required four hours of surgery, and retired not long after.

Dave and Finn have since appeared on various TV shows and events, including This Morning and Crufts.

What is Finn's Law?

Under law, Finn's attack in 2016 was simply regarded as criminal damage to property, but Dave told the Mirror it was like "breaking a window".

Dave has since campaigned for Finn's law, which aims for greater legal protection for service animals.

Dave has also written the book Fabulous Finn, which looks back at the moments leading up to the 16-year-old suspect's arrest.

He explained how he chased a suspect in Stevenage in October 2016, when the teenager "ignored" his warnings to stop, so he sent the dog after him.

"I let Finn go," he wrote. "As the man tried to scramble over a fence, Finn took hold of his lower leg in his mouth and pulled until the suspect was face down on the grass.

"Suddenly, something caught my eye. It was a massive piece of dark metal which he appeared to be pulling from Finn's chest. It was covered in blood. It was a knife – as thick as a ruler. It was ridiculously huge, like a hunting knife – the blade alone must have been 10in long.

"The vision of the knife, that flash of metal as it slid out of Finn's chest. Then another flash as the suspect lunged a second time, aiming for my upper body, and Finn moving to protect me and blocking the weapon with his head."

Finn's attacker was found guilty of "criminal damage" against the dog. Dave said that he couldn't believe that in the eyes of the law, attacking a service animal while they are at work was "of no more consequence than [damaging] a piece of inanimate property".

The attacker was also convicted of actual bodily harm against Dave Wardell.