Britain's Got Talent: Simon Cowell storms off stage and refuses to take part in ventriloquist act
31 May 2019, 10:11 | Updated: 3 June 2019, 17:09
Well, that was awkward.
Simon Cowell was the main highlight of last night's (May 30) Britain's Got Talent semi-final, when he appeared to storm off stage during a contestant's performance.
The judge was asked (OK, forced) to join David Walliams on stage for Jimmy Tamley's ventriloquist act, but he was clearly not happy.
After having ventriloquist dummy mouths placed over his mouth, Simon was then asked to do the can-can by Jimmy as part of the act.
While David went along with it, Simon sat still on his stool before storming off the stage. Jimmy was then in a bit of a pickle, as his act couldn't really proceed without Simon.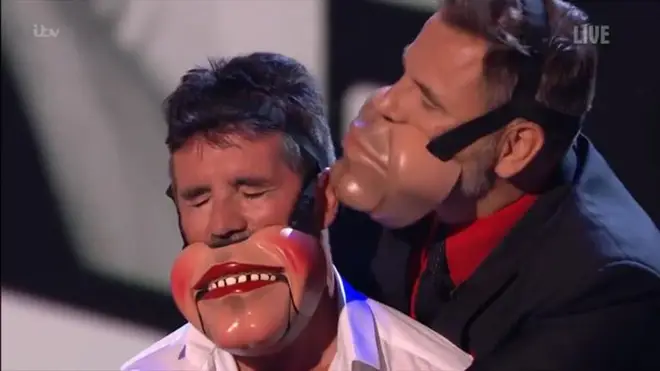 Simon was eventually coaxed into returning to the stage after several seconds backstage.
The act finished with the two judges being placed into an over-sized packing crate, with the finale seeing Jimmy revealing it'd be mailed to "David's bedroom".
A clearly-peeved Simon returned to the judging panel, where he joked about throttling the production staff who'd allowed his involvement in the whole thing.
"Why couldn't you have just used Ant and Dec?" judge Alesha Dixon asked. Amanda Holden agreed that Jimmy made a bad decision, saying: "It was Simon's worst nightmare but it was great for the rest of us."
An insider later told Metro: "Simon is absolutely fine. He's been laughing about it during the ad break. There's been lots of laughter in the dressing room, with a few production members jokingly acting with their tails between their legs! But Simon saw the funny side."
However, it may have been injury down to Simon's annoyance: "It turns out the reason Simon left the stage was due to an old ski-ing injury. Jimmy grabbed hold of Simon's knee but, understandably, won't have realised about Simon's old injury when he wanted him to do the can-can.
"So Simon had to take the lead to stop any embarrassment! Backstage, everyone has been giggling – and Simon thinks it was a great TV moment!"