Bruce Willis family and children: How many kids does the Die Hard actor have?
1 March 2023, 12:39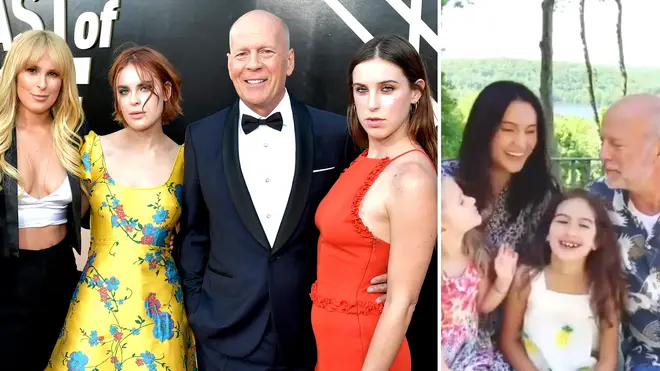 Bruce Willis is known for having one of the most incredibly supportive families in Hollywood.
Following the recent announcement that Bruce has been diagnosed with dementia, his family came out in force to show their love and support.
Bruce is famously still very close friends with his former wife Demi Moore, and thus his large family are often seen together on social posts.
But how many kids does Bruce Willis have? Here's a handy explainer:
Rumer Glenn Willis

Bruce and Rumer Willis in 2009. Picture: Getty

Bruce Willis and Demi Moore welcomed their eldest daughter, Rumer Glenn Willis, on August 16, 1988, in Paducah, Kentucky. She celebrated her 34th birthday in 2022.

The couple brought up Rumer away from Hollywood, and she was raised in Hailey, Idaho, where the family purchased a $2.5 million mansion.

Aged five, she made her onscreen debut in her mother's film Now and Then, thought was credited under the name Willa Glen. Several years later, she appeared in Striptease, where she played Demi's onscreen daughter. She later made appearances in Bruce's films The Whole Nine Yards and Hostage.

In more recent years, she has continued acting, including in There's Always Woodstock, Hello Again and Once Upon a Time in Hollywood, as well as TV shows like The Secret Life of the American Teenager, Pretty Little Liars and Empire.

She has also popped up in several reality shows like The Masked Singer and Dancing with the Stars, where she was crowned champion with her partner Valentin Chmerkovskiy.

On stage, she appeared on Broadway as Roxie Hart in a 2015 production of Chicago, and she sang during her role on Empire.

In December 2022, Rumer announced that she is expecting her first child with boyfriend Derek Richard Thomas.

Scout LaRue Willis

Scout Willis. Picture: Getty

Demi and Bruce's second daughter, Scout LaRue Willis, was born on July 20, 1991, in Sun Valley, Idaho. She marked her 31st birthday in 2022.

Scout spent her younger years out of the spotlight, but she did appear in Demi's 1995 film The Scarlet Letter and Bruce's 1999 film Breakfast of Champions.

After graduating in 2013, Scout became an artist and took part in a London exhibition that featured her self-portraits. She also became an activist for body politics and stood against Instagram's censorship of women, but walking around New York City topless — explaining that it was legal to do so while Instagram's rules censored nudity.

Recently, Scout has focused on music. She released an EP in 2012 as part of the duo Gus + Scout, and then released her debut single 'Love Without Possession' in 2021, followed by her self-titled album a year later.

Tallulah Belle Willis

Bruce Willis and Tallulah Willis in 2015. Picture: Getty

Bruce and Demi welcomed their youngest child, Tallulah Belle Willis, on February 3, 1994, in Los Angeles. She celebrated her 29th birthday in 2023.

Tallulah later told Teen Vogue that she struggled with life in the spotlight as a teenager, and her insecurities eventually triggered an eating disorder.

Following a successful stay in rehab, Tallulah managed to fix her strained relationship with her family. In 2019, she joined Demi and Rumer on an episode of Red Table Talk, admitting that she was still getting to know her "intimidating" mother.

In 2021, Tallulah announced her engagement to director Dillon Buss.

She is now focused on a career in the fashion industry, launching her own clothing brand, Wyllis, during the pandemic.

Mabel Ray Willis

On April 1, 2012, Bruce and second wife Emma Heming welcomed their first child together, Mabel Ray Willis. Mabel had her 10th birthday in 2022.

Emma later explained that she wanted to raise her family at their home in Bedford Hills in New York, away from Hollywood.

Mabel is currently in elementary school, and has said that one day she hopes to become a 'shark' on Shark Tank (that's Dragon's Den for UK readers).

Evelyn Penn Willis

Emma and Bruce had a second daughter, Evelyn Penn Willis, on May 5, 2014. She celebrated her 8th birthday in 2022.

"[We] didn't know what we were gonna have until the baby came out. In general, I think women should be in charge of everything. Women are just much smarter than men," Bruce told People.

On Emma's Instagram, Evelyn has shown her love of Star Wars and rollercoasters among other activities.