Bruce Willis facts: Die Hard actor's age, wife, children, family and films explained
16 February 2023, 21:13 | Updated: 17 March 2023, 10:40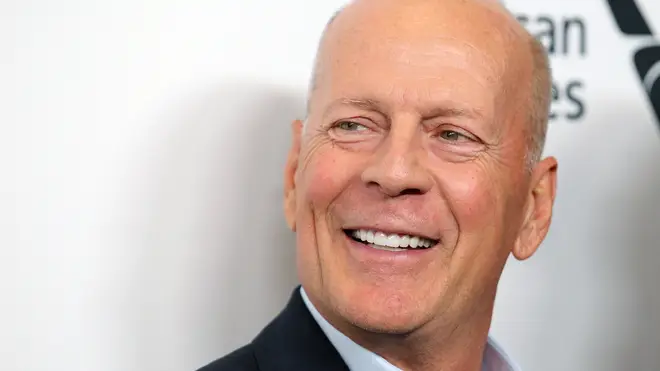 Bruce Willis is one of the most popular and successful Hollywood actors of all time.
The American actor first found fame in the '80s TV comedy drama Moonlighting, and has since appeared in over 100 films.
Bruce Willis became an action movie star after playing John McClane in the Die Hard in films, and he was an all-round box office draw for several decades.
Now sadly retired due to his aphasia and dementia diagnosis, Bruce remains one of Hollywood's biggest stars. He even had a successful music career, when his debut album The Return of Bruno was a massive hit in 1987.
He has won a Golden Globe Award, two Emmy Awards, and two People's Choice Awards. He earned a star on the Hollywood Walk of Fame in 2006, and by 2010 he was the eighth-highest-grossing leading actor of all time.
Bruce Willis diagnosed with dementia
How old is Bruce Willis and where was he born?

Bruce Willis. Picture: Getty

Full name Walter Bruce Willis, the actor was born on March 19, 1955. He celebrated his 67th birthday in 2022.

He was born in Idar-Oberstein, West Germany. His mother Marlene was German, and his father, David Willis, was an American soldier.

He also has a younger sister, Florence, and two younger brothers, Robert (deceased) and David.

His family later relocated to his hometown of Carneys Point, New Jersey. His mother worked in a bank and his father was a welder, mechanic, and factory worker.

Bruce grew up with a stutter, but found that acting on stage at a young age helped reduced it.

What are Bruce Willis' most famous film and TV roles?

Die Hard (1988) Trailer #1 | Movieclips Classic Trailers

Bruce Willis has starred in over 100 films and TV shows over the years.

Bruce first achieved fame starring in the ABC comedy-drama series Moonlighting opposite Cybill Shepherd, from 1985 to 1989.

In 1988, he starred as John McClane in Die Hard, which later had four sequels, and made him an action hero, and close friends with Sylvester Stallone and Arnold Schwarzenegger.

Following his, he lent his voice to the comedy film Look Who's Talking and its sequel, and starred in Hudson Hawk, and The Last Boy Scout.

Other film roles in the 1990s included Pulp Fiction, 12 Monkeys, Last Man Standing, The Fifth Element and Armageddon. In 1999, he starred as Dr Malcolm Crowe in the critically-acclaimed The Sixth Sense, one of his greatest performances.

He had a guest appearance on Friends in 2000, giving him his third Emmy nomination.

2000s films included Unbreakable, Sin City, Over the Hedge and Red, and the following decade's highlights included Moonrise Kingdom and Looper.

By the 2010s, Bruce began starring in many straight-to-video films that had mostly negative reviews from critics.

In March 2022, his family announced he was retiring from acting after he was diagnosed with aphasia.

Who is Bruce Willis' wife and how many children does he have?

(L-R) Rumer Willis, father Bruce Willis, sister Tallulah Belle Willis, mother Demi Moore and sister Scout LaRue Willis. Picture: Getty

Bruce Willis married fellow Hollywood star Demi Moore in November 1987, and they had three daughters, Rumer, Scout and Tallulah.

The couple announced their separation in 1998 and divorced in 2000. However, the pair have remained very close friends and are often seen spending holidays together as a family.

Speaking about the divorce, Bruce said: "I felt I had failed as a father and a husband by not being able to make it work."

He was previously engaged to actress Brooke Burns, until they broke up in 2004 after ten months.

Bruce married model Emma Heming in March 2009. The couple have two daughters, Mabel and Evelyn.