Dirty Dancing the Musical: Johnny and Baby actors reveal their real-life love story - 'We were falling in love each night'
2 March 2023, 13:59 | Updated: 24 August 2023, 12:17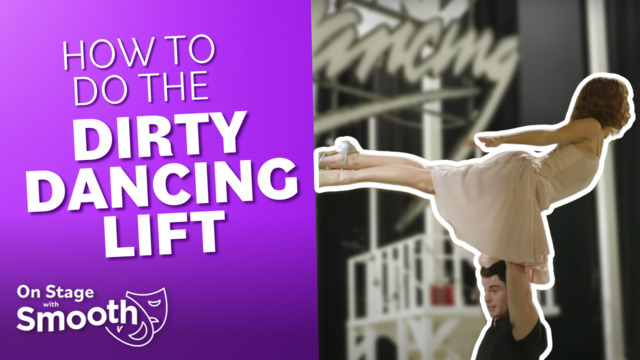 Dirty Dancing: How to do the iconic lift
It's one of the most iconic movie dance moments of all time, and chances are you've given it a go at some point in your life.
Whether it's at a mate's wedding or a Christmas office party, when 'Time of My Life' gets played, you can't help but ponder... could we do the Dirty Dancing lift?
Well, before you try it next time - and we advise to not try this at home if you're not a professional - we've got some expert tips from two people who would know better than anybody.
Smooth caught up with Michael O'Reilly and Kira Malou, the stars of Dirty Dancing the Musical, to give us a handy guide on how to do the famous lift, and what are the important things both people need to remember to do it perfectly.
Meanwhile, Michael and Kira opened up about their real-life love story. The pair first met during the auditions for the show a couple of years ago, and soon began a relationship after they both landed the main roles.
Kira told us: "[It was] 2018 and Michael and I had met in the audition room, I think it was for the finals. So everyone's very nervous by this point. Michael and I, we exchanged Instagrams and were like, 'let's just keep in contact'.
"We were very excited to be doing the show together and then rehearsals started and for quite a while Michael and I were just working with us two and the choreographer, and so we were quite separate, so it was just us two. And we've created such a team very quickly and early on. I think we then realized it was definitely not just an on-stage thing.
Michael added: "And it's so weird when you're falling in love with each other every night and it's so special. And with the work anyway, you kind of open yourself up, but it's even more so you're so intimate with this person and you're sharing that with such a large group of people.
"You go, 'am I feeling this way because of the show? Am I feeling this way because of this person?' And it was like a whole kind of process of going through that and then coming out the other side and being like, 'wow, I love this person outside of the show and inside of the show'.
"And then the rest is kind of history. We just were so lucky to be doing what we love with who we love."
Watch the full interview below:
Dirty Dancing The Musical: Johnny and Baby's real-life love story
On their love of Dirty Dancing before joining the show, Kira said: "I grew up watching the film and before it was even a twinkle in my eye that this could be a possibility to be playing Baby on a West End stage.
"And when I was around 16, 17, I had the videotape of it and I used to watch it on repeat, watch it, rewind it, watch it again. So I think it is deeply ingrained in me.
"I don't try and copy what [Jennifer Grey] does because if I was copying, then I wouldn't be telling the truth and feeling anything. So I think you want to stay as true and honest to the people that did it in the film and because especially that's what the audience know and love and they don't want you to stray too far away from that."
Michael said: "I kind of tried to avoid [Patrick] Swayze as much as possible the first time I did it because I was really determined to find my own voice and my own artistry. But afterwards, I really kind of went into him and his life and his perspective on the work and the show.
"And it just filled my heart with so much love and admiration, the way he approached the work and how he really gave everything into everything he did. I think there's not one person that really has a bad thing to say about him.
And I was like, I definitely want to pay a certain homage to that. I will listen to interviews of him to get in the voice because the second you listen to the film, it's so hard to not just copy how he's saying it. You want to find inspiration and honour it and then use that to channel your own creativity and your own voice."
Dirty Dancing the Musical plays at London's Dominion Theatre until late April, before heading out on a full UK tour. Get venue and ticket details here.