Steven Tyler joins shocked street busker singing his song 'I Don't Want To Miss A Thing'
30 April 2019, 13:07 | Updated: 15 January 2021, 17:00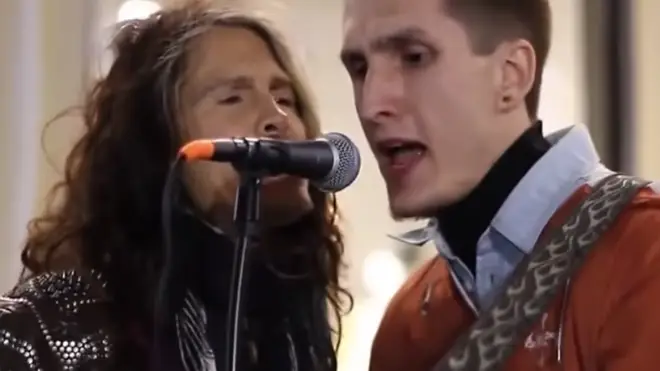 A shocked busker was singing Aerosmith's 'I Don't Want To Miss A Thing' when the singer of the original song, Steven Tyler, stepped out of the crowd to join him in an impromptu duet.
The busker was singing on the street and was completely unaware that Aerosmith frontman Steven Tyler had stopped to join the crowd and watch him perform the cover of his famous song.
After listening to him sing for a couple of minutes, Steven nodded to his companion and peeled out of the crowd, taking off his hat at reveal his identity as he approached the stunned singer.
Without missing a beat, the busker continued playing the guitar and pointed the microphone in Steven's direction.
Steven Tyler and busker. Moscow.
The Aerosmith frontman took over the vocals and continued the sing the lyrics to his number one hit song 'I Don't Want To Miss A Thing'.
The astonished crowd can be heard shouting and cheering as the crooner belted out the lyrics to the iconic power ballad - suddenly aware that they are watching an incredible free performance from the famous singer.
After singing a few verses of the hit track, Steven pulled the amazed busker towards the microphone and they finished the song's soulful ending in unison.
The night time clip was filmed by an eagle-eyed passerby in Russia, who spotted Steven Tyler in the crowd and captured the amazing moment of the live performance on video.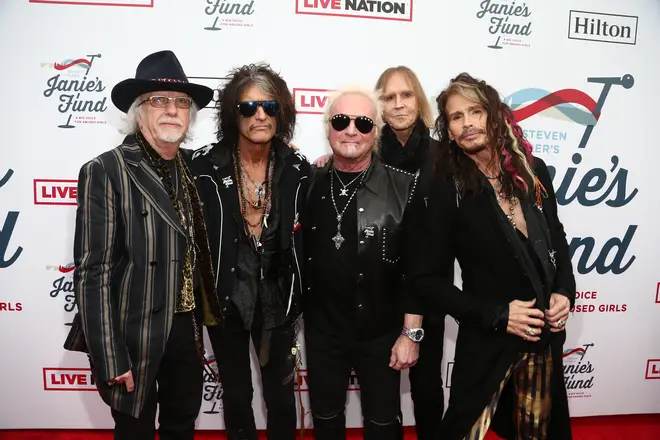 Aerosmith's 'I Don't Want To Miss A Thing' was released as the soundtrack for the film Armageddon in 1998 and debuted at number one on the US Billboard charts - the first American number one for the band.
Written by power balled legend Diane Warren, the song had been originally been intended for someone else, but Aerosmith made a demo, and the label loved it.
Warren later revealed in 2016 that she got the idea for the song after hearing a story from Barbra Streisand's husband, who said that he did not like to go to sleep because he missed his wife.
She originally had a female voice in mind, saying: "When I wrote it I thought it would end up being like Celine Dion or somebody like that, but it's so much cooler to hear someone like Steven Tyler - this gruff, macho rock star, this amazing tough guy - for him to say that lyric."