Harry and Meghan name their baby Archie, and the Queen meets her grandson
8 May 2019, 16:50 | Updated: 8 May 2019, 17:25
The Duke and Duchess of Sussex have named their newborn son Archie Harrison Mountbatten-Windsor.
The couple introduced their first child to the public earlier today (May 8), after Meghan gave birth to the boy on Monday (May 6).
Bookmakers had Archie at around 100/1, while Harrison didn't make the lists at all.
Before the announcement, the leaders with bookmakers were Spencer, Theodore, Alexander and Arthur. James, Albert, Philip, John, Oliver and Henry were also being touted.
"He has the sweetest temperament, he's really calm. He's been the dream, Meghan said. "I don't know who he gets that from," Harry said as the couple laughed.
"It's magic, it's pretty amazing. I have the two best guys in the world so I'm really happy," Meghan added.
Prince Harry said: "It's great. Parenting is amazing."It's only been two and a half days, three days, but we're just so thrilled to have our own little bundle of joy."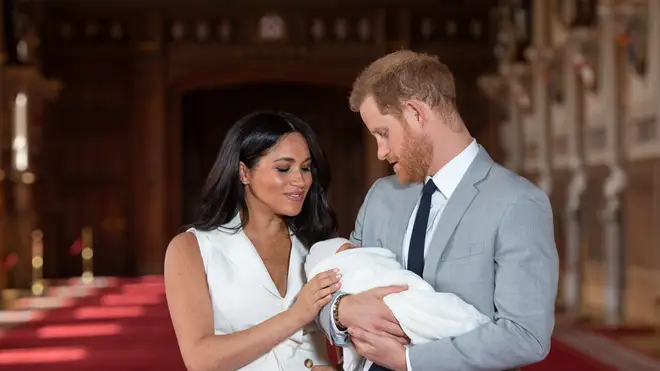 Meanwhile, the Queen and Prince Philip have met their new grandson for the first time, alongside Meghan's mother Doria, in a new picture unveiled on Instagram:
What is the meaning behind the name Archie Harrison?
The couple have yet to fully reveal the reasons behind choosing Archie or Harrison as their firstborn's name.
Archie is the shortened version of the name Archibald, which is made from the Germanic elements 'ercan', meaning "genuine" and 'bald', meaning "bold" or "brave".
Harrison meanwhile, originated in the Middle Ages, and aptly means "son of Henry" or "son of Harry."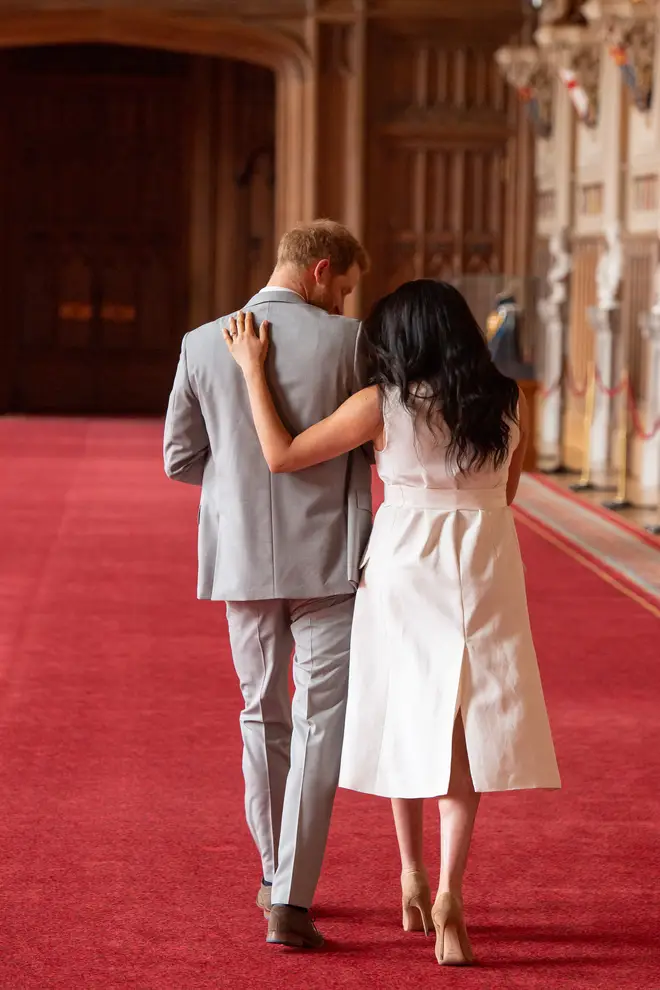 Prince Harry announced the arrival of his first child on Monday, telling reporters off-camera that he had had "only two hours sleep."
"I'm very excited to announce that Meghan and myself had a baby boy early this morning, a very healthy boy," he said with a huge smile.
"Mother and baby are doing incredibly well."
"It's been the most amazing experience I could ever possibly imagine," Harry continued.
"How any woman does what they do is beyond comprehension. But we're both absolutely thrilled and so grateful to all the love and support from everybody out there. It's been amazing, so we just wanted to share this with everybody."
Relatives of the pair have been giving their congratulations to the happy couple since the news of their arrival on Monday.
Prince William, who was visiting Greenwich on an official engagement yesterday said yesterday of his nephew: "Obviously thrilled, absolutely thrilled, and obviously looking forward to seeing them in the next few days when things have quietened down.
"I'm very pleased and glad to welcome my own brother into the sleep deprivation society that is parenting."
His wife, the Duchess of Cambridge Kate added: "As William said, we're looking forward to meeting him and finding out what his name's going to be so so it's really exciting for both of them and we wish them all the best.
"These next few weeks are always a bit daunting the first time round so we wish them all the best."
Prince Charles and the Duchess of Cornwall were in Berlin, Germany yesterday and the Prince giving a short but sweet statement when asked about his new grandchild: "We couldn't be more delighted at the news and we're looking forward to meeting the baby when we return."