Bryan Adams acts as a human shield to protect whale from poachers in the Caribbean
30 April 2019, 11:34 | Updated: 30 April 2019, 18:11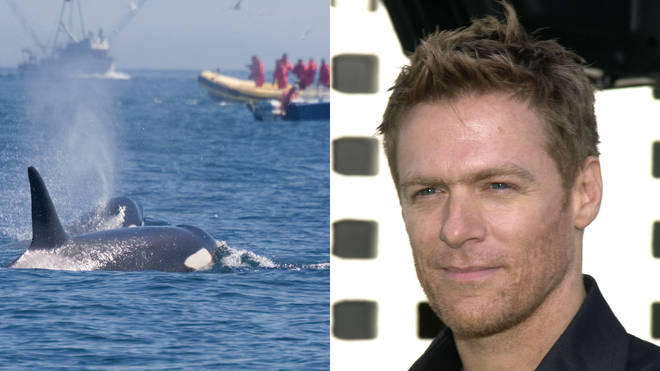 Singer Bryan Adams has spoken about how he used his own body as a human shield to protect a whale being hunted off the Caribbean island of Mystique.
Canadian songwriter Bryan Adams was at his home in Mustique last week when he spotted poachers on speed boats corralling a whale in the sea close to the shore.
Bryan says the hunt was taking place well within the 100-metre conservation area around the isle of Mustique.
Thinking quickly the 'I Do It For You' singer paddled out to confront the hunters he tells Searchlight.
"I was witness to a whale boat and speed boats corralling a whale; several boats going around and hurting it. I saw it first-hand…and I got out on my paddle board, and I was in between the whale and the whaler.
"I was there on a peaceful mission, it was big sea, the moment may have been lost. But the whale was beside me for a moment and it was gone," says Adams.
Shortly after Bryan's intervention, a Mustique security boat arrived on the scene to tell the poachers they couldn't hunt within the 100-metre conservation zone.
Bryan has been an advocate animal welfare for years and personally set up a conservation organisation in 2016 to assist in wildlife protection in the Mustique area.
As Chairman of the St Vincent and the Grenadines Environment Fund (SVGEF), Bryan Adams campaigns to reduce whale-hunting an promote eco-tourism.
Bryan, who is an official resident of the Grenadines, responded to claims that he should have no say in traditional fishing practices as a "foreigner"
"I have no will to judge anybody or what their tradition is. That is not my place. I have always lent my voice to international causes, environmentally," says the singer.
"I am not interested in damaging the country. I want people to come to SVG and see how beautiful the environment here is.
"It is so broad and beautiful and rare…" he says.
"Eco-tourism should be the focus of the future as it is a much more viable thing to be thinking of instead of whaling, because tourists would be horrified if they see that going on."