Rod Stewart poses with wife Penny Lancaster and his three exes at daughter's 40th birthday
23 August 2019, 14:37
Sir Rod Stewart may have had children with several women, but that doesn't mean he's still not friends with them all.
The 74-year-old rock legend celebrated his daughter Kimberley Stewart's 40th birthday this week, and was joined by his three exes Alana Stewart, Kelly Emberg, Rachel Hunter and current wife Penny Lancaster.
While this may sound like an extremely awkward situation for most, Rod has managed to stay on good terms with four out of five of the women whom he has had children with.
The four blonde ladies appeared in good spirits as they joined Rod wearing a very Rod-like waistcoast and leopard print shoes: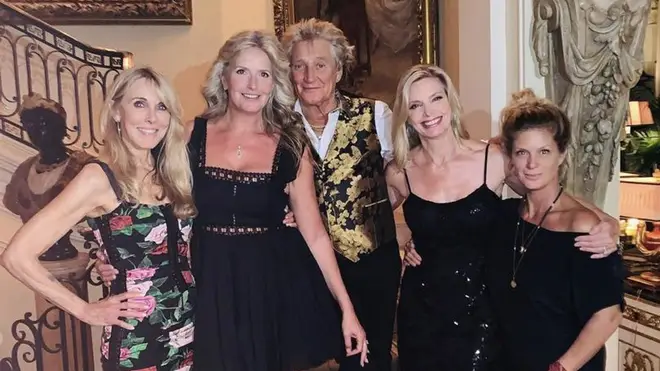 Rod's first marriage was to Alana Hamilton from 1979 to 1984. She is far left in the photo above, and is the mother of model Kimberley and musician Sean.
His second marriage was to model Rachel Hunter (far right) from 1990 to 2006, and they are parents to two children: dancer Renée and ice hockey player Liam.
In between his first two marriages, he also fathered a daughter named Ruby with girlfriend Kelly Emberg, who is seen between Rachel and Rod in the photo above.
He also has two sons with Penny, whom he married in 2007: 12-year-old Alastair and Aiden, eight.
Not in the photo is is Susannah Hourde, whom Rod had a child with named Sarah Streeter before his first marriage. She was given up for adoption, but has since reunited with her dad.