The Story of... 'All For Love' by Bryan Adams, Rod Stewart & Sting
20 November 2023, 12:51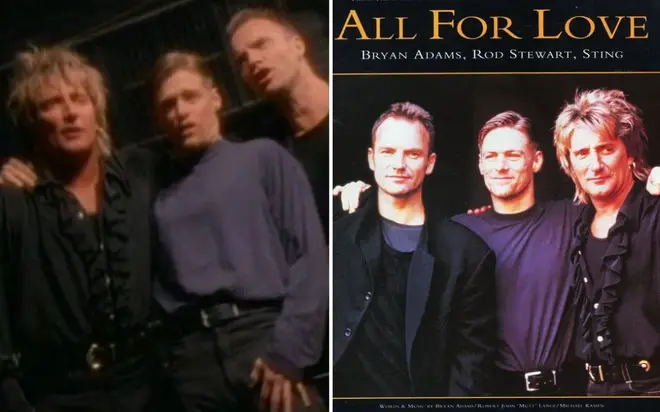 "And make it all for one and all for love."
Fans of Bryan Adams, Rod Stewart, and Sting must've been pinching themselves when the trio revealed their 1993 rock ballad 'All For Love',
The song was released as part of the soundtrack to the action-adventure movie The Three Musketeers, starring Kiefer Sutherland, Charlie Sheen and Tim Curry.
Whilst the film was a major commercial success, it was poorly received by both critics and fans - but that didn't affect the popularity of 'All For Love' which featured during the film's ending credits.
It was no mean feat getting three of the biggest stars of the era in Bryan, Rod and Sting, but it was worth the end result.
However, it very nearly didn't happen due to the conflicting egos of both Sting and Stewart, and was reportedly a nightmare to pull together successfully. So what happened?
Who wrote 'All For Love'? Why did the rivalry between two of the stars involved nearly wreck the recording? Has anyone else covered the song?
Here's all you need to know about 'All For Love' by Bryan Adams, Rod Stewart, and Sting:
Who wrote 'All For Love'?
Bryan Adams, Rod Stewart, Sting - All For Love (Official Music Video)
Bryan Adams wrote the lyrics to 'All For Love' alongside The Three Musketeers' film composer Michael Kamen and iconic rock music producer Robert "Mutt" Lange.
Adams was in the richest vein of musical output in his entire career, two years prior to writing 'All For Love' hitting the top of the charts around the world with 'Everything I Do (I Do It For You)'.
When Kamen was hired to score the Disney adaptation of Alexandre Dumas' 1884 novel, he enlisted the help of Bryan and Mutt in hopes they'd repeat the insane success from the Robin Hood: Prince Of Thieves movie soundtrack.
Riffing from the musketeers' motif "All for one, and one for all", they switched it up slightly after Mutt commented: "It's pretty good, but I can't see them dropping their knickers for it in Kansas."
Bryan wrangled with a new title and changed it to "all for love" - he was the go-to man when it came to rock power ballads by that point, so felt he was going in the right direction.
After realising the release of 'All For Love' would coincide with his upcoming single 'Please Forgive Me', Kamen suggested he bring in two other singers to mirror the three musketeers they were singing about.
How did Bryan Adams get Sting on board?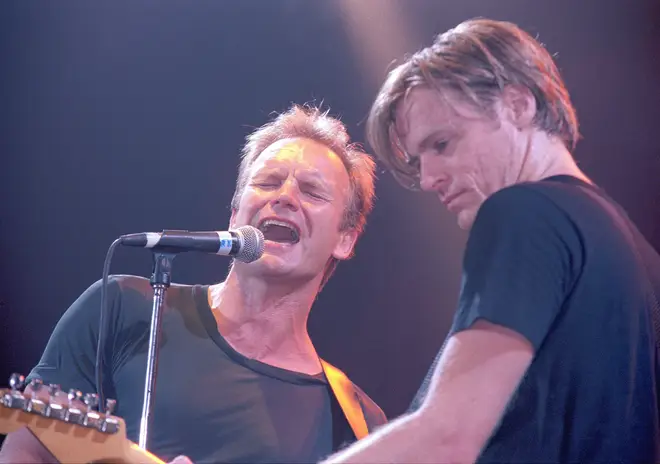 Bryan Adams' first thought of who to sing alongside was Sting, who instantly signed up for the collaborative ballad.
"[Bryan Adams] called me up and said, 'Would you like to sing on a track?'" The Police's former frontman recalled.
"And I said, Yeah, sure.' He said, 'You haven't heard it yet.' I said, 'I don't need to hear it. I'd like to sing with you. You've got a great voice.'"
So Sting was onside, but who could fill the third voice? It proved to be a little less seamless than Sting's addition, with Adams approaching various singers.
The likes of Luciano Pavarotti of the Three Tenors were approached, as was Jon Bon Jovi who turned down the proposition after his success from the Young Guns II soundtrack 'Blaze Of Glory'.
Bryan eventually recruited Rod Stewart as the third singer, though, his inclusion nearly derailed the entire recording.
Why did bringing in Rod Stewart nearly wreck the entire recording?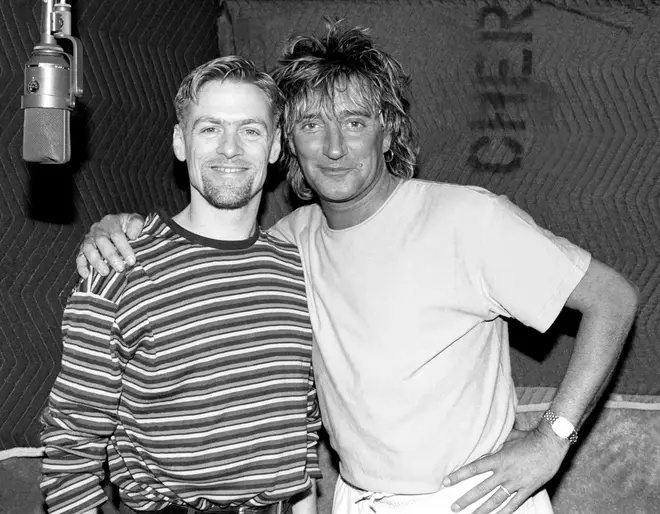 Sting and Rod Stewart had a somewhat, let's say, bumpy relationship up until the recording of 'All For Love'.
They wound each other up in the years prior, with Sting revealing in 1989 that: "We had a plane in America. Rod had used it the night before for his gig, we took it over the next day."
"So I sit down at the table and there, very intricately carved, is, 'Where's your f**king sense of humour, you miserable git String?'"
Sting responded by chaining the gates to Stewart's Beverly Hills mansion shut, later saying: "We called the police, as you do when you're chained in. So we've had a bit of nonsense between each other but we're good mates."
They both insisted that it was just a series of pranks rather than any genuine bad blood between them, with Sting admitting: "I think he's a brilliantly talented man. But he and I have had little contretemps over the years. Little messages have been sent from him to me and me to him."
However, Rod's involvement nearly wrecked the recording process beyond his rivalry with Sting, as he was nigh on impossible to nail down for studio time.
Kamen recalled in The Billboard Book of Number One Hits: "It was a question of nailing Rod to the floor long enough to get his vocal", besides the "bloodbath" of an argument it started between their respective record labels to thrash out a deal.
Rod even showed up to the music video shoot late, with Sting commenting in the music video: "Where is this old tart?", with Rod snapping back: "Oh, here he is, String!", which wasn't rehearsed as a joke.
How did 'All For Love' perform after its release?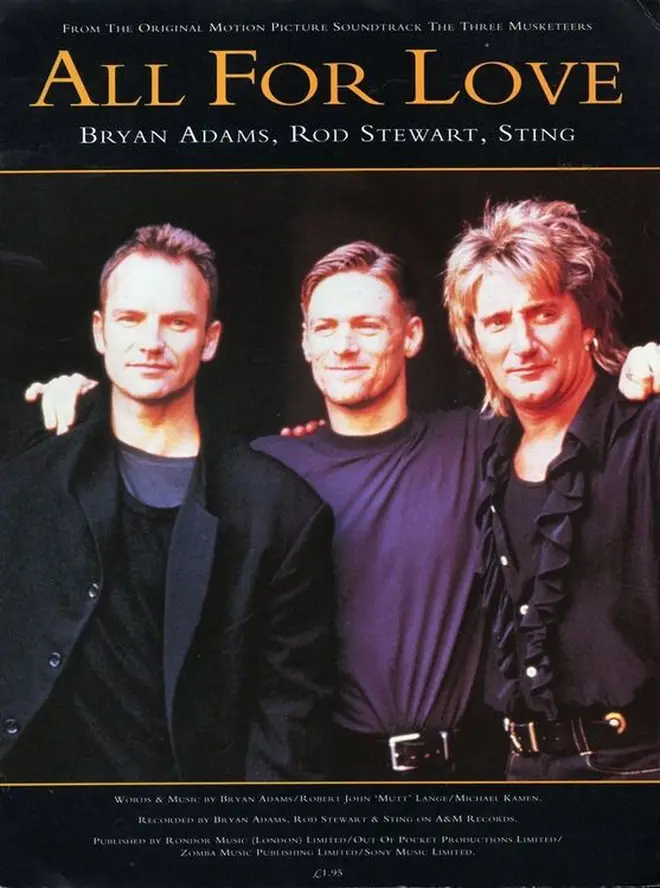 Released on 16th November 1993 only days after The Three Musketeers hit the box office, 'All For Love' went on to become a major success.
The power ballad was a worldwide hit, hitting the top spot across pop charts in Europe, Australia, and North America.
It stayed at the top of the US Billboard charts for three weeks before being knocked off by Celine Dion's 'The Power Of Love', and itself knocked Bryan Adams' own single 'Please Forgive Me' off the top of the Canadian charts.
'All For Love' didn't fare so well in the UK however, only just breaking the top 40.
Has anyone else covered 'All For Love'?
1994 Luciano Pavarotti & Adams, Bocelli, Giorgia, Gustafson, Vollenw - All for love
Few notable artists have covered 'All For Love', though Swedish boyband E.M.D. made it a hit in their home country in 2007 after releasing their rendition.
Bryan Adams frequently performs the song at his concerts, given he wrote the lyrics, though the same can't be said for Sting or Rod who haven't performed it live since 1994 and 1996 respectively.
In 1994, Adams performed a remarkable version of 'All For Love' with two new 'musketeers': Luciano Pavarotti and Andrea Bocelli.
Given Pavarotti was originally earmarked to sing the song, it was a touching full-circle moment, with Michael Kamen conducting the orchestra.