Kevin Costner facts: Actor's age, wife, children, movies and career revealed
3 May 2023, 12:12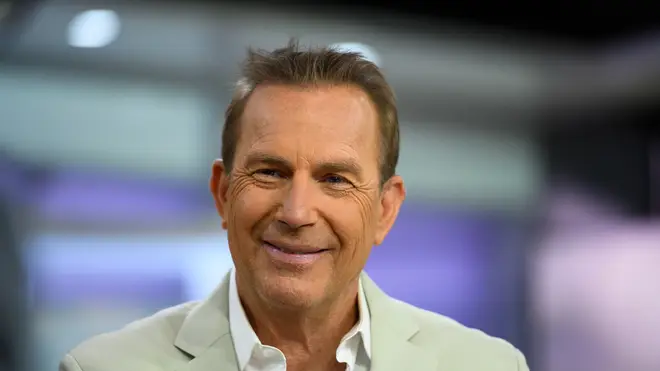 Kevin Costner is one of the most popular and successful actors and directors of his generation.
The American star has won two Academy Awards, two Golden Globe Awards, a Primetime Emmy Award, and two Screen Actors Guild Awards during his career.
Kevin first found international fame thanks to late 1980s films including The Untouchables, No Way Out and Field of Dreams.
In 1990, he starred and directed Dances with Wolves, for which he won two Academy Awards.
He then followed this up with massive box office hits Robin Hood: Prince of Thieves in 1991 and The Bodyguard opposite Whitney Houston in 1992.
His other films include Wyatt Earp, JFK, The Postman, Waterworld, Graceland and Man of Steel. In more recent times, he has starred as John Dutton on the TV drama series Yellowstone.
How old is Kevin Costner and where is he from?

Kevin Costner with his two Oscars. Picture: Getty

Kevin Costner was born on January 18, 1955 in Lynwood, California. He celebrated his 68th birthday in 2023.

He is the youngest of three boys, the second of whom died at birth.

His mother, Sharon Rae (née Tedrick), was a welfare worker. His father, William Costner, was an electrician and utilities executive at Southern California Edison.

Is Kevin Costner married and how many children does he have?

Kevin Costner and first wife Cindy. Picture: Getty

Kevin Costner has been married twice, and has seven children from three separate relationships.

In 1975 while still in college, Kevin began dating fellow student Cindy Silva, and they married three years later.

They had three children together: daughters Annie (born 1984) and Lily (born 1986), and son Joe (born 1988).

Kevin Costner with second wife Christine and his kids Annie, Joe and Lily. Picture: Getty

Kevin Costner with wife Christine and kids Grace, Hayes and Cayden. Picture: Getty

The couple divorced in 1994 after 16 years of marriage.

He also has a son, Liam Timothy (born 1996), with Bridget Rooney, with whom he had a brief relationship.

In 2004, Kevin married his girlfriend of four years, model and handbag designer Christine Baumgartner.

The couple have three children: sons Cayden (born 2007) and Hayes (born 2009), and daughter Grace (born 2010).

In May 2023, Kevin and Christine confirmed that they were divorcing.

Is Kevin Costner also a singer?

Yes! Kevin Costner is the singer of his band Kevin Costner & Modern West, a country rock band, which he founded in the 2000s.

In 2007, they began a world tour which included shows in Istanbul and Rome.

The band released their country album, Untold Truths, in 2008. They followed this up with 2010's Turn it On and 2020's Tales from Yellowstone.

What is Kevin Costner's net worth?

According to Celebrity Net Worth, Kevin Costner has an estimated net worth of $250 million.