Take That This Life podcast: Band recall how they first met at audition in first episode
19 October 2023, 08:57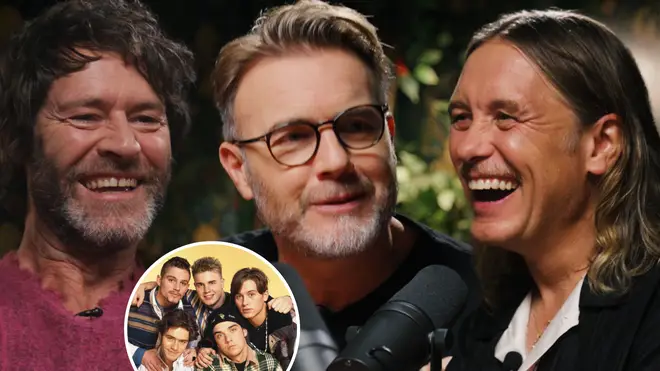 The first episode of Take That's official podcast has been released, and the boys open up about the first time they met each other.
Take That: This Life celebrates the return of one of the UK's most successful bands. Across six episodes, Gary Barlow, Mark Owen and Howard Donald will recount pivotal moments from their epic 30+ year career, charting their journey from five young lads playing Manchester clubs to number one albums, record-breaking tours and everything in between.
The six-part podcast lifts the lid on the band's musical journey from the '90s until now, as remembered by the three people at the heart of it all.
They'll share forgotten memories, discuss parts of their lives never heard before and receive surprise video messages from special guests.
In the first episode, they travel back to 1990 when they first met each other at their audition.
Gary said: "Let's paint this scene. We're in a nightclub in the daytime which is a bad idea. You shouldn't be in a club in the daytime. There was me, Mark, Robbie, Jason, another person auditioning who we still can't remember to this day, and then Howard arrived. That's 11.20 on that day in 1990."
Listen to Take That: This Life
Howard replied: "I'd been at work. I think you lot had already been there doing a routine and as soon as I walked in, they were doing a routine on the stage. Jason was leading it because he'd done The Hitman and Her and he was a great dancer. Luckily for me, I picked up the routine within 10 minutes."
"Let's be honest, first impressions of each other… That was the first time we'd all seen one another," Gary remarked. "I think Nigel had showed me pictures."
Howard: "I'd seen Jason a few times because he was in Street Machine and where he used to practise on a Sunday, I used to go there with my mate Russell and this other guy. So I already sort of knew him, but not really. I didn't know him to talk to.
"I just knew him as a familiar face. I never approached him because I thought he was such a good dancer, he was unapproachable. Sort of looking up to him a little bit. I think you [Gary]…let me get my scroll out. I could just say one word, I think serious.
"It's really hard when you're in that situation where you're at an audition, you don't know anybody. I found everyone friendly, obviously. I didn't really come to the judgment of each individual person.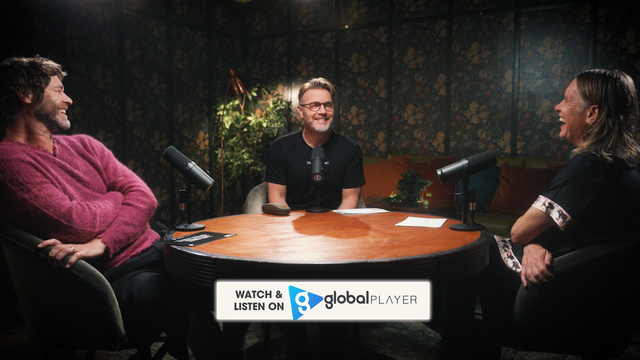 Watch The Trailer For Take That's New Podcast: This Life!
"Mark is who he's always been. He's always been happy, very bouncy and smiley. I think that's who Mark was then and he still is that same person. It's really difficult. Robbie, again, you know, young person. I didn't really come out with oh, he's this and he's that."
Mark said: "I think for me, I was probably a little bit, because I'd seen Jason on the TV…"
"My biggest memory of that time and I don't know if it was the same day but in my thoughts it was after we'd all finished, I feel like we went to some store and all had sandwiches."
On the audition process and what made them do it, Mark said: "I had a girlfriend at the time, I'd just been dumped by this girl in Oldham and I was in my room listening to 'Endless Love' on repeat.
"You know when you put your 'missing you' mixtape on and you're having a bit of a down time and you're in your bedroom for about two weeks listening to sad music, thinking 'I can't go on'. My mum said to me, my brother and sister, to go and see Nigel, who had an agency that did lots of different things, model casting, acting.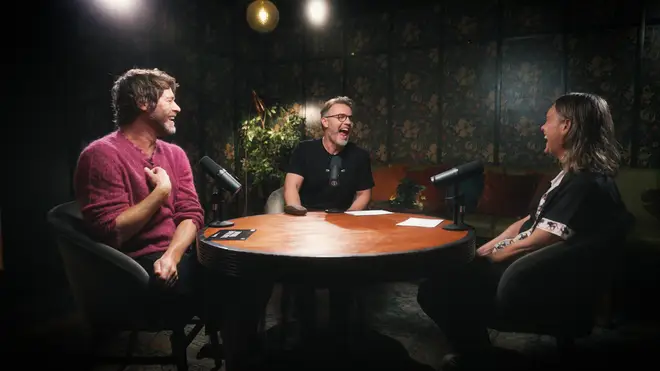 "We went as a family, probably thinking we might get on Coronation Street. I think [my mum] was mainly doing it to try and get me out my bedroom. Nigel used to do these classes where you'd learn different parts of the industry. I was learning how to do a facial massage or some sort of facial cleansing thing, you paid like two pounds to do these classes."
"Massages? We've gone from casting to massages," Gary joked.
"Yeah, but for me, it was just getting out my bedroom. I was learning how to do a facial massage, different things every Wednesday. The lady who was teaching us introduced me to Nigel and he said have you ever sung and danced? Just asked whether I'd be interested in being in a band. And I said, oh yeah great, that'll be good. And then never heard 'owt for about a year."
Howard explained: "I was on his agency. The way I got on it was from a guy that you know called Rolf from Switzerland. He had a photographer who took pictures which weren't very good. He said send them into a model agency because I think you could do all right. I sent them in and they took me on.
"I didn't get that many jobs to be honest with you, probably about five or six at the most, professional jobs as a model. He asked me because I was already on the books. I did a similar thing to you where every Wednesday or Tuesday I had to drive into Manchester, covered with paint, straight from work and do these catwalk classes. They'd have a catwalk and you'd walk up and down and they'd teach you about skincare.
"They used to go on about Clinique and using that for men - it's funny talking about moisturiser - the men's moisturiser was always more expensive than the women's, but it was exactly the same. I had to ask my boss for half a day off to come to this audition."
Gary added: "I was a piano player, keyboard player in nightclubs and stuff. At that point when I met Nigel, I was coming to the realisation that I was going nowhere.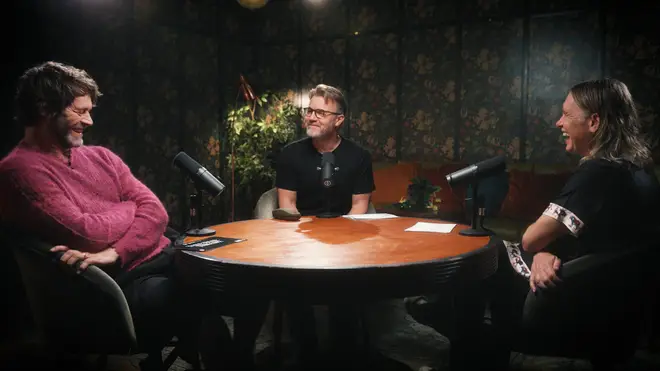 "When I started off playing in the clubs, I was only about 11 and at 13 I was doing Friday, Saturday, Sunday, Monday night. By the time I met Nigel I was playing every night of the week.
"I'd two managers before Nigel….I basically had a photo shoot done, I think with that same bloke you went to in Switzerland and I had a cassette of some songs and I basically got the Yellow Pages, got to M, managers and then saw 10 people listed in the Yellow Pages. I put a cassette and a photo in each and a little letter and I sent them out and I only got one and it was Nigel who replied."
In the episode, the boys also discuss their musical backgrounds, Mark's football career and much more.
Full video versions of the podcast will be available on Global Player exclusively for the six-week run of the podcast, every Thursday. They will be released the day after each episode's release.