The 20 best Halloween songs ever
30 October 2023, 22:39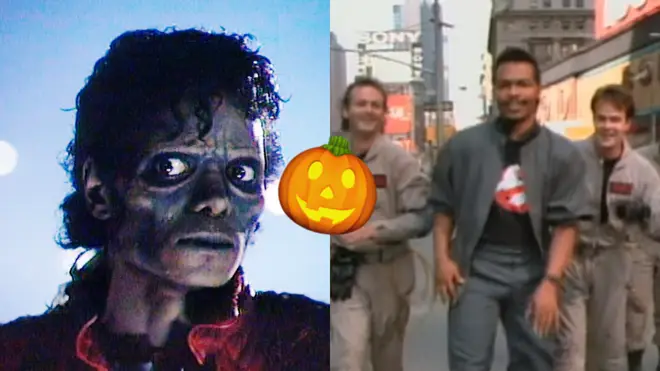 From Michael Jackson to Ghostbusters and Monster Mash, these are the best songs for a Halloween party.
Just before we start dusting off Slade, Wizzard and Wham! Christmas classics every December, we have a very short window of opportunity to play a very specific genre of music: Halloween songs.
While not as common as Christmas songs, there are still some absolute classics that we can't help but listen to every time October 31 rolls around.
So, here are just 10 of the absolute must-listens if you're staging any kind of Halloween gathering...
Harry Belafonte - 'Banana Boat Song'

Beetlejuice - Day-o (Banana Boat Song)

The 'Banana Boat Song,' popularized by Harry Belafonte, is a Caribbean folk song that gained widespread acclaim in the 1950s. Its catchy rhythm and infectious lyrics made it a hit.

The song found its way into popular culture, notably in the horror comedy film Beetlejuice where it was used in a memorable scene. The song's energetic beat and the lyrics about working all night have a certain eerie quality, making it fitting for Halloween.

Its inclusion in Beetlejuice heightened its spooky association, making it a staple in Halloween playlists.

Talking Heads - 'Psycho Killer'

Talking Heads - Psycho Killer (Original Version - Tony Mendes Video Re Edit)

'Psycho Killer' is a cult classic, and written by Talking Heads band members David Byrne, Chris Frantz, and Tina Weymouth. The song features a catchy yet eerie melody, coupled with Byrne's distinctive vocals and cryptic lyrics.

The track's title and lyrics, exploring the mind of a disturbed individual, create a chilling mood, fitting for Halloween's spooky themes. Its fusion of new wave and punk rock elements delivers an unsettling vibe, making it an ideal choice for Halloween parties, especially since its use in Stranger Things.

Eagles - 'Witchy Woman'

Witchy Woman (2013 Remaster)

This 1972 Eagles tune is about a seductive enchantress, with Don Henley later explaining that he was inspired by reading Zelda Fitzgerald's biography while suffering from flu.

He later said: "It had a haunting quality, and I thought it was interesting, so we put a rough version of it down on a cassette tape."

Lady Gaga - 'Bloody Mary'

Lady Gaga - Bloody Mary (TikTok Remix | Speed Up) | Wednesday Dance Scene

Lady Gaga's 'Bloody Mary' is a song that explores the themes of religion, sin, redemption, and spirituality from the perspective of Mary Magdalene, one of Jesus' most celebrated disciples.

The song features spooky electro-pop sounds, Gregorian chants, and lyrics in French and Portuguese.

It was used in the Netflix series Wednesday, which is a spin-off of The Addams Family. The song was featured in the first episode, when Wednesday Addams performed a dance routine at her school's talent show.

The dance scene became viral on social media, especially on TikTok, where many users recreated it or edited it with different songs.

AC/DC - 'Highway to Hell'

AC/DC - Highway to Hell (Official Video)

'Highway to Hell', released in 1979, has become a timeless anthem associated with rebellion and the supernatural.

Written by AC/DC's members, Angus Young, Malcolm Young, and Bon Scott, the song's powerful guitar riffs and Bon Scott's raspy vocals create an electrifying atmosphere. The lyrics, referencing a journey down a metaphorical highway to the underworld, resonate with Halloween's themes of darkness and defiance.

Vic Mizzy - 'The Addams Family Theme'

The Addams Family theme tune, composed by Vic Mizzy, is an iconic piece of music that has become synonymous with Halloween. First introduced in the 1960s TV series, the catchy and spooky melody features finger snaps, harpsichord, and a mysterious mood, setting the perfect tone for the eerie Addams Family world.

Its lasting appeal lies in its ability to evoke a sense of playful spookiness. The song's popularity led to numerous covers and adaptations in various media, cementing its status as a Halloween classic.

Mike Oldfield - 'Tubular Bells'

Tubular Bells (Opening Theme / From "The Exorcist")

'Tubular Bells', a haunting instrumental masterpiece by Mike Oldfield, emerged in 1973 as a musical marvel. Its eerie, progressive soundscape, characterized by intricate guitar patterns and mesmerizing tubular bells, creates an atmosphere of suspense and mystery.

Interestingly, this iconic composition gained prominence as the theme for the horror film The Exorcist (1973), enhancing the movie's chilling aura. The song's gradual build-up and intense crescendos make it a perfect Halloween anthem, evoking an unsettling sense of anticipation and fear.

Its timeless appeal lies in its ability to transport listeners to a realm of eerie enchantment, making it an ideal choice for Halloween playlists, and ensuring a spine-tingling experience for all who dare to listen.

Backstreet Boys - 'Everybody (Backstreet's Back)'

Backstreet Boys - Everybody (Backstreet's Back) (Official HD Video)

Backstreet Boys' 'Everybody' is a spirited dance anthem that, while not explicitly Halloween-themed, possesses an infectious energy perfect for festive occasions, including Halloween parties.

Released in 1997, the song quickly became a pop classic. Its pulsating beats and catchy chorus create an upbeat ambiance, making it an ideal track to keep the Halloween spirit high. While not spooky, its haunting-themed video, universal appeal and lively rhythm make it a crowd-pleaser, encouraging everyone to hit the dance floor and celebrate the night.

Danny Elfman - 'This Is Halloween'

THE NIGHTMARE BEFORE CHRISTMAS Movie Clip - This is Halloween (1993) Jack Skellington Animation HD

This song featured in the 1993 Tim Burton animation The Nightmare Before Christmas, and it perfectly sums up the night of Halloween.

In the movie, it is performed by the residents of the fictional 'Halloween Town', and it was later covered in a metal style by Marilyn Manson.

Rocky Horror - 'The Time Warp'

ROCKY HORROR PICTURE SHOW: Time Warp

'Time Warp,' from the cult classic film The Rocky Horror Picture Show, starring Tim Curry, is a passionate musical number that has become synonymous with Halloween festivities. Released in 1975, the song, with its infectious beat and catchy lyrics, has become a timeless Halloween anthem.

The track is an essential part of the film's iconic dance scene, where characters perform elaborate choreography. Its popularity during Halloween can be attributed to its playful, theatrical vibe and the film's status as a beloved Halloween tradition.

Blue Oyster Cult - '(Don't Fear) the Reaper'

Blue Oyster Cult - Don't Fear the Reaper

This 1976 classic rock anthem was written by Donald Roeser, and it deals with the subject of eternal love and the inevitability of death.

Singer Buck Dharma later said: "It's basically a love song where the love transcends the actual physical existence of the partners."

Michael Jackson - 'Ghosts'

Michael Jackson - Ghosts (Official Video - Shortened Version)

'Ghosts', released in 1997, stands out as a haunting masterpiece. Written by Michael Jackson, who teamed up with acclaimed horror novelist Stephen King for the film version, the song is both eerie and exhilarating.

Its lyrics depict themes of supernatural encounters, mirroring the spooky feeling of Halloween. Notably, the accompanying 39-minute short film, directed by Stan Winston, showcases Jackson's remarkable dance skills alongside special effects, making it a visual feast for fans.

Alice Cooper - 'Poison'

'Poison' by Alice Cooper, released in 1989, is a rock anthem that perfectly embodies the dark and seductive atmosphere of Halloween. Cooper's raspy vocals and the song's powerful guitar riffs create a captivating air.

The lyrics speak of toxic love and obsession, resonating with the themes of danger and allure often associated with Halloween. The song's dramatic and edgy vibe aligns seamlessly with the holiday's spirit of eerie fascination.

Screamin' Jay Hawkins - 'I Put a Spell on You'

Screamin Jay Hawkins - I put a spell on you

Hawkins had intended to record this as "a refined love song, a blues ballad". However, the producer "brought in ribs and chicken and got everybody drunk, and we came out with this weird version".

After this, he became known for his outlandish stage persona, which included a long cape, rising out of a coffin in the midst of smoke and fog, snakes and fireworks.

The song has since been covered by everyone from Nina Simone, Creedence Clearwater Revival, Bryan Ferry, and Marilyn Manson.

The Specials - 'Ghost Town'

The Specials - Ghost Town [Official HD Remastered Video]

'Ghost Town' by The Specials emerged in 1981 during a period of social unrest in the UK. The song encapsulates urban decay and the bleak atmosphere of that time.

Its haunting melody and desolate lyrics create an eerie ambiance, making it a perfect fit for Halloween playlists. The song's apocalyptic vibe resonates with the mysterious and ghostly aura associated with the holiday.

Its use of sparse instrumentation and the melancholic tone evoke a sense of abandonment, mirroring the empty streets of a ghost town.

Nick Cave and Kylie Minogue - 'Where the Wild Roses Grow'

Nick Cave & The Bad Seeds ft. Kylie Minogue - Where The Wild Roses Grow (Official Video)

Nick Cave was inspired to write this murder ballad after listening to the traditional song, 'Down in the Willow Garden', a tale of a man courting a woman and killing her while they are out together.

While it was an unusual move for Kylie at the time, it worked perfectly.

The juxtaposition of Cave's deep, melancholic voice with Minogue's ethereal vocals intensifies the song's eerie magnetism.

Rockwell - 'Somebody's Watching Me'

Rockwell - Somebody's Watching Me (Official Music Video)

Thanks to this 1984 tune's haunted house music video, it has become a Halloween classic.

Rockwell is actually Motown chief Berry Gordy's son Kennedy, and he teamed up with Michael and Jermaine Jackson on this party anthem.

Bobby 'Boris' Pickett - 'Monster Mash'

Bobby Pickett "Monster Mash"

One obvious choice is this novelty song from 1962.

The Boris Karloff parody has become a perennial Halloween favourite ever since, particularly in the States, where it reached number one at the time.

The song's infectious beat and catchy lyrics recount a spooky dance party thrown by monsters. Its popularity peaks during the Halloween season, making it a staple at parties and events.

Ray Parker Jr - 'Ghostbusters'

Ray Parker Jr. - Ghostbusters

"I ain't afraid of no ghosts..."

For one of the greatest movies of the 1980s, rapper Ray Parker Jr came up with a perfect theme tune, back when they still made an effort with such things.

The catchy theme song for the iconic film of the same name brilliantly captures the spooky spirit of the holiday. Its infectious melody and playful lyrics, combined with Parker's soulful voice, make it a Halloween favourite.

Moreover, the song's association with the beloved Ghostbusters franchise adds to its magic, making it a timeless anthem that continues to haunt playlists every Halloween season.

Michael Jackson - 'Thriller'

Michael Jackson - Thriller (Official Video - Shortened Version)

Halloween is pointless without this spooky Michael Jackson anthem being blasted out the speakers.

Probably the greatest music video of all time from one of the greatest entertainers. Bonus points for convincing Vincent Price to rap.