When Sinead O'Connor teamed up with Massive Attack: Duo pay tribute to late singer
27 July 2023, 14:45 | Updated: 27 July 2023, 17:35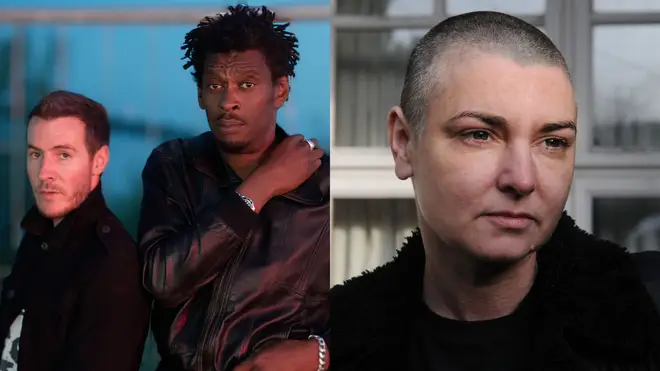 One of pop's finest singers once collaborated with one of the greatest electronic bands of all time.
In 2003, Massive Attack teamed up with Sinead O'Connor on their latest album 100th Window.
It had been 13 years since Sinead became an international star thanks to her number one hit single 'Nothing Compares 2 U'.
Sinead sang vocals on three tracks on the album: 'What Your Soul Sings', 'Special Cases' and 'A Prayer for England'. She also co-wrote the songs with Robert Del Naja and Neil Davidge.
Massive Attack had reportedly wanted to work with Sinead O'Connor for years, and had finally locked her in for the 100th Window project.
Robert Del Naja said in 2003: "We wanted to work with Sinead probably before we worked on Protection and nearly happened. One of those things that's got scuppered, and there's always been a mutual respect there
"And I think the thing that's got us into it was, me and Neil were talking about vocalists and we had so many tapes and people that we listened to so much music, and just felt that a lot of it just felt so kind of just a little bit transparent.
"A lot of great voices out there, a lot of great singers, but didn't really move us at all. I felt that I found more emotion in a lot of male vocalists than I did female vocalists at the time.
"I couldn't find much emotion coming out of even, whether it was at the soul or the rock world. And the Sinead thing came back up again. Would you want to work with Sinead?
Massive Attack - Special Cases
"And we thought, 'well, that's one person I can think of who has a real raw emotion, a real personality, who is angry about things, who brings her personality into it properly'.
"And it was just a perfect sort of opportunity to work with her, actually."
Massive Attack - 100th Window EPK (About Sinead O'Connor)
Following Sinead O'Connor's death in July 2023, Massive Attack paid tribute to the singer on social media.
"Sinéad. Devastated. How do you eulogize someone who you never knew well, but were blessed to have the honour of working with?
"Honestly. To bear witness to her voice, intimately in the studio. On the road every single person stopped – dropped their tools during soundcheck," the statement adds.
They added: "The fire in her eyes made you understand that her activism was a soulful reflex and not a political gesture."