Watch Carrie Underwood and Axl Rose's incredible duet of 'Welcome to the Jungle'
15 March 2023, 13:54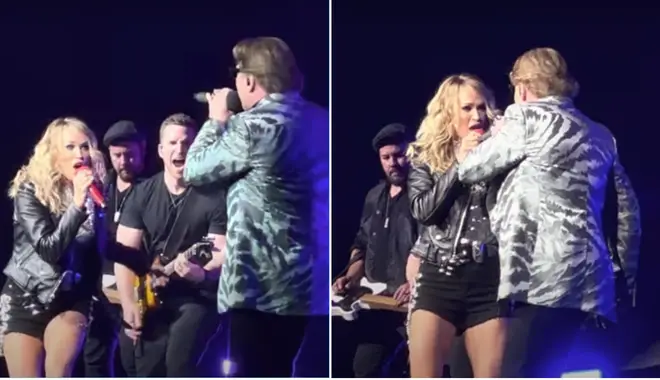 Carrie Underwood welcomed the Guns 'N' Roses frontman on stage for an encore during the Los Angeles leg of her tour.
Each night on Carrie Underwood's 'Denim and Rhinestones' tour, the star wraps up with an encore of Guns N' Roses' famed hit 'Welcome to the Jungle'.
Yet fans of the country star – who is on the last leg of her tour – got the shock of their lives on Monday night (March 13) when Carrie was joined on stage by Axl Rose himself.
In a surprise move, Carrie announced her regular encore music, but with one unique difference.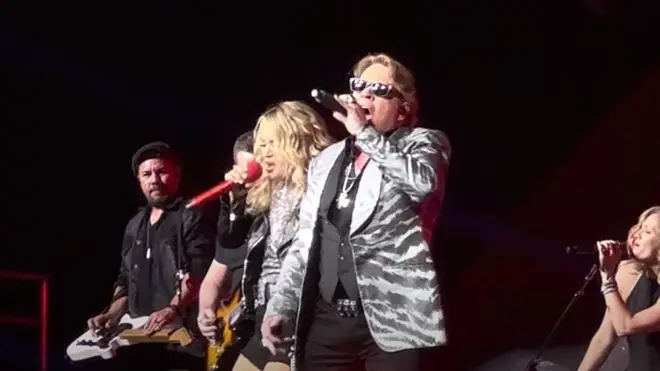 "Los Angeles, I want to hear you make some noise," Underwood shouted to the audience, and paused before adding: "For Axl Rose."
The crowd then went wild as the Guns N' Roses frontman joined Carrie on stage for a spectacular duet of 'Welcome to the Jungle'.
The collaboration comes after Underwood and Rose performed together at California's Stagecoach Festival in 2022, singing 'Sweet Child O' Mine' and 'Paradise City,' before Carrie later returned the favour and performed on stage with Guns 'N' Roses at Tottenham Hotspur later that summer.
"It was many years in the making," Carrie told Rolling Stone about persuading the musician to come out of hiding for his Stagecoach debut.
"I've been covering Guns N' Roses my whole life, pretty much, and definitely onstage for the past 15 years at least. I had asked before if he would ever come sing, or if I could come to him somewhere.
Watch Carrie Underwood and Axl Rose perform 'Welcome to the Jungle' below:
Welcome To The Jungle - Carrie Underwood & Axl Rose 3/13/23
"We had a couple almost maybes, where it almost maybe would have happened, but for various reasons, it wasn't the right time."
"But [for Stagecoach] I asked. I sent him an email and said, 'We're so close to you,' and explained the why and what he meant to me. The way I learned how to sing was I would pick really hard vocalists to try to emulate, and his voice always mesmerised me.
"I was like, 'How is he doing the things that he's doing?' So I told him all that…and he came! We had rehearsals and everything went very smoothly. It was easy for all of us to be around each other. Hopefully, he had a good time."