Cheers reunion: When Kirstie Alley was surprised by co-stars with theme tune singalong on live TV
18 September 2023, 13:03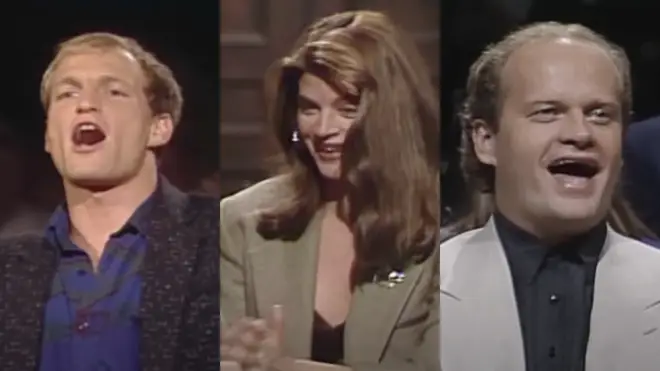 Kirstie Alley is best known for her role as Rebecca Howe, the smart and sassy manager of the Cheers bar, in the popular sitcom Cheers.
She joined the show in 1987, replacing Shelley Long as the love interest of Ted Danson's Sam Malone. She quickly became a fan favourite and won an Emmy Award for her performance in 1991.
In October of that year, Alley hosted Saturday Night Live for the first time, and she had a special surprise waiting for her. During her opening monologue, she confessed that she was feeling homesick for her own TV family, and wished they were there with her.
She then proceeded to sing the Cheers theme song, "Where Everybody Knows Your Name", and was joined by four of her co-stars: Danson, Woody Harrelson, George Wendt and Kelsey Grammer.
The audience erupted in cheers as the actors hugged and harmonized with Alley, creating a heartwarming moment of nostalgia and camaraderie.
Kirstie Alley Monologue - Saturday Night Live
The cast of Cheers was one of the most successful and beloved in TV history, and their appearance on SNL was a rare treat for fans.
The show was in its 10th season at the time, and would end its run in 1993 after 11 seasons and 275 episodes.
The rest of Alley's SNL episode featured sketches such as 'Il Cantore', where she played a woman who was groped by the staff of an Italian restaurant, 'Coffee Talk with Linda Richman', where she played Barbra Streisand's sister, and 'It's Pat', where she played the mother of the androgynous character Pat.
She also introduced musical guest Tom Petty and the Heartbreakers, who performed 'Into the Great Wide Open' and 'Kings Highway'.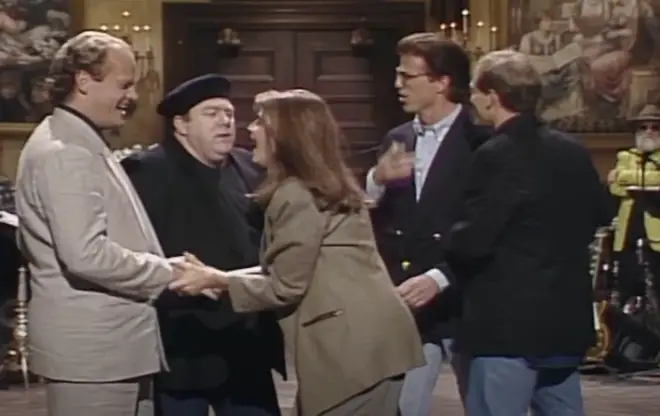 Alley would host SNL again in 1994, but without any Cheers reunion. She continued to have a successful career in film and TV, starring in movies such as Look Who's Talking and its sequels, Drop Dead Gorgeous and For Richer or Poorer, and shows such as Veronica's Closet, Fat Actress and Scream Queens.
She also appeared on reality shows such as Dancing with the Stars, Celebrity Big Brother and Kirstie Alley's Big Life.
Alley passed away in 2022 at the age of 71, after a long battle with cancer. She is survived by her two children, William and Lillie, and her four grandchildren.
Kelsey Grammer is now reprising his role of Frasier Crane once more. The character - which originated in Cheers and then continued with the successful spinoff Frasier - is coming back for a reboot on Paramount+.