Frasier reboot: Trailer, cast, plot and release date revealed for Kelsey Grammer TV series
15 September 2023, 12:46 | Updated: 15 September 2023, 12:47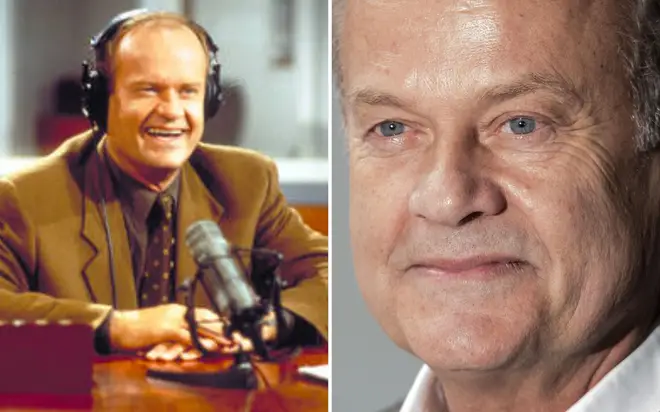 Tossed salad and scrambled eggs are back on the menu.
That's right: it's been officially confirmed that Dr Frasier Crane is making a long overdue comeback to our screens.
Frasier is finally being rebooted, having been officially greenlit after months of speculation that the enormously successful sitcom was being revived.
Not that the beloved Cheers-spinoff has ever left our screens - Frasier is still a regular fixture on television, as the mishaps of the hopelessly pretentious psychiatrist-turned-radio host remain as funny now as they did when it first aired.
With Kelsey Grammer in the title role, Frasier initially ran from 1993 to 2004 and was one of television's most successful sitcoms ever, winning a total of 37 Emmy awards across its 263 episodes.
A reboot has been teased for several years now, after Grammer revealed in an interview that talks of the series returning was in motion.
In July 2022, Grammer confirmed that they were "in the final stages of the final script for the first episode" for the sequel series, adding: "I've had a couple of runs through it, and I cried, so I'm happy."
Is there a trailer for Frasier?
Yes! On September 14, Paramount unveiled the first full trailer for the series.
The trailer sees Frasier reuniting with his son Freddy and meeting Freddy's girlfriend Eve. There's also Olivia, another new character who's running an Ivy League university's psychiatry department, and the debut from Nicholas Lyndhurst.
Watch it below:
Frasier (2023) | Official Trailer | Paramount+
Has the cast of the new series of Frasier been revealed?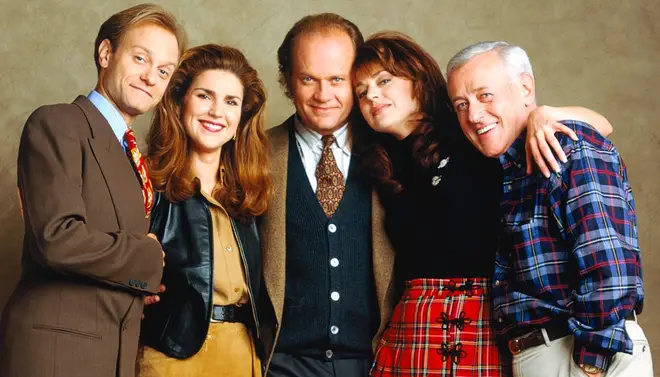 So far, Kelsey Grammer is the only character from the original series of Frasier that is returning for the reboot.
It's been reported that the remainder of the regular cast will be made up of entirely new characters.
Amazingly, Only Fools and Horses legend Nicholas Lyndhurst has been announced to joining the cast as an old college mate of Frasier's.
Fellow British actor Jack Cutmore-Scott will play Frasier's estranged son Frederick.
The original cast – David Hyde Pierce's Niles, Jane Leeves' Daphne and Peri Gilpin's Roz – aren't expected to be regulars, but will reportedly make cameo appearances throughout the series.
John Mahoney - who played Frasier and Niles' father Martin - died in 2018, and Moose the dog who played Eddie - his pet Jack Russell - died in 2006.
In a 2022 interview, David Hyde Pierce suggested he didn't know too much about the upcoming revival, saying: "It's happening, but I don't know in what form, and I don't know when, so I don't know where I'll be and what I'll be doing. I'm certainly interested to see what they come up with."
Grammer later confirmed that Hyde Pierce would not being reprising his role as Niles in the revival series.
"David basically decided he wasn't really interested in repeating the performance of Niles," after initial discussions took place.
It's likely that the original cast will only appear as cameos due to other work commitments, with Jane Leeves commenting: "I have no idea, but I won't be leaving The Resident to do that if it happens" when asked if she'd be making a comeback as Daphne Moon.
What's the plot of the Frasier reboot?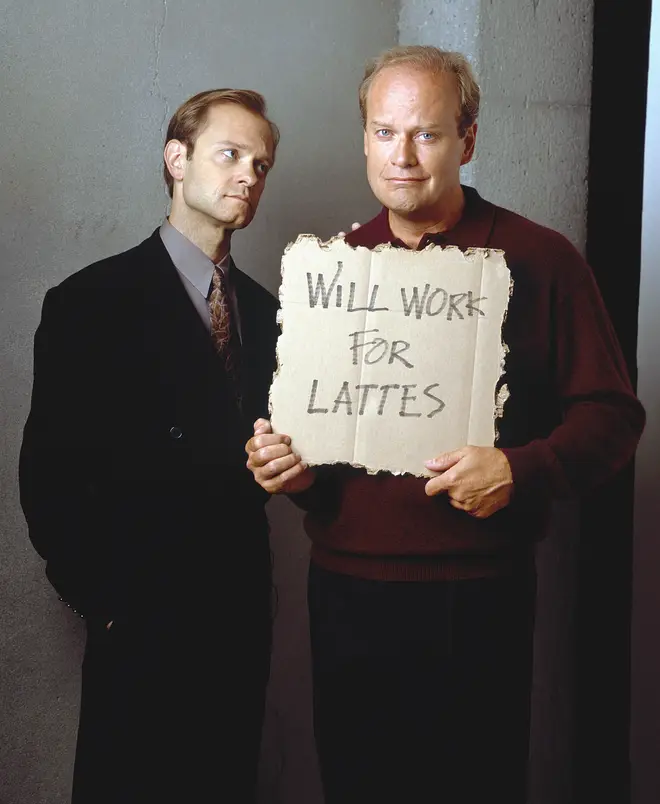 Details on the plot for the Frasier reboot are slim, but Grammer has suggested that it would be centred around "something that puts him at odds with his brother again" and explore his relationship with his now adult son, Frederick.
He proposed that an older Frasier Crane could be a professor or back in private psychiatry practice.
What we can presume is that the new series will see Frasier moving to an entirely new city, similarly to how the Cheers-spinoff began.
The original series ended with Frasier leaving Seattle, giving up a promising new career in San Francisco to move to Chicago instead where his girlfriend - played by Laura Linney - had just relocated.
They also released photos from the show, giving fans a chance to finally see Frasier and his castmates - including Nicholas Lyndhurst - in action: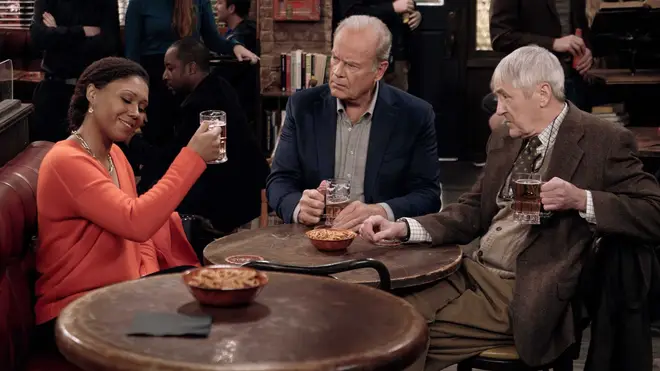 Where can I watch the new series of Frasier?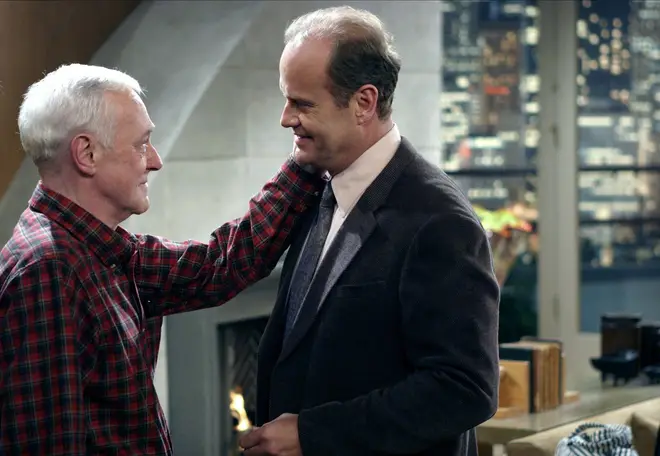 Frasier is being rebooted by Paramount, who produced the original series, and will stream exclusive on Paramount+.
Kelsey Grammer had been in talks with the studio since 2018 about reviving the sitcom, and confirmed a deal was in the works in 2021.
"Having spent over 20 years of my creative life on the Paramount lot, both producing shows and performing in several, I'd like to congratulate Paramount+ on its entry into the streaming world," Grammer said in a statement.
"I gleefully anticipate sharing the next chapter in the continuing journey of Dr. Frasier Crane."
The new series will switch up the format, sticking to a limited series of just ten episodes.
When is the new series of Frasier airing?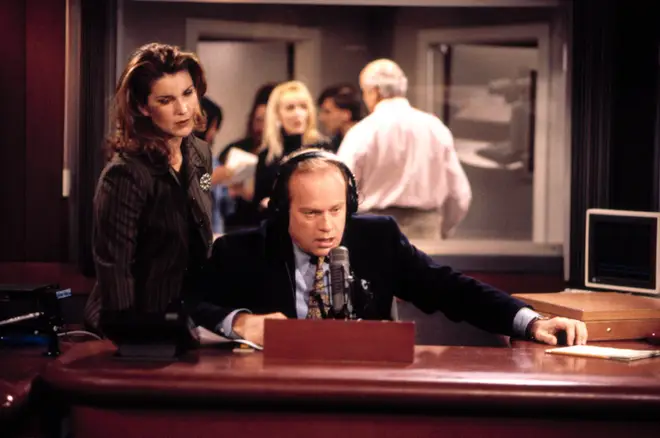 A release date has yet to be officially confirmed, but it's expected that the Frasier reboot will stream in late 2023.
Kelsey Grammer had hinted that shooting will begin in late 2022, which could mean that we'll hear about more details soon.
Chris Harris and Joe Cristalli will be penning the new Frasier reboot, with Grammer, Tom Russo, and Jordan McMahon serving as executive producers.